Wagner-Affiliated Telegram Channel Trolls Nagorno-Karabakh Conflict Analysts
With a number of credible reports of foreign fighters engaged in the conflict in Nagorno-Karabakh on behalf of Azerbaijan, a number of journalists and analysts have looked to one of the world's most infamous private mercenary companies (PMC), Russia's Wagner PMC, as a potential actor in the conflict. However, there has not been any firm evidence showing their arrival or involvement in the war which has rocked the South Caucasus since late September. In the search for potential evidence of Wagner's involvement into the conflict, many have looked to Reverse Side of the Medal (RSOTM), one of the most public channels of communication used by fighters from Russia's private military companies fighters, especially Wagner and those close to them.
This group operates a Telegram channel, along with pages on Instagram, YouTube, and VKontakte (VK). The group's most prominent administrator is Maksim Fomin, writing under the pseudonym "Vladlen Tatarsky" (taken from a novel by popular Russian writer Viktor Pelevin). Fomin previously fought in the Donbas region of eastern Ukraine for the so-called Donetsk People's Republic (DNR). Over the past week, this channel has shared a number of photographs alluding to the arrival of Russian mercenaries — with the Wagner group being the obvious candidate — to Nagorno-Karabakh to assist Armenian forces in their ongoing conflict with Azerbaijan.
Since clashes broke out in Nagorno-Karabakh on September 27, they have escalated into a fully-fledged war. Azerbaijani forces have attempted to advance into the region, which is governed by Karabakh Armenians as an unrecognised state with the support of neighbouring Armenia. Turkey has staunchly sided with Azerbaijan. Although Armenia is a member of the Russian-led Collective Security Treaty Organisation (CSTO), Moscow is widely understood to have kept some distance from its ally.
In that context, it is understandable that some might have suspicions of Russian boots on the ground. RSOTM has kept them guessing: the channel published a song featuring the name of Nagorno-Karabakh's capital city Stepanakert and two images: one with a plane, another with a mountainous landscape. The obvious implication was that Wagner fighters (or another Russian private military company) were arriving in Armenia in order to travel to the front lines in Nagorno-Karabakh.
However, further analysis of the images reveal that these posts are nothing but an elaborate troll by the RSOTM admins.
The Jet
On October 6, RSOTM published a photo of men in camouflage and a plane, captioned "Boarding continues once more".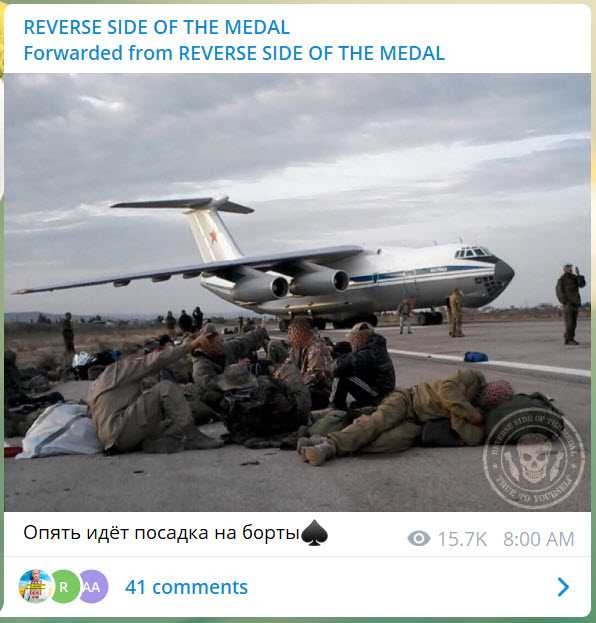 The channel also published an old song about the first Nagorno-Karabakh War (1988-1994) by Alexander Korenyugin, a Russian military singer:
"Boarding continues once more,
We know no rest at work.
Stepanakert is burning in the fire of war again,
And once more we fly on a plane".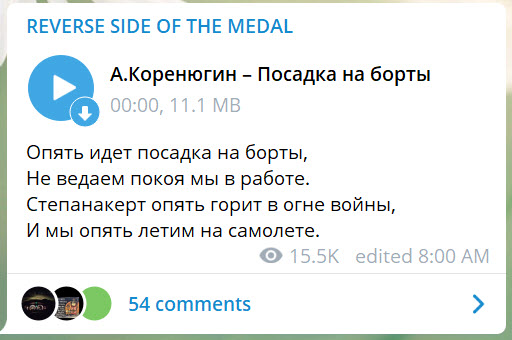 With an explicit hint provided, Twitter users assumed that the photo may actually show Russian government-owned IL-96-300 which landed in the Armenian capital of Yerevan on October 5, the day before these posts were made. It was unclear who was on board, and the Armenian Prime Minister's Spokesperson Mane Gevorgyan told Hetq, an independent investigative publication, that she didn't know anything about the plane. 
The photo published by RSOTM did not, however, show the IL-96-300 that had arrived in Armenia. A glance at the post actually reveals that this was an old photo forwarded from the same channel on January 14, 2020.  
Russian media soon reported that officials of the Eurasian Economic Union (EAEU) had been on board the IL-96-300. A summit of this economic union, which includes Armenia and several other post-Soviet states, is scheduled in Yerevan on October 9.  On October 6, the RSOTM admins revelled in the fact that a number of analysts, including "the Turkish Ministry of Defence and California University,  wrote about how this recycled photograph of a plane signaled the arrival of Wagner in Armenia."

The Mountain Landscape
Another image published by RSOTM shortly after that of the plane showed a mountainous terrain and was captioned "Good morning, freelancers".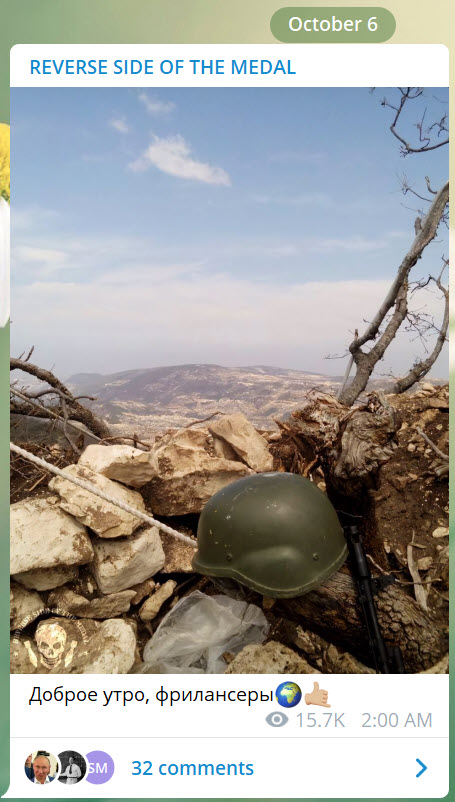 These RSOTM posts came on the same day that the Director of Russia's Foreign Intelligence Service Sergey Naryshkin expressed his concerns over alleged mercenaries in Nagorno-Karabakh.
An initial attempt at geolocation using military outposts near Stepanakert as vantage points revealed a mountainous terrain that actually looked quite similar to the RSOTM photograph. As seen in a Google Earth comparison of a view of a mountain from a missile base near the village of Shosh (coordinates: 39.754396, 46.793617), the general terrain and some features of the vegetation almost match up — if you squint a little.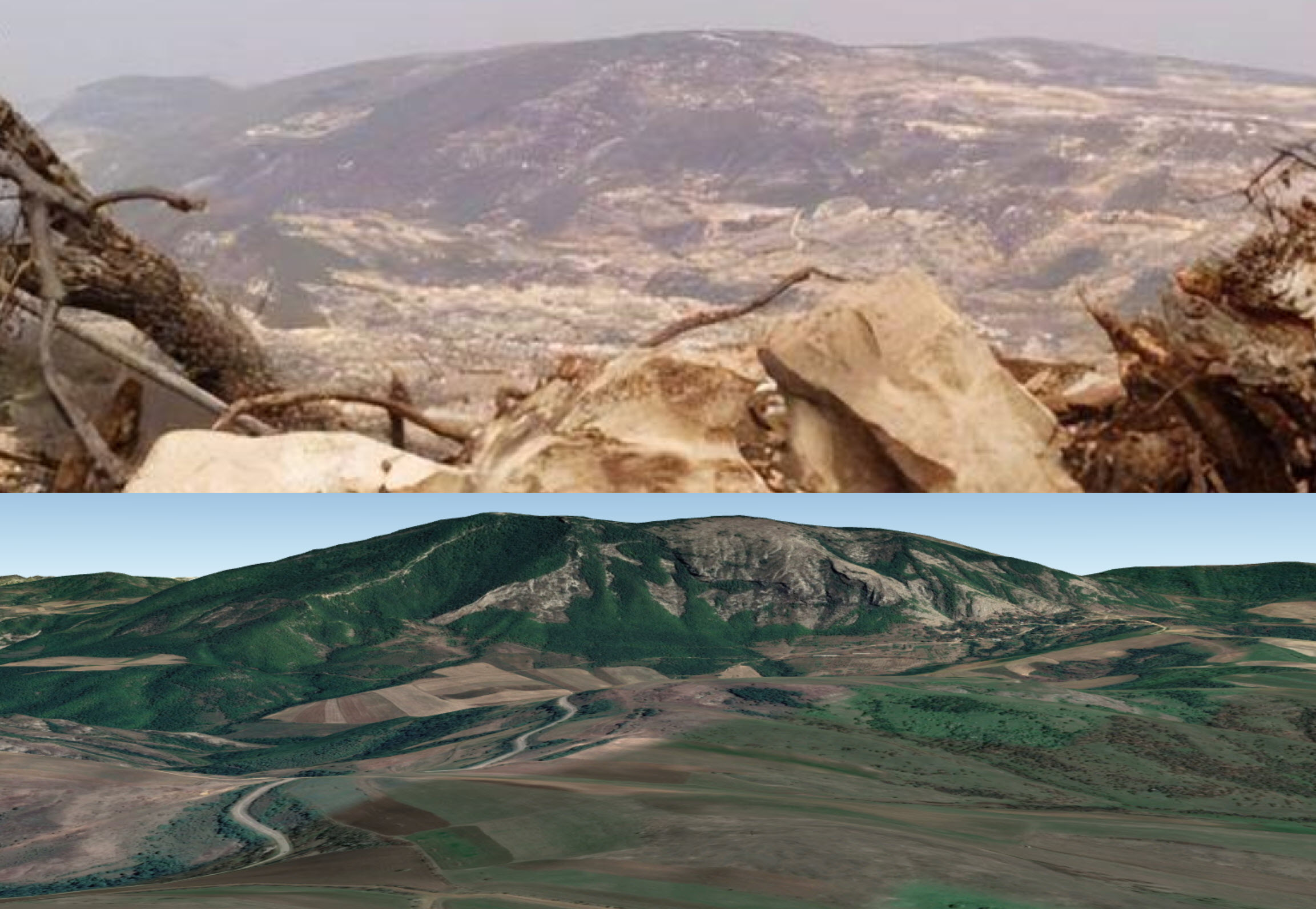 Further investigation by open-source analyst, @obretix, however, led to a hill in the West of Syria (coordinates: 35.690092, 36.204369), where Wagner mercenaries have previously operated. While the mountain east of Stepanakert did vaguely resemble the RSOTM photograph, this landscape in Syria actually matched with more numerous details, such as the amount of visible vegetation.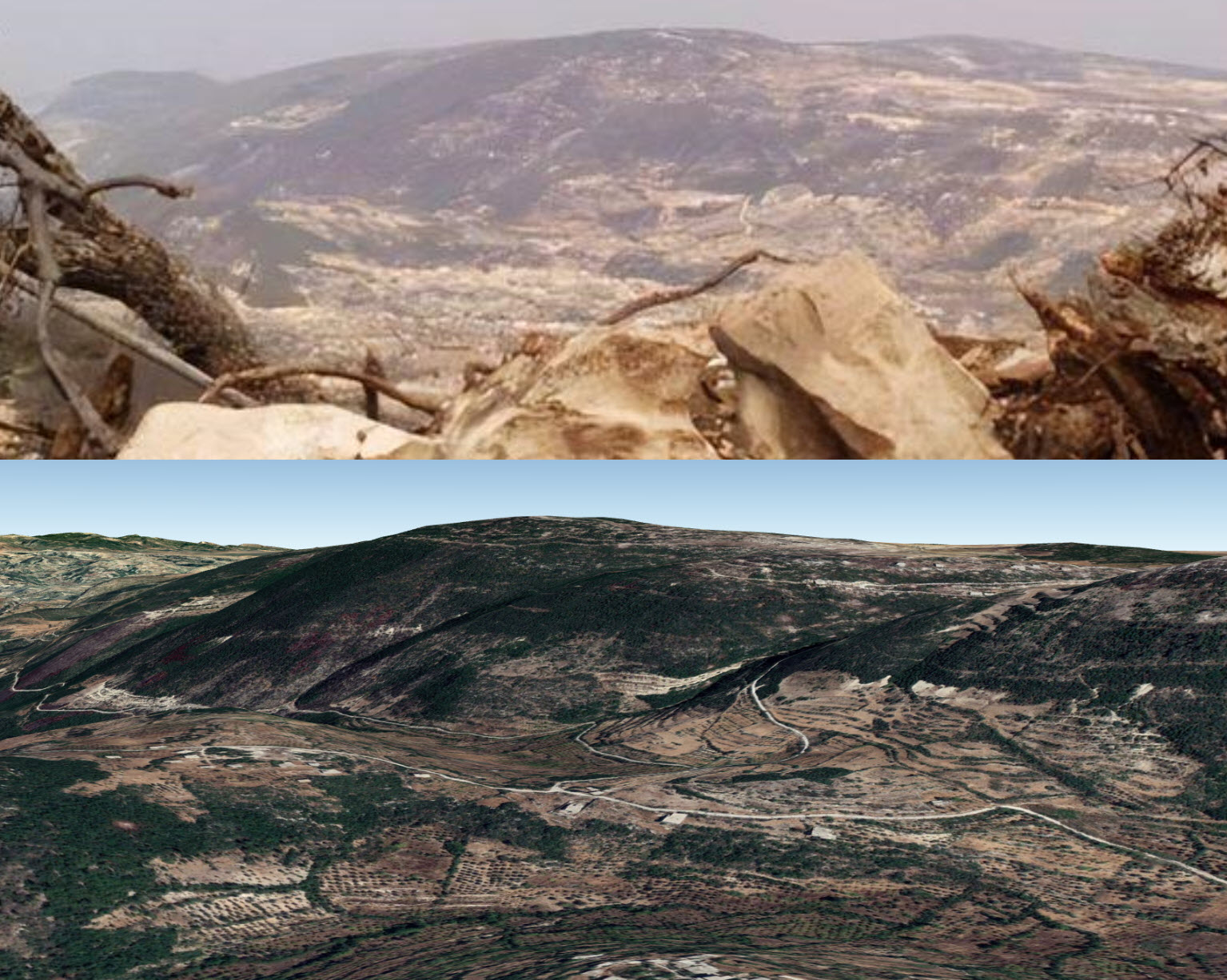 Therefore, it can safely be said that neither of the two photos posted by RSOTM on October 6 were taken in Nagorno-Karabakh, or even the South Caucasus. 
Don't Get Fooled Again
As mentioned earlier, it is important to bear in mind that Russia has remained somewhat detached from the ongoing war in Karabakh — at least for the time being. Moscow has traditionally been the main mediator between the two countries, as it also maintains friendly relations with Azerbaijan.
While there could well be military assistance on its way from Russia to Armenia, either in an explicit or covert (via Wagner) form, the Reverse Side of the Medal Telegram channel is not the breaking news source that has revealed it.
Update: The identity of "Vladlen Tatarsky" was mistakenly typed as Mikhail, instead of Maksim, Fomin. We have corrected this.