Cataloging Violence Targeting Journalists in Armenia's 2017 Elections
The numerous cases of violence targeting journalists in Armenia during its April 2, 2017, parliamentary elections highlight the failure of the state's authorities to keep their promise of ensuring that elections would be held on the highest level possible. At least ten journalists of local media outlets were reported to have been subjected to obstruction and physical violence while covering the April 2 elections. A number of Armenian and international media advocacy groups and media organizations have since condemned the attacks, calling on the Armenian authorities to take measures to ensure that those responsible parties were identified and subjected to liability. Despite these calls, impunity continues to prevail, and only a few perpetrators have officially been charged for their actions.
RFE/RL's Armenian Service was the first to report that their correspondent Sisak Gabrielyan had been attacked by ruling Republican Party (RPA) activists at the election headquarters of RPA candidate Hakob Beglaryan in Yerevan's Kond district. Gabrielyan was reportedly hit in the face by RPA office workers after having noticed and starting filming them distributing cash among voters. A large number of people, the journalist claimed, would go into the RPA office, located on 15 Rustaveli St., before heading to a nearby polling station to cast ballots. Most of them, he said, would leave the premises with money in their hands.
In the video published by Azatutyun.am, office workers insist they are paying the staffers' wages, and when Gabrielyan manages to film a list of dozens of voters' names with addresses, passport numbers and signatures, they force him out of the office. The RPA campagn activists continue quarreling with Gabrielyan outside of the office, and at some point they attack the journalist and try to seize the smartphone he is using to film the incident.
The video filmed by Gabrielyan also shows Araratnews.am correspondent Shoghik Galstyan and her cameraman Hayk Petrosyan being attacked by a group of women as she is trying to film the commotion. A visibly agitated woman snatches Galstyan's camera, pushes the reporter, and even pulls her hair.
Other Cases of Obstruction in Yerevan
Armtimes.com correspondent Tirayr Muradyan's professional activities were hindered at the 9/29 precinct, also located in Kond. According to a police report filed by Muradyan, an unknown woman insulted him and hit his camera.

Newsbook.am reporter Armine Avetisyan was subjected to pressure, had stones thrown at her, and was threatened with stabbing at another Hakob Beglaryan campaign office in Noragyugh, a neighborhood in Yerevan's Kentron administrative district.

Another Newsbook.am correspondent, Kristine Poghosyan, was threatened and sworn at in the 10/3 precinct in Yerevan's Sari Tagh neighborhood.

News.am correspondent Lusine Shahbazyan was prevented from properly carrying out her professional activities at the 6/01 precinct in Yerevan's Ajapnyak administrative district.
Other Reporters' Activities Hindered at Polling Stations Outside of Yerevan
Hetq.am correspondent Grisha Balasanyan was pressured and obstructed at the 14/20 precinct in Echmiadzin;

Tert.am correspondent Ani Gevorgyan faced challenges at the 12/35 precinct in the Ararat province village of Shahumyan;

RFE/RL Armenian Service correspondent Narine Ghalechyan's activities were hindered at the 20/24 precinct in the Gekharkunik village of Tchambarak;

Armtimes.com correspondent Narek Kirakosyan was subjected to pressure at the 32/31 precinct in Gyumri.
Below, each incident is included in a map, with a higher concentration of incidents in and near the capital, Yerevan.
Liability for Perpetrators
A few days following the elections, the office of Armenia's General Prosecutor released a statement, saying that all the reports of violence against journalists were being looked into and that two criminal cases had already been initiated in connection with the incidents involving Sisak Gabrielyan and Shoghik Galstyan. Three weeks later, Armenia's Special Investigative Service said that a Yerevan man had been officially charged with assaulting Gabrielyan and obstructing his professional activities. If found guilty, the accused faces up to 5 years in prison. A Yerevan woman, the officials also said, was charged with using violence against Shoghik Galstyan.
Future and Previous Cases
Gabrielyan was caught in a similar incident during the May 14 municipal elections in Yerevan, fewer than two months after the parliamentary elections. He was again attacked by ruling Republican Party loyalists after witnessing them distributing cash to voters outside a RPA campaign headquarters. The video filmed by Gabrielyan shows the staff members of the office insulting and shoving the reporter as the latter tries to find out whether the headquarters had been paying bribes to voters.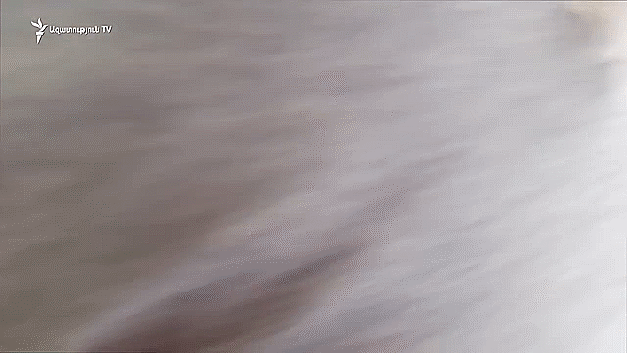 Shoghik Galstyan is not a stranger to election violence and hindrance herself; during the municipal elections in October 2016, a woman snatched the reporter's smartphone and smashed it on the ground at the 30/47 polling station in Vanadzor. The woman was subsequently fined AMD 700,000 ($1,442) and barred from taking part in any election-related processes for a year.
According to the 2016 Annual Report on the Situation with Freedom of Expression and Violations of Rights of Journalists and Media in Armenia by the Yerevan-based Committee to Protect Freedom of Expression, Armenian media representatives worked in extremely unfavorable conditions in 2016. They were subjected to mass violations and hindrance while covering the July 2016 demonstrations in support of an Anti-government armed group occupying a police station in Yerevan's Erebuni district.
During the July events, the CPFE report says, 27 journalists and cameramen suffered from police actions, with 19 of them having been subjected to physical violence.
During the coverage of the municipal elections in September–October 2016, as well as during the relatively calm periods, the CPFE recorded 10 cases of physical violence against 26 journalists and cameramen, 52 cases of other types of pressure against mass media representatives, as well as 33 violations of journalists' right to receive and disseminate information.
For more information on obstructions to journalists during the April 2017 elections, please see this reference list.