Russia's Foreign Fighters: Geolocating the Nepalis Training in the Russian Army
Bellingcat has geolocated footage of several Nepali-speaking soldiers undertaking training at a Russian military camp.
At least eight TikTok accounts seen by Bellingcat appear to belong to Nepali men showcasing training in one branch of the Russian military.
Nepali journalist Birat Anupam first published on the story for NepalPress, examining footage posted by apparent recruits on social media and spoke to some recruits about joining the Russian military.
Bellingcat was able to geolocate footage taken at both the Avangard military complex located west of Moscow and at a station in the Belarusian city of Baranavichy.
But who are these young men who've found themselves on the margins of Europe's largest conflict since the Second World War?
One TikTok account that we examined was that of a user with the handle Kamalacharya9323 and listed themselves as from Nepal.
The account has uploaded several videos from a Russian training camp in recent months. In one video they eat in an army canteen. In another they dance in a dormitory to a music video.
Separately another Nepali recruit apparently signed up to fight for Russia as a rifleman in a motor-rifle unit. This account holder posted multiple videos from trainings in Russia but has also posted a warning people not to join the Russian Army due to the risk.
A signature can be seen on a Russian-language sign-up contract that was posted in a video on the TikTok account and was also published by NepalPress.
Referencing a decree by Russian President Vladimir Putin from September 2022, it confirms that the recruit is entitled to a one-off payment of 195,000 roubles (US$2,300).
That same month, Putin also signed a decree fast-tracking the naturalisation of foreigners who fight for the Russian armed forces.

It should be noted that Bellingcat has not yet seen any evidence that these men have taken part in active combat.
Bellingcat attempted to contact several of the TikTok accounts, including Kamalacharya9323, to ask why they joined the Russian army and how they found out about it, but had received no response at time of publication.
Locating the Soldiers
Recent posts on several accounts show Nepali men in military fatigues, training or posing for selfies.
Many of these videos appear to have been taken in and around the Avangard centre – a military complex in Russia's Moscow Oblast Region approximately 50 kilometres west of Moscow (55.565474, 36.790801).
The facility, constructed in 2019, describes itself as an "educational centre for military patriotic youth."
According to its website, Avangard offers to familiarise trainees with five "military occupational specialties" and can accommodate 600 trainees at the same time. It claims to train more than 30,000 trainees a year.
A video showcasing the centre's "Young Fighter Course" displays some of the facilities and locations around the centre.
These appear to match the details of some of the TikTok videos from Nepali men, which in turn also match satellite imagery of the Avangard site.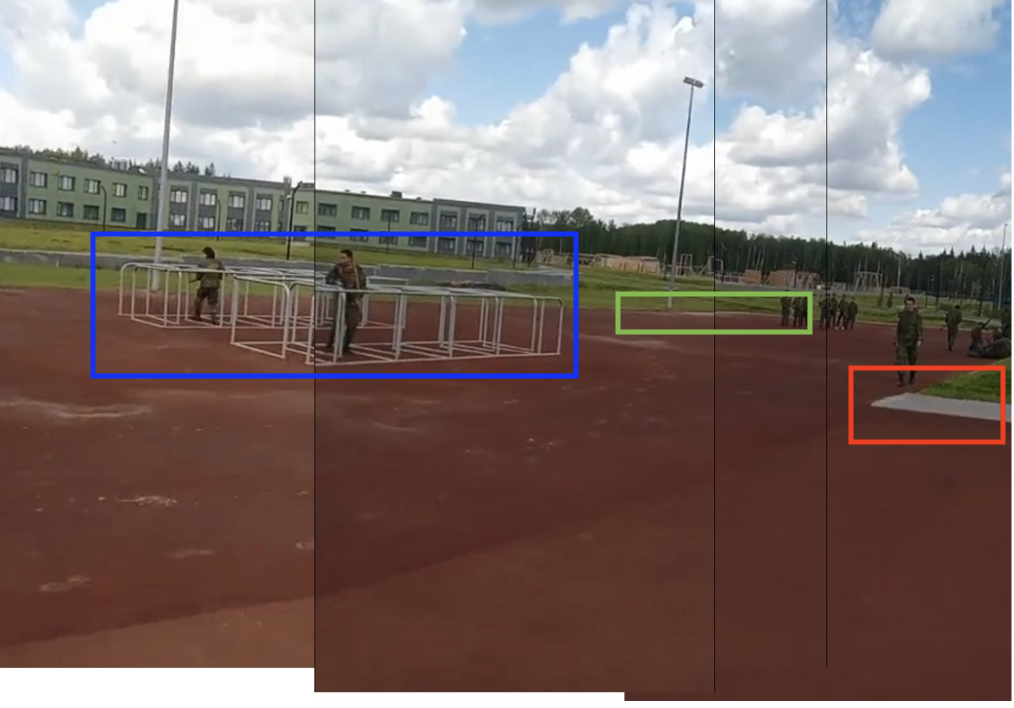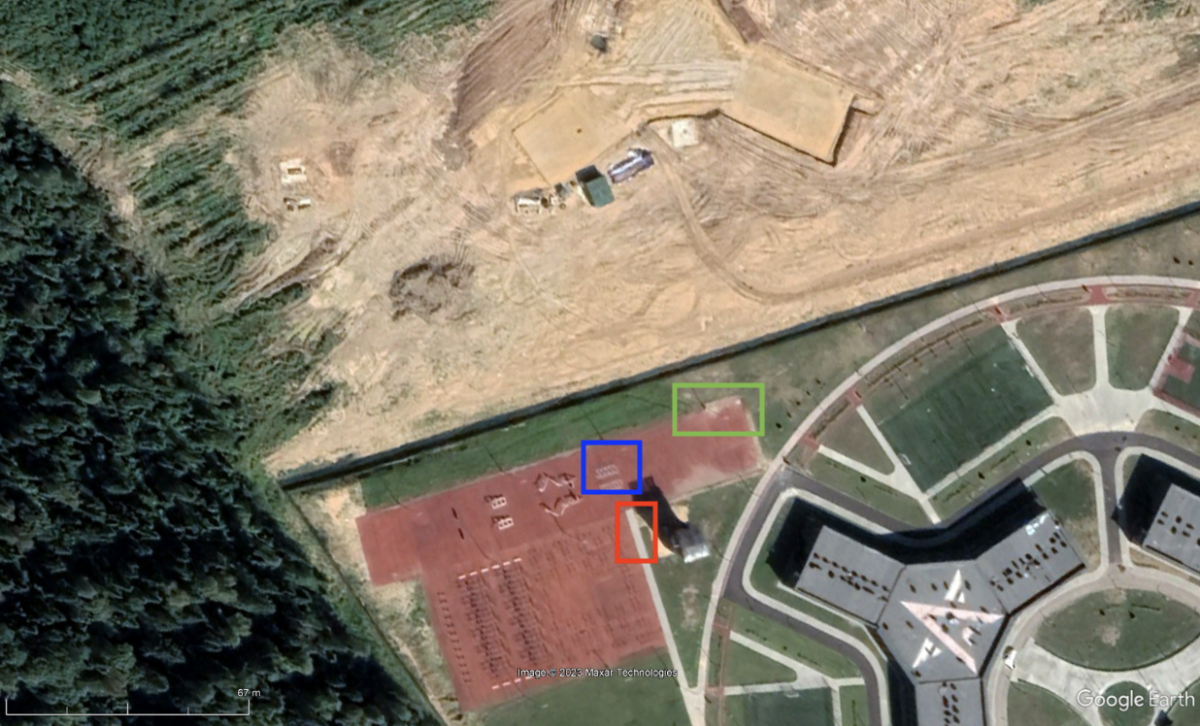 The green building seen at the back of the TikTok video (above) hadn't been finished when the Google Earth image was taken.
But we can see the red training area with the obstacle course and the ground they broke behind the training area for the new building.
Other TikTok videos show soldiers posing in front of one of the Avangard buildings.
We can see the letters АВАНГ (AVANG) written on the building, although the word does not appear to be completed. This location appears to correspond to the main building at (55.565107, 36.792787) where the word АВАНГAPД (Avangard) can be seen on the roof. Other telltale details such as the frontage and lettering visible on the building match Google Maps.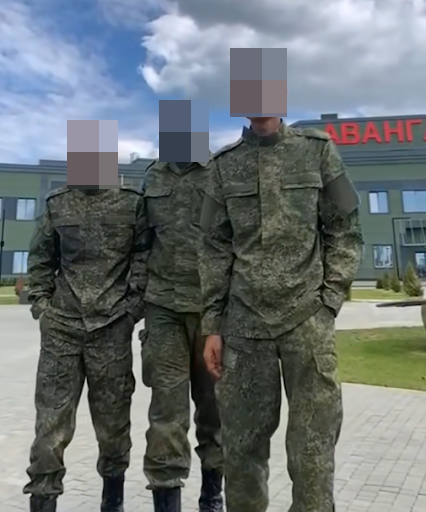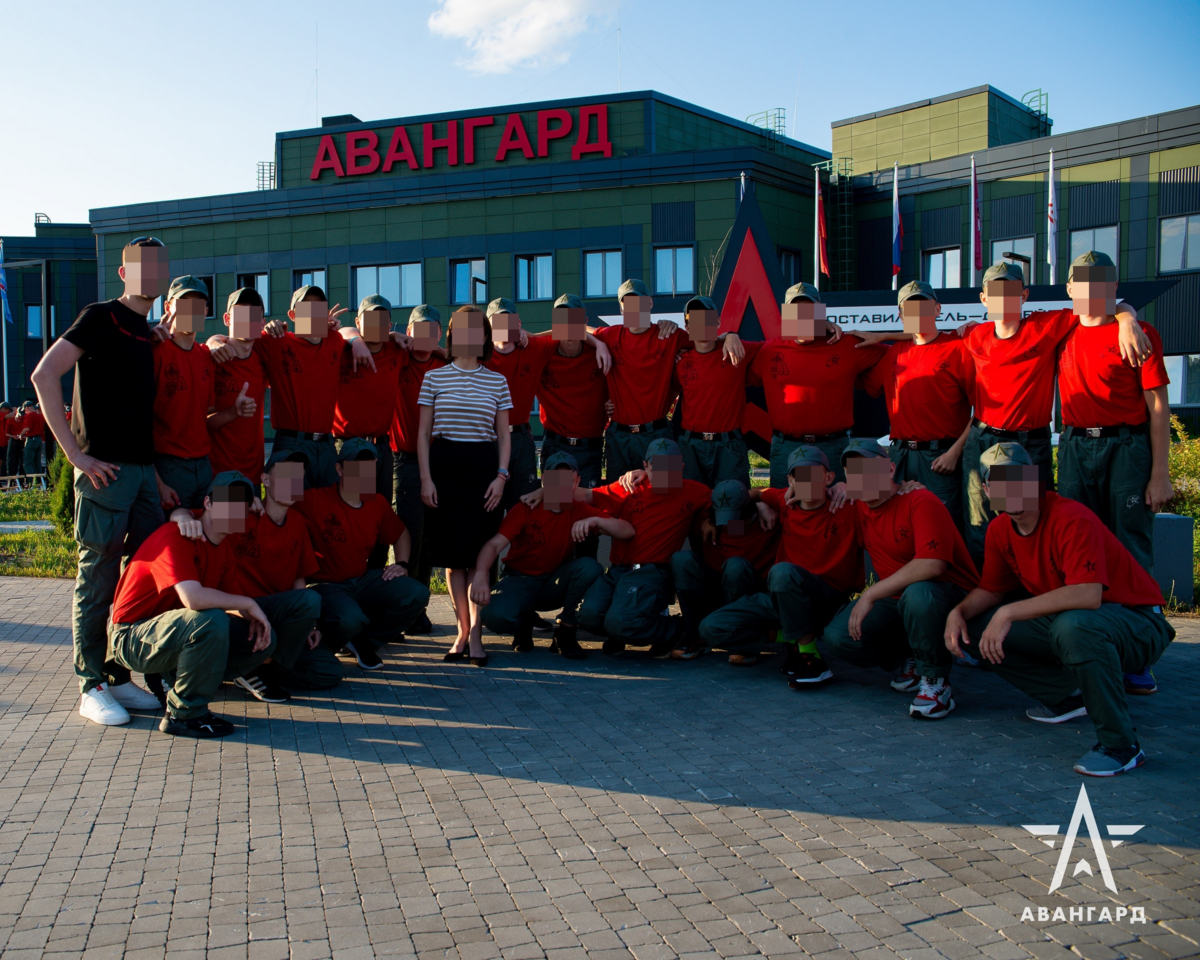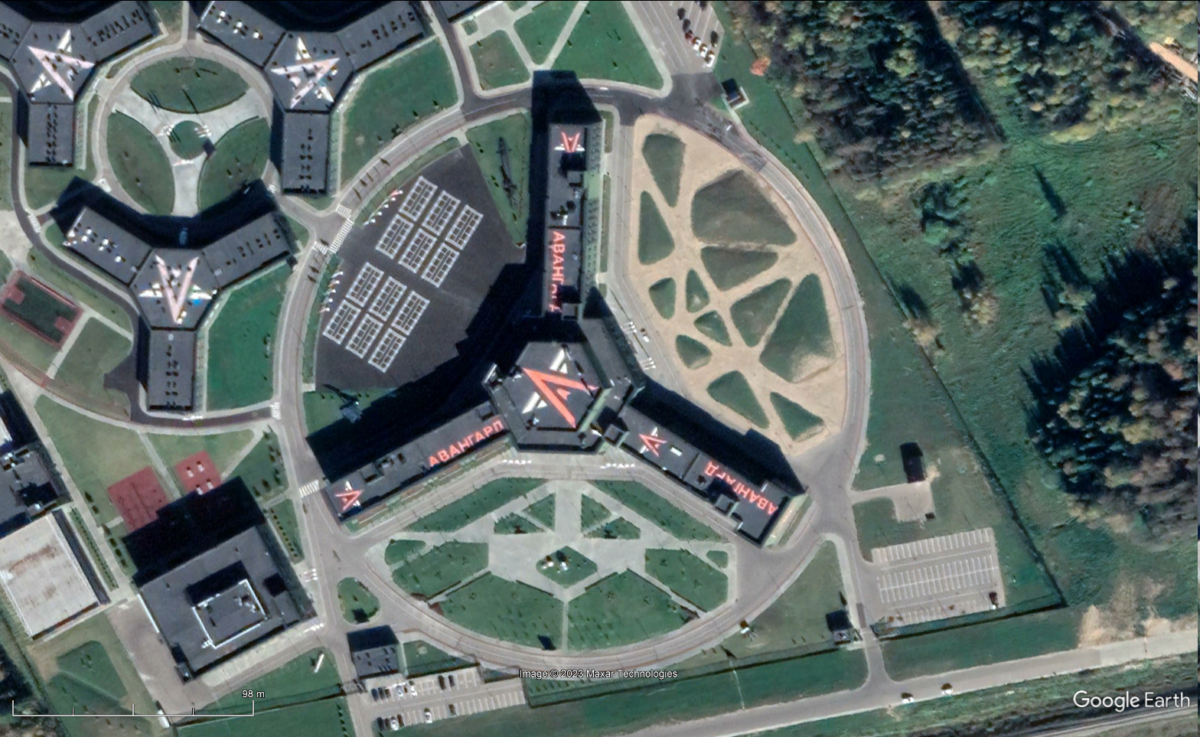 A number of TikTok accounts that had posted pictures from the Avangard complex, also posted videos of themselves in other locations.
As mentioned, one user posted a sign-up contract and the top right hand corner of this document reads в/ч 91704, which is the unit number for the 254th Motor-Rifle Regiment (254th MRR) which is based in Klintsy, Bryansk Oblast, Russia (52.7140448467, 32.2691789635).
We found several TikTok accounts and a YouTube channel from the Nepali men posting from this location.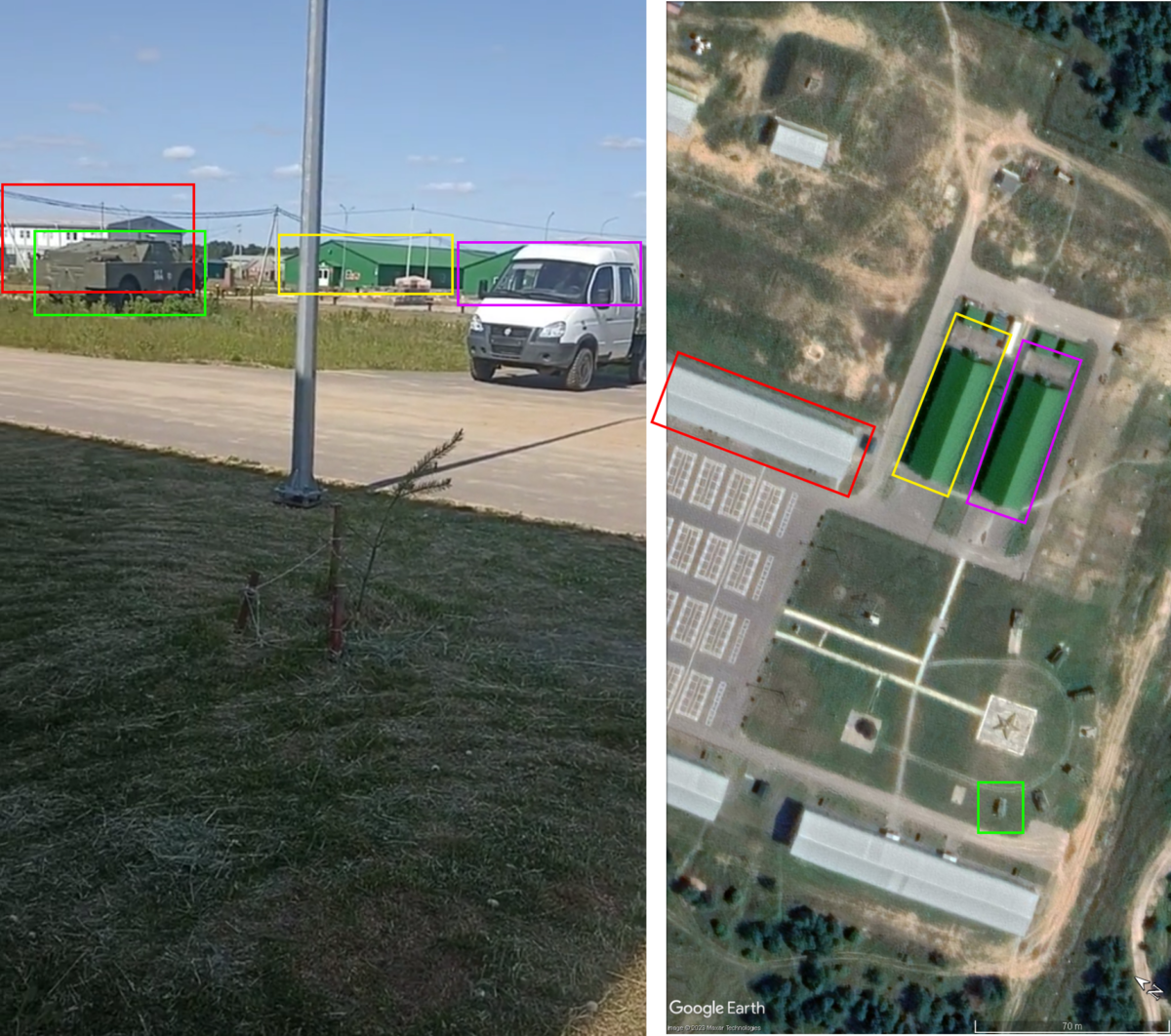 In June, 2023 one TikTok account posted a video showing Russian military personnel and what appear to be other volunteers waiting at a train station.
We geolocated this video to Maslovka train station in Voronezh, Russia (51.564140, 39.246172). The station was a hub for the Russian military buildup in 2021, leading up to the full-scale Russian invasion of Ukraine in February 2022.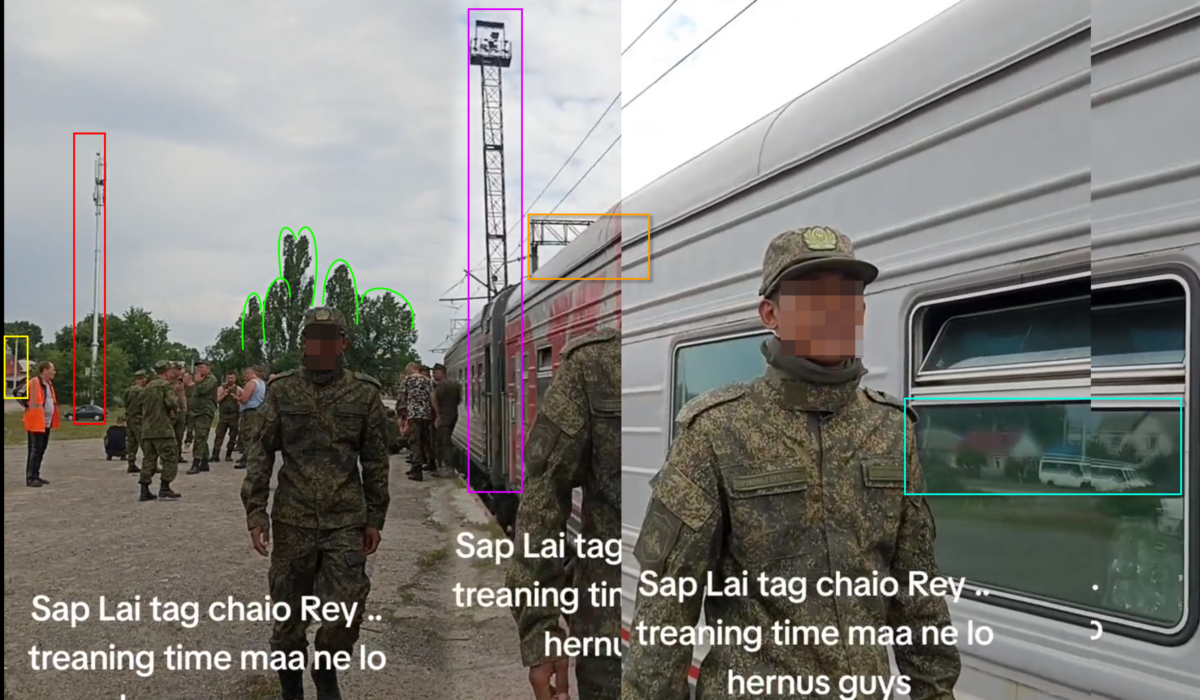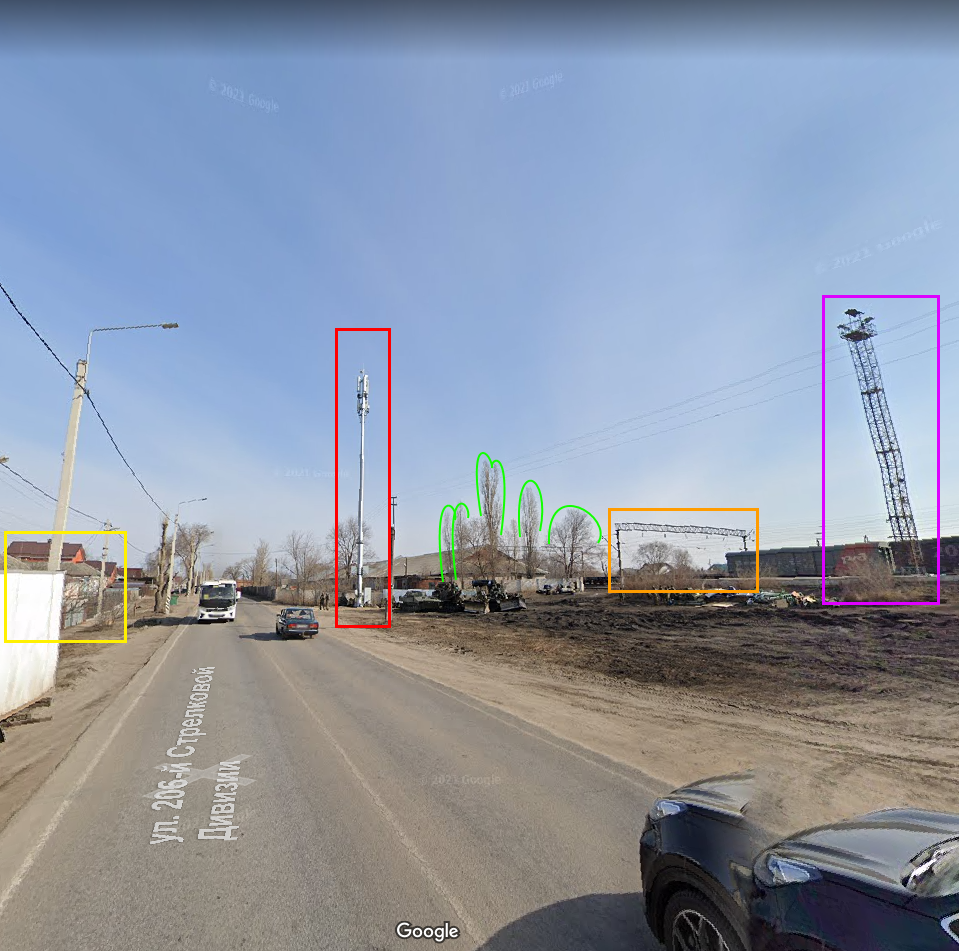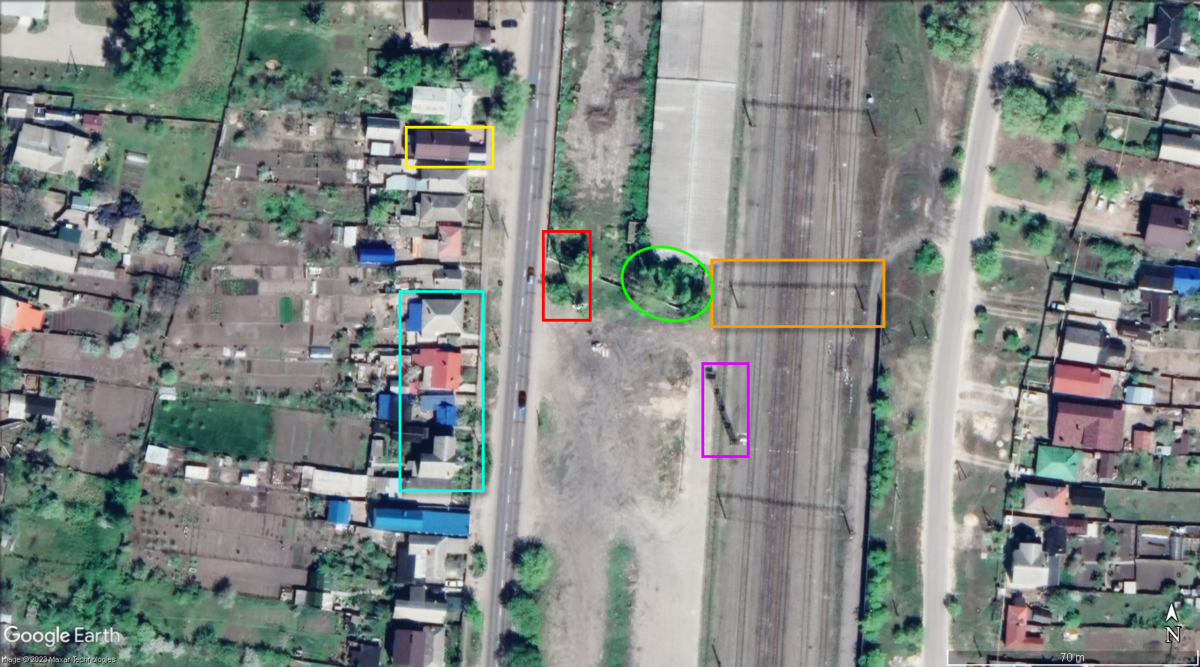 The TikTok image is taken from the platform, the Google Street View is taken from the road, down the hill, left of the platform. Google Earth Pro you can see Maslovka station from above.
Also in June, an account posted a video showing a group of soldiers at another train station. By stitching together individual frames of the video, we could clearly see identifiable elements in the background. It came after several posts on the Nepali TikTok accounts referring to travelling to Belarus for training.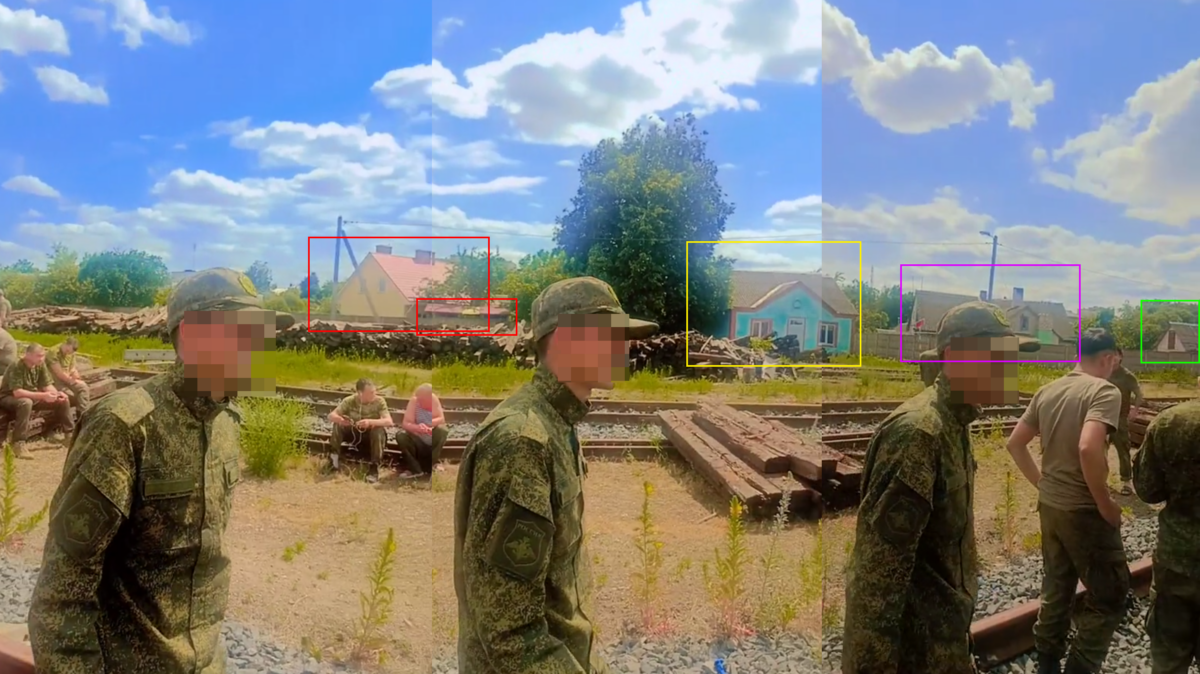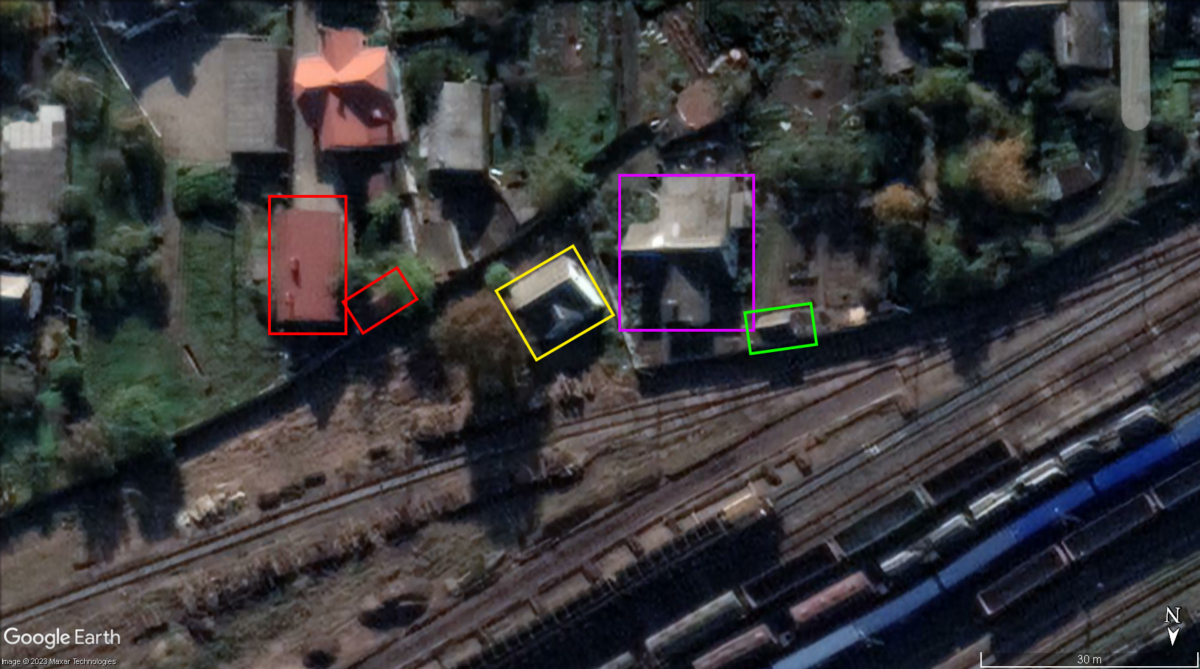 This video was geolocated to the Belarusian city of Baranavichy (53.132000, 25.996833), which has a large training area nearby.
Russia's Need for Foreign Fighters
The Nepali TikTok accounts did not show overwhelming evidence of pro-Russian sentiment.
In recent months, the Russian military has sought to address its manpower needs by attracting foreign citizens.
Central Asians are the most numerous foreign fighters but as the Moscow Times recently noted, Ethiopians, Sri Lankans, Tanzanians and Zambians have also signed up.
Al-Jazeera reported that the minimum monthly wage offered for people signing up for what Russia describes as the "special military operation in Ukraine" is 160,000 rubles (US$2,700). Significantly higher than the average wage in Russia. One Nepali recruit who spoke to Nepalese outlet Khabarhub but wished to remain anonymous said the soldiers would be eligible for a salary of up to $2,500 once training was completed.
It's not clear what wage is being offered to soldiers in training.
Why are Nepalis Joining the Russian Army?
Evidence the accounts were linked to Nepali nationals was found from clues in their TikTok profiles.
A Nepali speaker reviewed the eight accounts we found, and found they appeared to include people from different regions of Nepal – including from the southern plains that border with India to people from the hills.
In several of the accounts we identified Nepali-speaking men with Nepali dialects. Accounts used songs and dialogue in their videos that could either be from Nepal or from India – where there are several Nepali origin communities. In these cases we checked the older posts from the accounts, which indeed appeared to show footage and images taken inside Nepal.
The Nepali-language article by the aforementioned journalist Birat Anupam for NepalPress offered some suggestions as to the potential motives of Nepalis signing up to serve in the Russian army.
It suggests that Nepalis come to Russia as "students and tourists" and subsequently sign up for the country's military.
Anupam contacted two Nepali men who had joined the Russian army and spoke to them via Telegram, initially under the guise of being a Nepali youth expecting to join the Russian Army. He was blocked after he told them he was a journalist.
Both men spoke about the difficulties of joining Western militaries such as the French Foreign Legion or the military in the US or UK. And both spoke about the ease of joining the Russian army.
"After one year, we can get citizenship as well. If I don't die after a year, I will stay here only." One of the men told NepalPress, but did not want to be named in the report.
The article also cited a scanned letter from the Embassy of Nepal in Moscow dated to the 28 of the Nepali month of Bhadra (August-September in the Gregorian calendar).
It stated that the number of Nepali students at Russian universities had dramatically increased and advised citizens to be wary of easy student visas.

However, at time of publication, this letter appeared to have disappeared from the Nepali embassy's website.
An archived copy of the letter can still be accessed. It is not known why the letter appears to have been removed.
Bellingcat contacted Nepal's Foreign Ministry and Embassy of Nepal in Moscow to ask about the presence of Nepali citizens in the Russian army, how many Nepalis were currently serving in the Russian army and what Nepal's position is on its citizens joining the Russian army. At time of publication we had not received a reply.
Nepal's Military Tradition
The length of time that the men featured in the TikTok accounts spent in Russia, prior to their appearance in the training camps, varied.
In at least one case, we found evidence that pointed to their arrival in Russia as early as November, 2022, when they appeared to be studying Russian. It is not clear how long the other men featured in the TikTok accounts spent in Russia prior to their appearance at the training camps.
Several of the TikTok accounts include hashtags such as #gurkha and #gorkhali. Others use #lahurey, a reference to "those who go to Lahore," where the British Indian army used to train Nepali soldiers.
All these hashtags allude to The Gurkhas, an elite Nepalese group of fighters initially recruited by The British East India Company during British Colonial Rule but who are still recruited to the British and Indian armies today. However, there is no evidence the Nepali soldiers training in Russia are from Gurkha regiments.
Some Nepali citizens are also known to contribute to foreign militaries such as the US Army, and Nepalis are a significant presence in UN peacekeeping forces. There is a large workforce of Nepalis who seek income and opportunities outside Nepal, providing remittance payments to families at home.
Bellingcat contacted both the Russian and Nepal foreign ministries to ask about Nepali soldiers serving in the Russian army. We also contacted the Embassy of Nepal in Moscow and attempted to reach several Nepali TikTok account holders. At time of publication we had received no response.
---
Maxim Edwards, Youri van der Weide, Michael Sheldon, Aric Toler and Dennis Kovtun contributed to this report.
Bellingcat is a non-profit and the ability to carry out our work is dependent on the kind support of individual donors. If you would like to support our work, you can do so here. You can also subscribe to our Patreon channel here. Subscribe to our Newsletter and follow us on Twitter here and Mastodon here.