Borderless Vigilantism: The Nativist US Militias Entering Mexico
Run all the way back!" shouts Jeremiah 'Jay' Shivers to a terrified, unarmed man whom he threatens at gunpoint. Shivers is an affiliate of a nationalist militia, and "back" means Mexico. But a geolocation indicates that, in his bid to strengthen the US' southern border, Shivers crossed it himself.

This is one of at least four instances in which members of Shivers' militia group, or their drones, crossed into Mexican territory and uploaded evidence to Telegram. These four videos have now been geolocated by Bellingcat.

Shivers' outfit, Veterans on Patrol (VoP), has employed a variety of aggressive anti-immigrant tactics in recent years. Situated in Pima County, Arizona, the group is reportedly one of dozens which targets migrants on US soil.
Veterans on Patrol isn't the only militia to have spoken candidly about cross-border operations — though this June 2022 video, and separate footage from November 2021, appear to be among the first independently verified evidence for them. VoP members contacted by Bellingcat for this article have also confirmed that they have entered Mexico "exactly where the criminals enter illegally".

Beyond his stint with the border militia, VoP volunteer Jeremiah Shivers was active with several far-right movements and events. Business Insider reported his presence at a September 2021 'Justice for J6' rally in Washington DC, held in support of the rioters who stormed the US Capitol Building on January 6.

After Shivers' death from cancer in July 2022, the VoP-affiliated Telegram channel seen above mourned "the most fierce VoP volunteer to ever storm into Mexico".
The tactics employed by Shivers and his comrades raise a plethora of legal issues, not least the ramifications of violent altercations within Mexican territory.
In the US and Mexico, naturalised citizens and undocumented migrants alike are afforded basic rights and protections, which could be jeopardised by violent extremists now on both sides of the border.

Last month, United States Senators Ed Markey, Elizabeth Warren, and Cory Booker released a letter imploring Attorney General Merrick Garland, Homeland Security Secretary Alejandro Mayorkas, and acting Customs and Border Protection (CBP) commissioner Troy Miller to further investigate vigilante activity by Veterans on Patrol.

Their concerns surround VoP's verified activity intercepting unaccompanied minors along the US-Mexico border and possible violations of a US law which prohibits individuals from impersonating agents of the federal government. Notably absent, however, is any mention of extranational activity by VoP or any other paramilitary group.
"To date, nine patriots and one documentary crew have crossed into Mexico to disrupt the cartel", reads the Telegram post containing the aforementioned video of Shivers.
"They eliminated the border… so we will just take territory in Mexico one mountain at a time", continued the post. "Either the Mexican military seals their side off, or Veterans on Patrol will."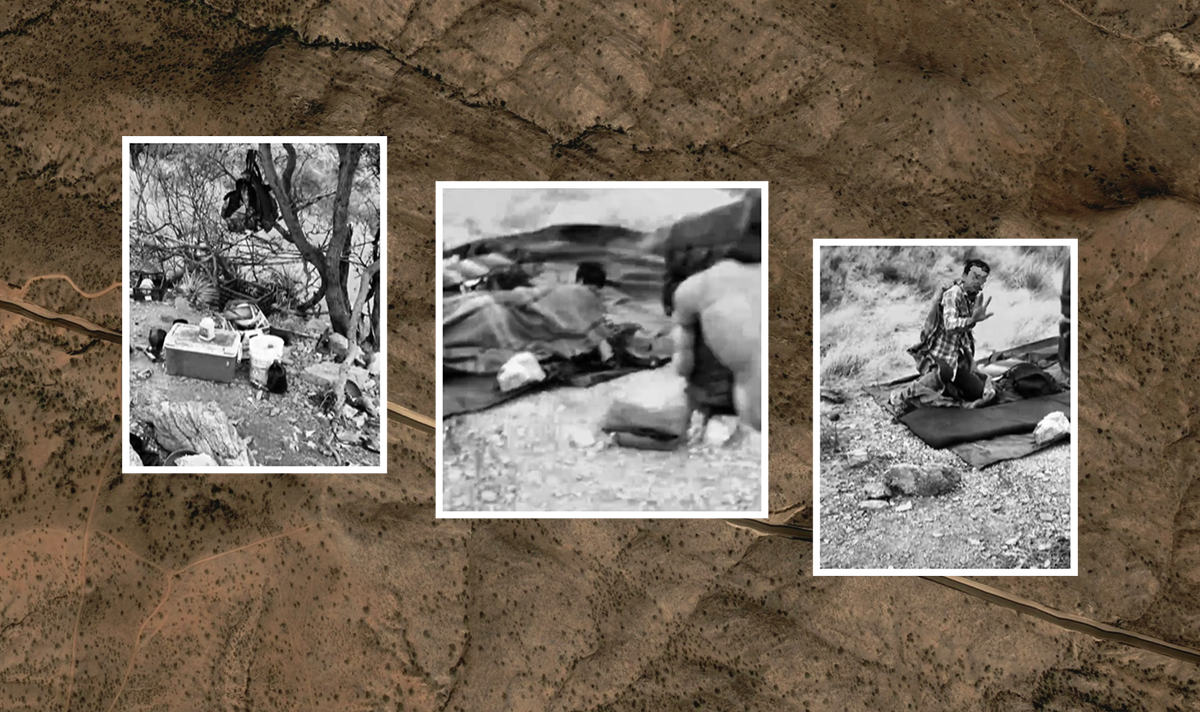 Who are Veterans on Patrol?
Veterans on Patrol is a nativist militia which has been active in Arizona since 2015. Founded as a support network for homeless veterans, VoP maintained camps in Tucson and Phoenix to aid disaffected communities while forging relationships with organisations across the far right. According to the Southern Poverty Law Center (SPLC), an independent civil rights watchdog, the group has been under the continued leadership of Michael Meyer, also known by the name 'Lewis Arthur'. Christian nationalism and nativism are central tenets of the militia's worldview.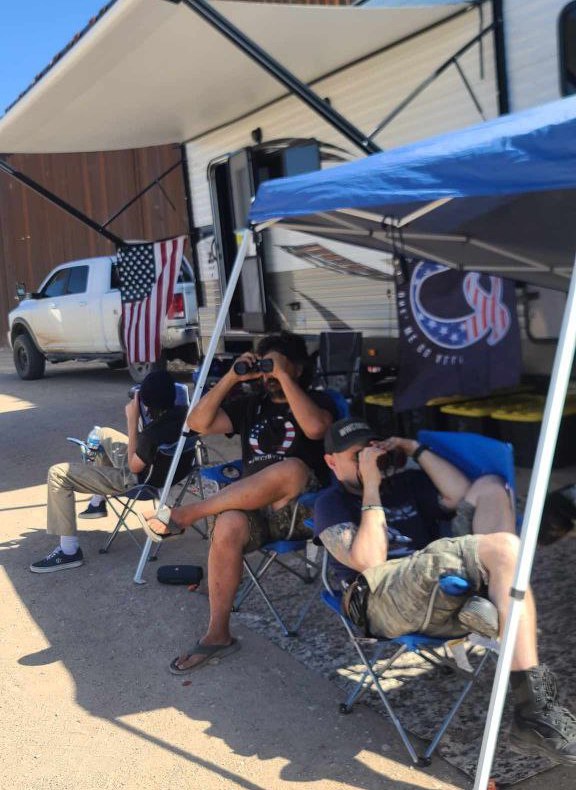 The SPLC writes that VoP shifted its focus in 2018 to address human trafficking, particularly of migrant children. In recent years, VoP's associates have reportedly embraced conspiracy theories which incite extranational vigilantism and militant activity; in the spring of 2022, QAnon adherents travelled to Arizona in support of the militia's activities.

This month a report by the Tech Transparency Project, a non-profit campaign to demand accountability from big tech platforms, claimed that VoP continues to recruit volunteers and appeal for material support from its thousands of supporters in online forums, most notably Telegram and Facebook.
Geolocating the Footage
In the footage from June 2022, Shivers pans across a desert landscape to show his location on the spine of a prominent ridge, made clear by steep drops flanking a rocky trail. Before he focuses the camera on a sprawling collection of dark tarpaulins and blankets, a set of nondescript peaks become visible in the background. A second video clarifies that these peaks are just northwest of Sasabe, Mexico, approximately 18 kilometres away.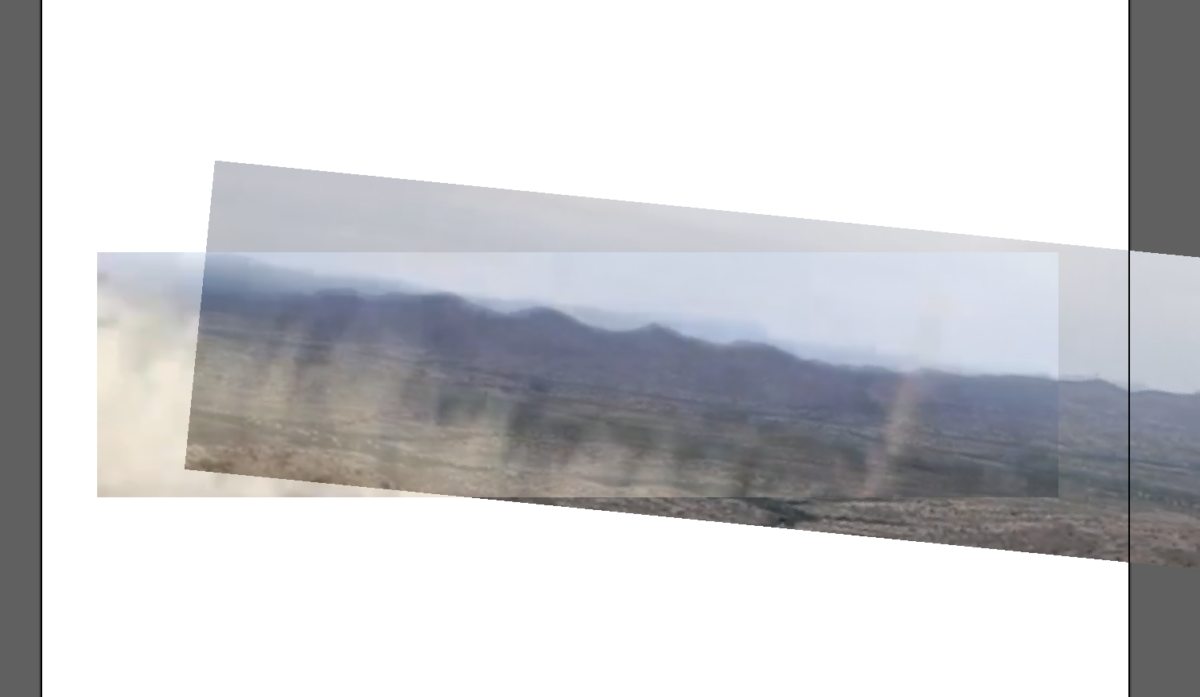 We used Peakvisor, a tool which identifies mountain ranges and is primarily used by outdoor enthusiasts, to match this vista with ridgelines in the border area.
As Shivers approaches the tarpaulin, a sheer cliff becomes visible in the distance. In this area of the Sonoran Desert, the terrain is relatively flat, and abrupt changes in elevation are rare. Known as Coches Ridge, this vertical face is just over three-kilometres away, and can be found using satellite imagery due to its distinctive tiers and exposed rock punctuating an otherwise near-featureless area.
Shivers begins to kick the tarpaulin and draws a handgun. As he prods at the fabric, a mound becomes visible under the tarpaulin, which he pulls away to reveal a man wrapped in a blanket. Shivers quickly retreats several paces before training his firearm on the unidentified man.
As the man rolls to face him, Shivers yells: "Get the fuck down motherfucker." He repeats this, as the man immediately raises his hands to indicate that he is unarmed and stands up slowly. The unidentified man replies, though inaudible in the recording, and backs away slowly before turning to flee.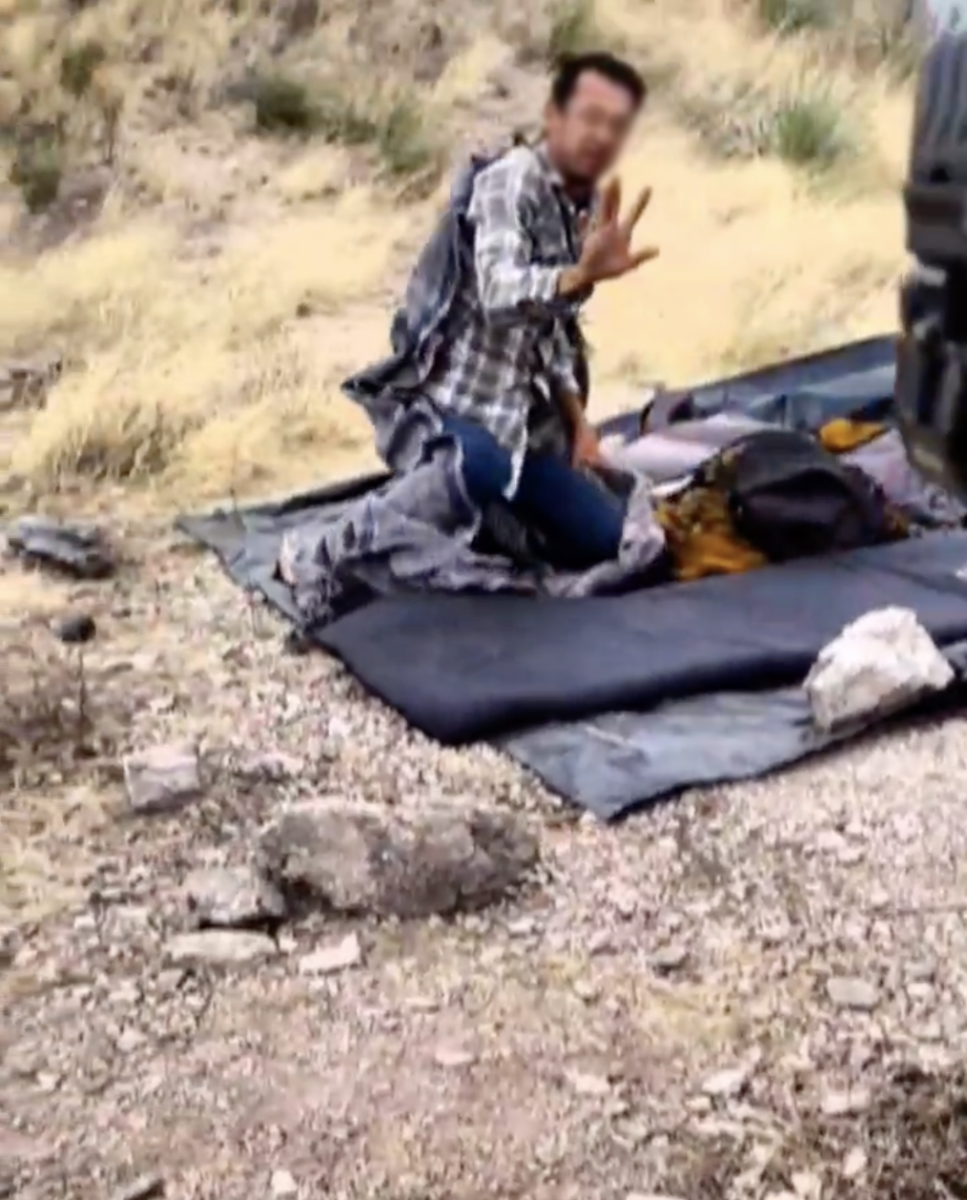 Shivers chases him at gunpoint toward the precipice of the ridge, while continuing to scream at him to "get down" and "keep running motherfucker." Before returning to search the man's belongings, he yells after him to "run all the way back."
As he pans over the man's small encampment, comprised of a red igloo cooler, a tattered backpack, and empty milk crates, Shivers realises: "Fuck, he saw my face."
This immediate area, seen earlier in the footage, contains light, grassy vegetation which stands in contrast to the much rockier nearby terrain. Historical vegetation mapping accessed via ArcGIS corroborates this observation, as many swathes of desert in this area can be defined either by visible greenery or dense shrubbery. In addition, two trees proximal to the camera indicate that the video was shot near the centre of the ridgeline.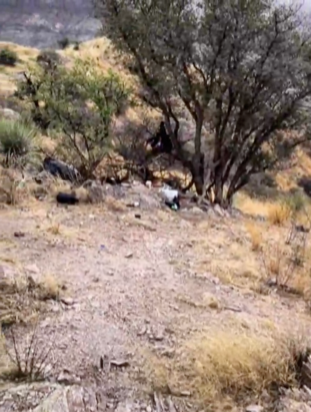 Shivers proceeds to rifle through the man's belongings, finding a cracked radio and yells slurs in Spanish onto the open channel. In the final frames of the footage, Shivers states his contribution to the militia saying: "We've got radios."

Clips from this same video of Shivers surfaced in an August 2022 YouTube video, uploaded by VoP volunteer Shawna 'Butterfly' Martin, mourning her comrade's death and appear to acknowledge his presence on the other side of the border. "Jeremiah didn't stop at removing cartel scouts from the mountains in Mexico…" reads text appearing on screen.
A second video disseminated by a Telegram channel using Shivers' pseudonym on 2 November 2021 also confirms the militia's cross-border activity. A presumed militia volunteer focuses the camera on a distant ridgeline, which provided a backdrop to the violent encounter detailed previously.

He pans across the desolate landscape to reveal a long, dark shadow which appears to be bordered by a bright line. Drawing closer, it becomes clear that the silhouette is that of the US-Mexico border wall.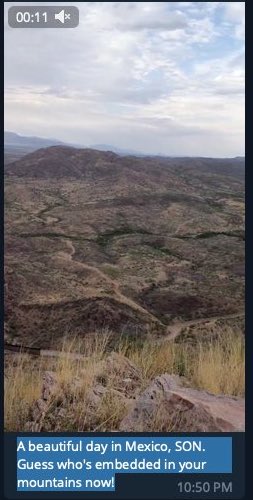 On the side opposite the camera, a sandy road provides American CBP agents access to the structure. Geographic features like Baboquivari Peak and Coches Ridge place the person filming this footage just metres away from the confrontation described above, also on the Mexican side of the border.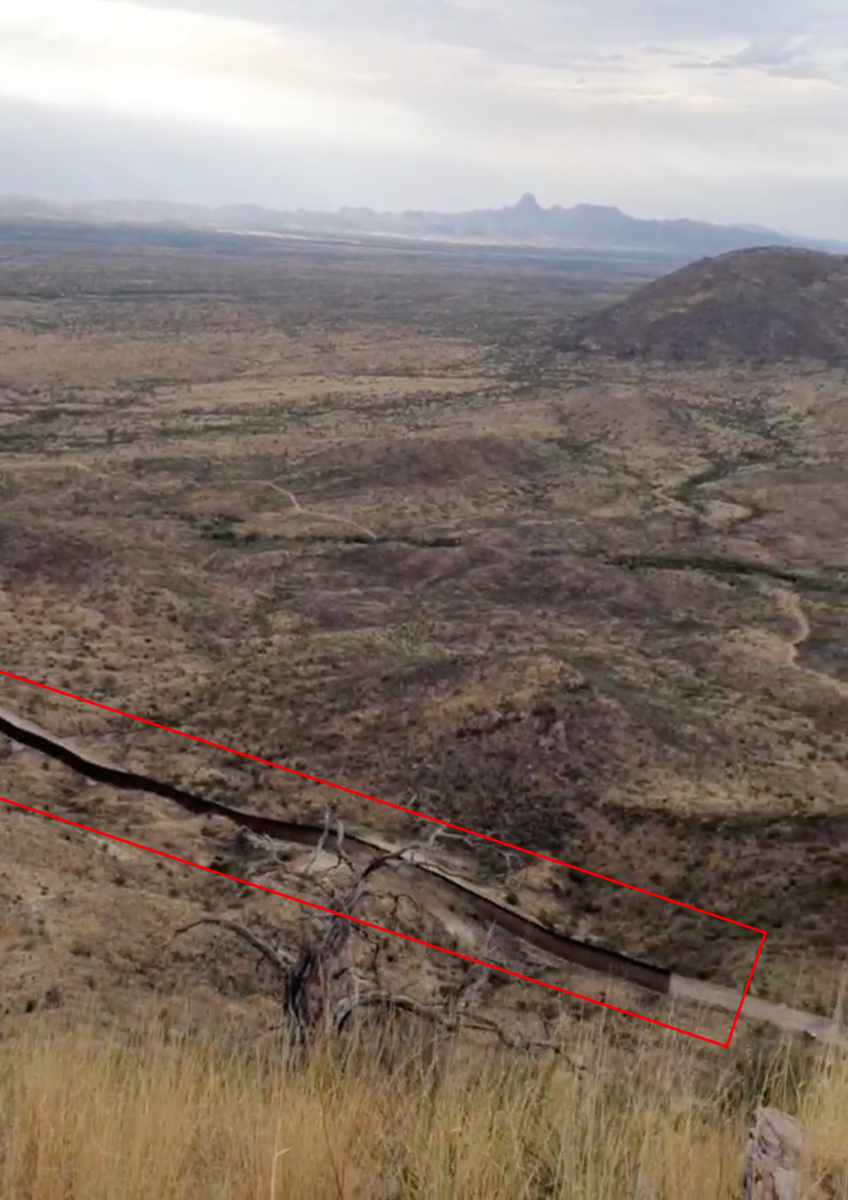 Shivers cannot be seen crossing the border in the video where he threatens the unarmed man, nor does the cameraperson in the November 2021 video show how they crossed the border. However, it is important to note that the nearest CBP border crossing checkpoint is located nearly 13 kilometres away over rough terrain, while these videos were filmed just under 300 metres from the US-Mexico border.

Bellingcat identified two additional videos disseminated on November 2, 2021, by VoP volunteers on Telegram, and likely filmed by drone, showing the nearby town of Sasabe, Mexico. However, as the drone cannot be seen crossing the border, it cannot be ruled out that these were filmed by individuals who had crossed into Mexico via an official border post or by individuals based in Mexico.

On several occasions, VoP has claimed to conduct 'surveillance' both across Pima County, Arizona and inside Mexico. In a Telegram post sharing the drone footage, Meyer suggested the militia was engaged in 'extensive intelligence gathering', though it cannot be conclusively said whether this footage was part of such an operation.

When asked about this incident by Bellingcat's reporter, Meyer stated that the drones were "launched in by an individual who was covering VoP Operations while simultaneously providing us accurate Intelligence of key positions".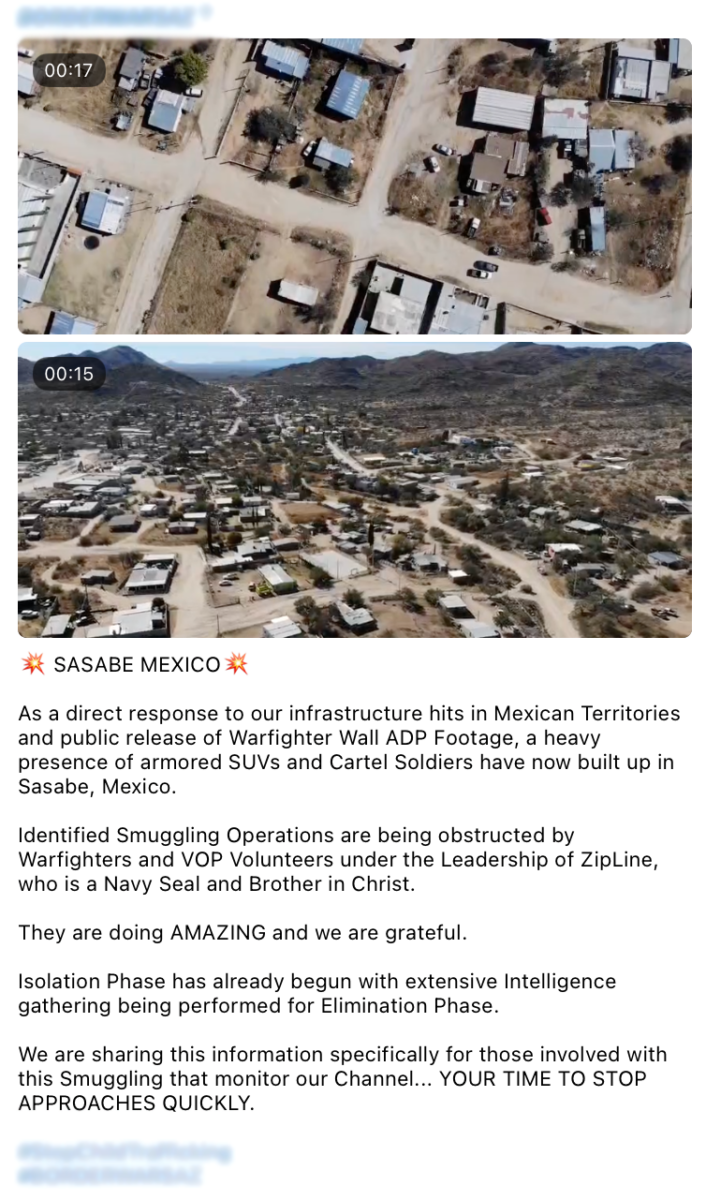 As VoP affiliates have put it in other videos, they enter Mexico in order to disrupt the activities of 'cartel scouts' whom they believe to be involved in human trafficking operations. In early 2022, aforementioned VoP volunteer Shawna 'Butterfly' Martin claimed in a YouTube video that she had dismantled humanitarian water caches. "I'll get them wherever they're at", she responded when asked by an unidentified person in the video whether she had crossed the border fence to do so. Earlier that year Martin filmed herself crossing a Mexican border checkpoint.
Local news reports from Arizona indicate that Meyer was arrested in 2019 for similarly destroying several of these water tanks — including a number which were maintained by the humanitarian group Humane Borders for migrants crossing the desert. Meyer told Bellingcat that the case against him was a "frame job" and the charges "fabricated".

Militia members may well have operated inside Mexico on other occasions. The same Telegram account affiliated with VoP has shared other posts alleging cross-border operations, but as they do not include footage or images, their claims cannot be independently verified.

For example, one such post from October 26, 2021 takes the form of a 'to do list', referencing the need to notify the Mexican authorities about a forthcoming cross-border operation.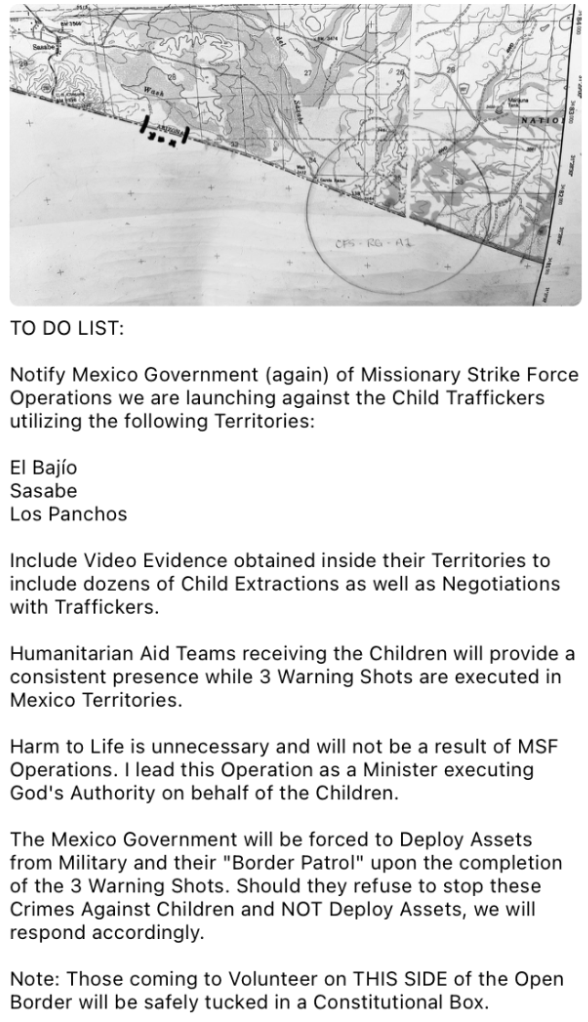 Meyer told Bellingcat that he had contacted Mexican and US authorities ahead of the October 2021 operation. Neither border agency responded when asked by Bellingcat whether they had been contacted by VoP.

Pima County Sheriff Chris Nanos, whose jurisdiction is home to VoP, is familiar with the militia and its leadership. However, in an interview with the author, the Sheriff denied any knowledge of cross-border activity. Despite VoP's presence in his county, Nanos stated that "the issues on the border are for the federal government to deal with", stipulating that his department lacked the resources necessary to address vigilante border militias in Pima County.
A Texan Connection
In the borderlands of southern Arizona and beyond, many nativist vigilante groups have reportedly developed intense rivalries. Perhaps for this reason, VoP is not the only US militia to have claimed that its affiliates have crossed into Mexico. Mere weeks before Shivers' cross-border activity was disseminated on Telegram, a member of the Texas-based militia Patriots for America (PFA) posted to Facebook, claiming to have returned from an "undercover operation" into Mexico (the group is also referenced in the aforementioned US senators' letter).

In the image posted to Facebook below, PFA volunteer Chris Polone poses near the US-Mexico border crossing at Eagle Pass, Texas. Polone can be seen in several other photographs wearing PFA badges on a bulletproof vest.

Bellingcat has been unable to establish whether any imagery of Polone was taken inside Mexico.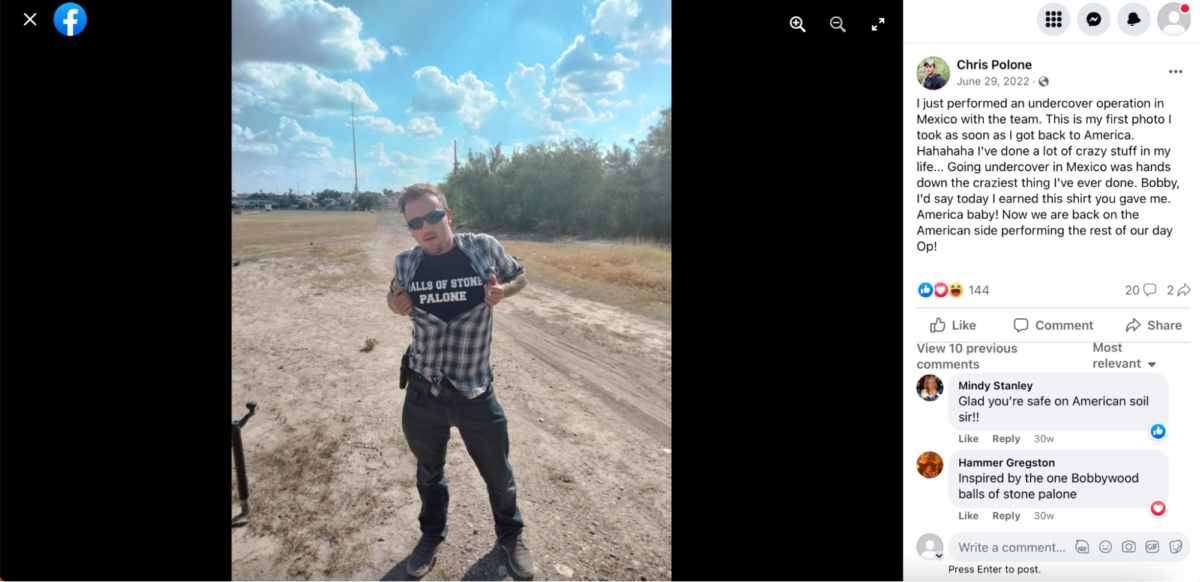 While there is no evidence that members of PFA have engaged in irregular border crossings, these images again suggest that nativist militias have become more aggressive in their willingness to operate beyond US borders – or portray themselves as capable of doing so.

Neither Polone nor PFA responded to Bellingcat's requests for comment about this incident.
An Extremist Ecosystem
Author Patrick Strickland followed VoP closely while researching his 2022 book, "The Marauders: Standing Up to Vigilantes in the American Borderlands". When asked about VoP's cross-border activities, Strickland stated that he "wouldn't be surprised if Veterans on Patrol or other militias would be reckless enough to cross into Mexico."
He explained that, "In recent years, many militia groups and vigilantes have steadily escalated their activities on the southern border, oftentimes casting themselves as heroic actors in a supposed war against cartels or child sex traffickers."
In that supposed conflict VoP, like other border militias, has historically sought the support of law enforcement officials, most notably CBP officials. Meyer told Bellingcat that VoP leadership had a "solid working relationship" with the border agency and that its volunteers were instructed to assist them as long as the agency worked "in a righteous manner".

In a May 2022 video uploaded to the same VoP-affiliated Telegram channel, of which he is listed as an administrator, Meyer claimed to have coordinated directly with CBP personnel to force migrants across the border into the US. He separately claimed in a Telegram post that border patrol agents were aware the militia had entered Mexico illegally as early as July 2021.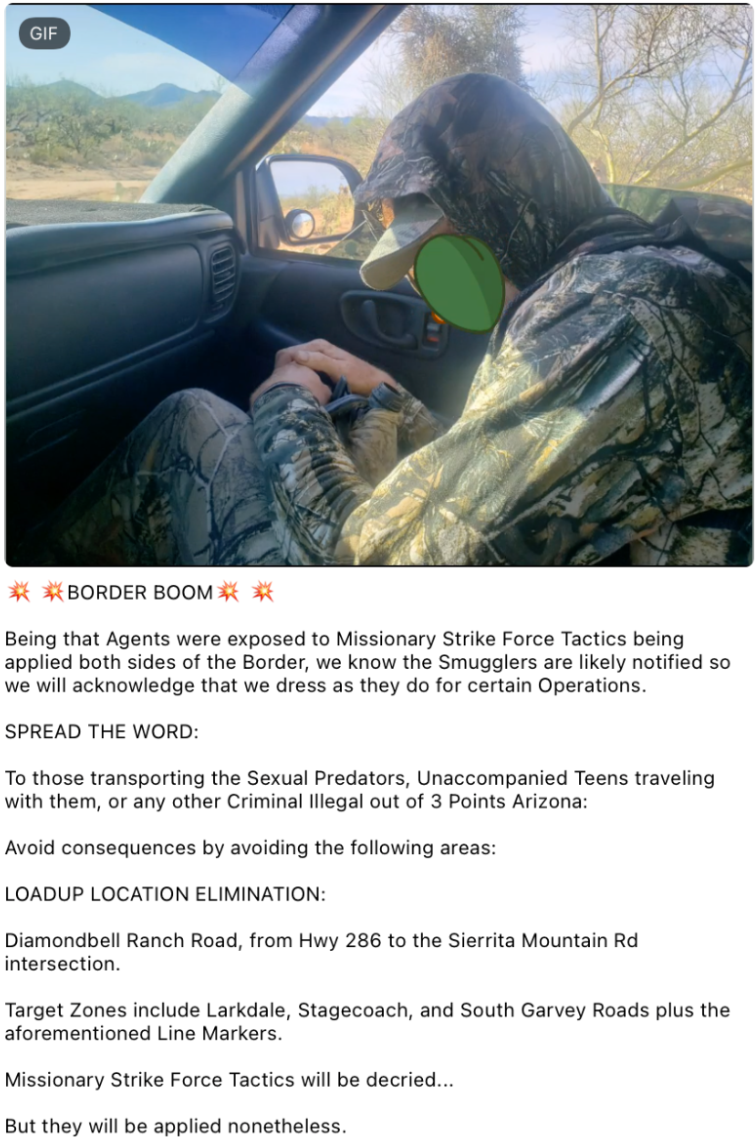 Since then, CBP personnel have appeared to monitor VoP more actively. Last May, a video appeared on militia affiliate Jason Frank's personal YouTube channel entitled "more shenanigans and intimidation from BP [Border Patrol] since NYT [New York Times] hit piece". A member of the militia is heard asking a border patrol officer in his vehicle why "you've got people on me 24-7".

In a Telegram video the previous month, 'Lewis Arthur' had stated that he holds the rank and file of the CBP in high esteem but that its leadership needs to change. Boasting about the "intelligence" his militia collects along the border, Lewis Arthur adds that "we've got people who're going to tell these agents what they need to know when they need to know it… so they can just get the coordinates and information and respond".
It is not known whether the CBP received such 'intelligence' nor, if so, whether it was gathered in cross-border activities.
Bellingcat reached out to the CBP and its parent organisation the Department of Homeland Security (DHS) to ask whether the US authorities were aware of cross border activities by vigilante militias. Our reporter also asked the CBP whether they had acted on any information provided to them by such groups, including information gathered in Mexico. Neither agency had responded by press time.

Neither Mexico's Institute for Migration nor the army directorate responsible for the Nogales-Sasabe section of the border responded to multiple requests for comment from Bellingcat.

In response to Bellingcat's questions, Shawna Martin said that "our border is unsafe" and emphasised the need to protect vulnerable and trafficked children. "We try our best to stay within the lines but they keep coming up with new ones", she remarked. Like Meyer, she stressed that her activities were well-documented.

Meyer disputed the characterisation of the group as a "militia", claiming in additional comments that it has turned over hundreds of criminals and assisted thousands of trafficked people.

Meyer confirmed to Bellingcat that Shivers conducted several "operations" inside Mexico. When asked whether VoP volunteers entered Mexico regularly, through a border checkpoint, Meyer responded that "entrances for Cross Border Operations are located exactly where the criminals enter illegally. The purposes for Cross Border Operations is to obstruct, distract, and/or dismantle the criminal Smuggling Networks."

The VoP leader also told Bellingcat that while he is "never armed beyond God's Word", he does not prohibit VoP volunteers from being armed including when crossing into "cartel territory".

He continued: "Veterans On Patrol is Authorized to perform our duties by our Heavenly Father and only HIS LAW is ours to fulfill".
---
Michael Colborne and Carlos Gonzales contributed reporting and research