Moscow's Mule: How Russia Rewrote a Narcotics Case to Get its Spy Back
A series of indictment documents and information from Russia's data markets show that Moscow's pretext for recalling a spy behind bars in Brazil appears not only implausible, but impossible, Bellingcat can reveal.

When the blond 36–year old man carrying a Brazilian passport in the name of Victor Muller Ferreira landed at São Paulo airport in April 2022, he was immediately taken away by Brazilian security service officers. He tried to argue that he was, in fact, just as Brazilian as they, and that he could not comprehend why the Dutch authorities had told the Brazilians that he was in fact Sergey Cherkasov, a deep-cover spy of Russia's GRU foreign military intelligence agency who had attempted to infiltrate the International Criminal Court at the Hague as an intern.
As Bellingcat reported at the time, his cover story was full of holes. Brazil's Federal Court quickly sent him off to jail for fifteen years after he was convicted on charges of fraudulently obtaining and abusing Brazilian identity documents.

But now Moscow wants him back.
Shortly after his conviction, Cherkasov's story took an unexpected direction. In July 2022, Russian investigative bodies approached Brazilian authorities requesting the extradition of the jailed Russian, who they admitted was Sergey Cherkasov. However Russian authorities claimed Cherkasov was not a deep-cover GRU spy but a hardened criminal on the run from Russian justice, who ran a heroin smuggling ring in Russia in the early 2010s.

To back up this claim, the Russian authorities provided Brazil with dozens of pages of indictment documentation and forensic affidavits alleging Sergey Cherkasov was part of a crime group that smuggled drugs from Afghanistan via Tajikistan and sold them to gangs in Russia between 2011 and 2013. Sergey Cherkasov reportedly confessed to these crimes and requested to be transferred to Russia. As BBC Brazil has noted, it is implausible that this is a genuine demand given that the crime for which he is wanted in Russia would require him to serve out a longer sentence (20 years) than he would have to endure for his fraudulent documents in Brazil (where Cherkasov has been sentenced to 15 years' imprisonment).
Copies of the Russian charging documents were submitted to Brazilian courts and obtained independently by our investigative partners VG (Norway) and RecordTV (Brazil) who shared them with Bellingcat and The Insider. A detailed review of the documents show glaring inconsistencies in the Russian claims.

Moreover, this version of events also clashes with travel data obtained independently by Bellingcat from Russia's black data markets that show Cherkasov travelled to Russia under his own name several times after he was supposedly wanted on criminal charges. These drug trafficking charges only appeared in Cherkasov's criminal record after he had been deported to Brazil and his cover blown — nearly a decade after Cherkasov was supposedly implicated in the drug smuggling ring.

Attempts by Russia's intelligence services to recover their failed agents abroad by fabricating criminal charges against them — thus competing with other countries for their custody — is not a new phenomenon, and has been unsuccessfully pursued in the past.

If Brazil's Supreme Federal Court approves the extradition, it will then be up to the President of Brazil to authorise it. Brazil's lame duck President Jair Bolsonaro remains in office until January 1 and so is in a position to make a consequential decision for Brazil-Russia relations before his successor Luiz Inácio Lula da Silva takes office.
Russia's Indictment Claims
Russia initially addressed Brazil's Justice Minister with an extradition request on 27 June 2022, just under three months after Cherkasov's arrest and a month after his sentencing in Brazil.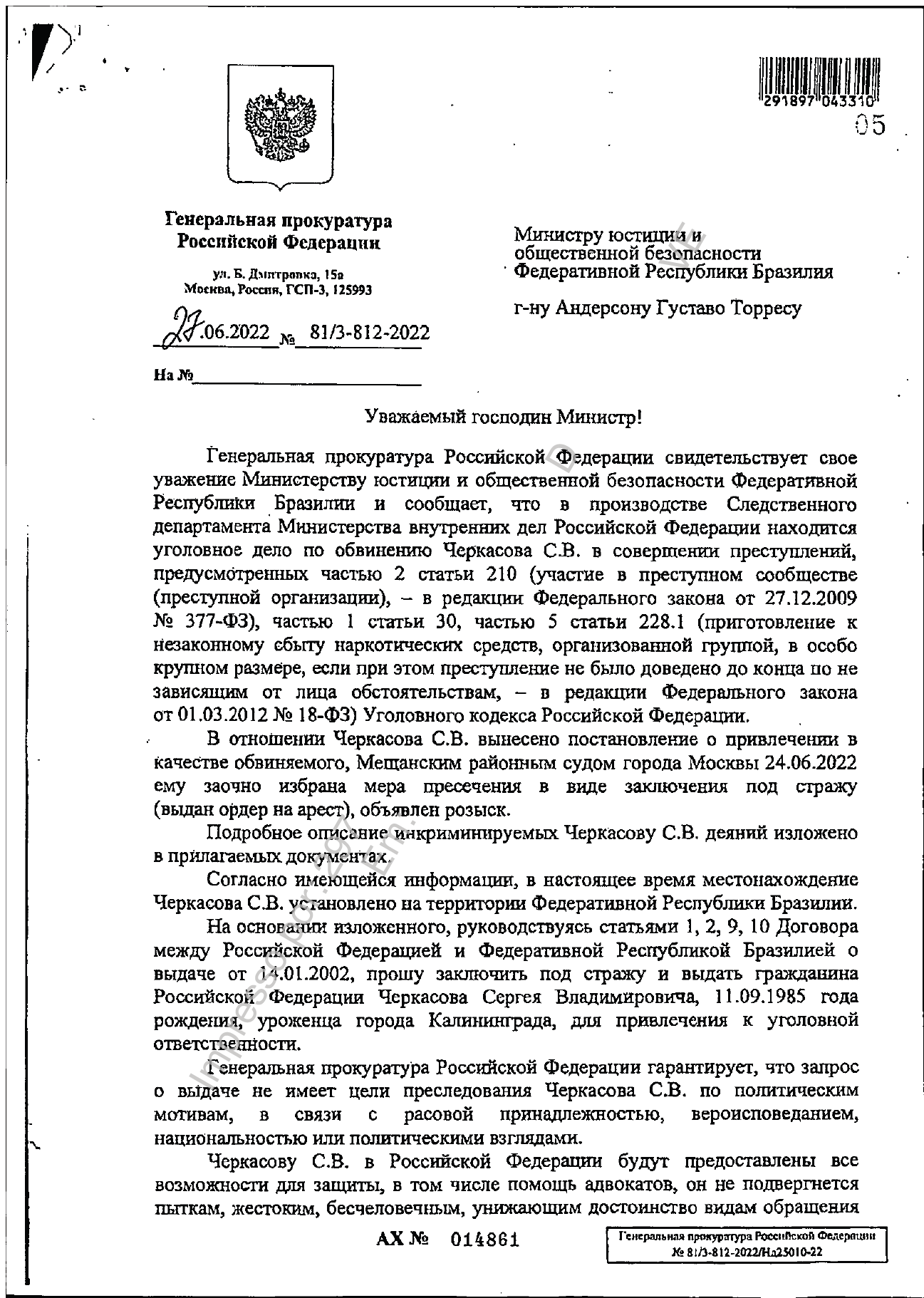 The request, signed by Russia's Deputy Chief Prosecutor Pyotr Gorodov, alleges that Cherkasov was indicted by a Moscow district court on 24 June 2022 (three days before the letter was sent) on charges of trade in narcotics as part of an organised crime group. The letter assures Brazilian authorities that Cherkasov, once extradited, will not be prosecuted on political grounds and will be extended the full protection of Russian law, and if convicted will serve out his sentence in a Russian penitentiary institution.
Attached to the extradition request letter is a 20-page indictment document signed by the chief of the Russian Interior Ministry's narcotics investigative unit. The indictment alleges that Cherkasov "no earlier than June 2011, while being in Moscow, accepted a proposal to become part of an organised crime group trading in narcotics in Russia". Cherkasov's role is succinctly described in the first paragraph of the document as overseeing the delivery of heroin from Moscow to other members of the group based in Lipetsk, a city in central Russia.
Following this introduction, the indictment exhaustively narrates a complicated drug smuggling operation involving multiple legs and crossing several borders from Afghanistan to Russia. The charging papers introduce several other individuals whose role in the drug smuggling operation  is set out in minute detail, including their exact locations on certain dates, telephone numbers used and even locations of dead drops and safehouses. The individuals mentioned in this indictment do indeed correspond to suspects named in Russian judicial documents and activist websites, which outline details of the case. These websites mention that these individuals were charged in 2015  and found guilty in 2017 of running a drug smuggling ring matching the one described in Cherkasov's indictment.

Crucially, Cherkasov's name does not appear in the text of the appelate court decision on this case found on the Moscow Regional Court's website, nor on the case entry on the website of the first instance court of the same jurisdiction. None of the three lawyers who had worked on this case and were approached by Bellingcat's reporting partner The Insider for comment could recall a person of the name Cherkasov in connection with the case materials. 
Thus the criminal case itself does appear to have existed. Cherkasov's role in it, however, appears more doubtful.

The 20-page indictment document provided to Brazilian authorities is accompanied by a summons sheet, which typically contains the signature of the charged person. In this case, the summons was signed by a lawyer assigned to Cherkasov, with the handwritten note "The indicted person Sergey Cherkasov did not appear, without a valid reason."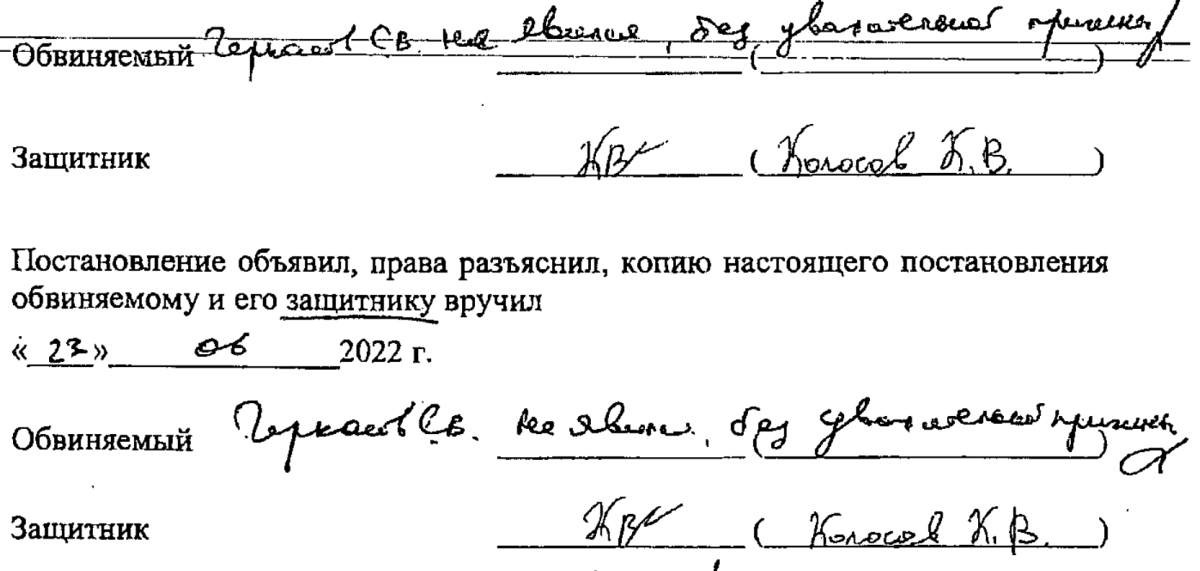 The "valid reason", of course, being that Cherkasov was in a Brazilian jail after his cover had been blown.

Contradictions Accumulate
There is no evidence that Cherkasov was a suspect in Russia prior to his arrest and conviction in Brazil. The timing of the Russian charges being laid against Cherkasov, the inconsistencies in their retelling of the criminal case and the request for his extradition gives an impression that Russian authorities could have attached Sergey Cherkasov's name to an existing, decade-old criminal case involving a drug smuggling ring.

Furthermore, travel data seems to support this; it shows that Cherkasov was not even in Russia at the time of the alleged criminal activities.
While the indictment document is very specific about the timeline of activities of the convicted members of the drug ring, it provides only a few data points about when Cherkasov allegedly committed his crimes.
The introduction to the indictment alleges that Cherkasov started working with the organised criminals "no later than 2011".
Yet later in the indictment two mutually contradictory paragraphs can be found referring to events that took place in August 2013.
In the first paragraph on page 23, Russian prosecutors claim that members of the crime ring — but not Cherkasov — were arrested on 10 August 2013, following which Cherkasov and a co-conspirator with the surname Sandalov delivered a kilogramme of heroin to Lipetsk.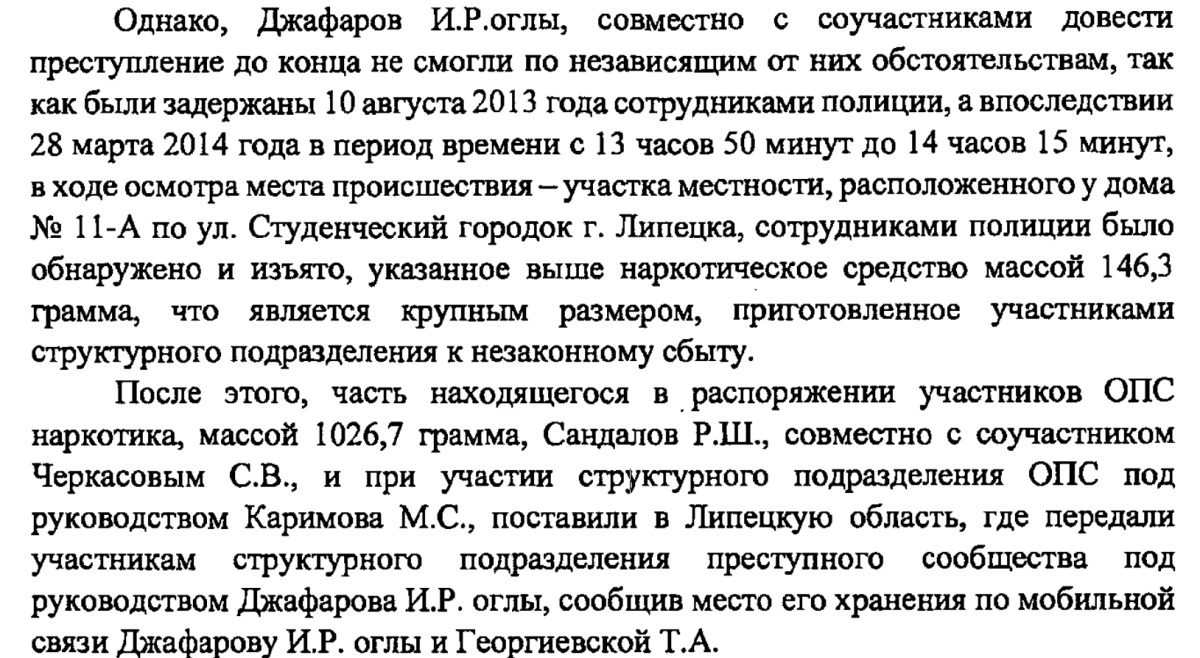 However, in a subsequent description of the same events on page 25, Cherkasov is reported to have been arrested on 10 August 2013, which allegedly prevented him from committing the crime of delivering a kilogramme of heroin to Lipetsk. This inconsistency leaves the impression that Cherkasov's name was retroactively — and apparently without due care — inserted into a previously consistent prosecutorial narrative.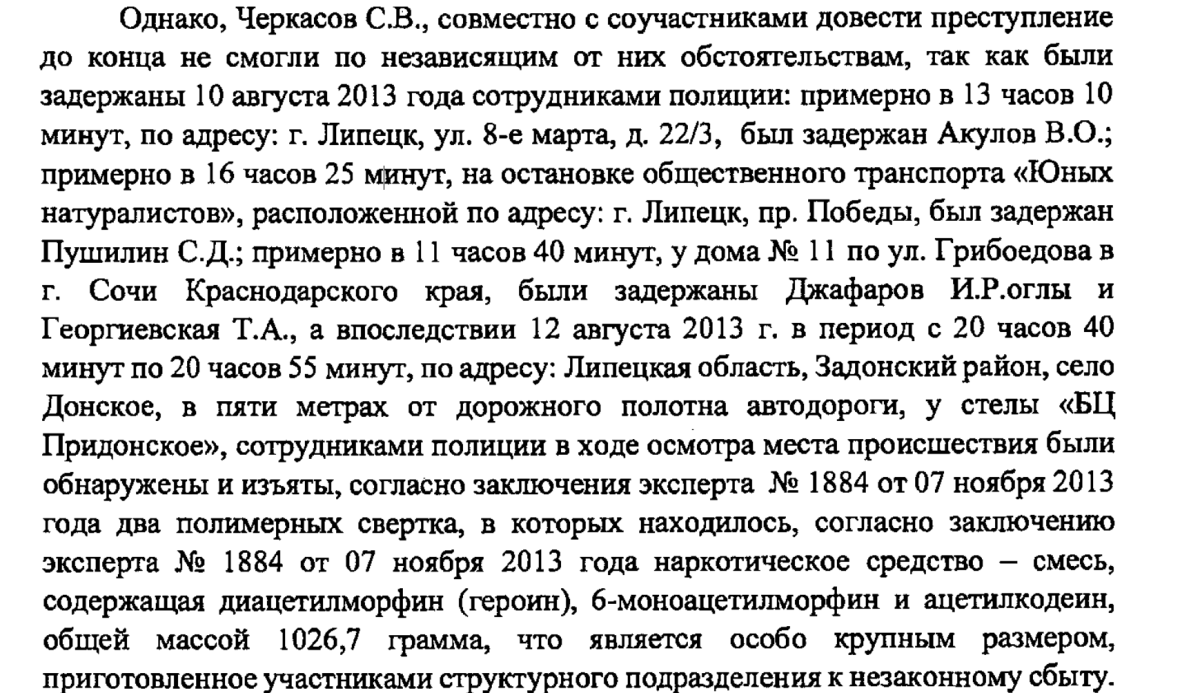 On page 25 where it is reported that Cherkasov was arrested, a detailed list of each arrest made is provided — including name, time, and place — but details for Cherkasov are not mentioned at all.
And in a press release of the Moscow city prosecutor from 2015, when the original indictment was submitted into the Russian court, the other members of the crime ring are listed, but Cherkasov is not.

The Russian indictment also asserts that Cherkasov conducted his criminal activity from "no later than July 2011 until his supposed arrest in August 2013."
However, travel data from Russia's data brokers show that Cherkasov could not have been in Russia during the period when he is accused of committing these crimes. In fact he was working at a travel agency in Brazil.
An extract from Russia's comprehensive Magistral police system, which tracks a person's movements on any public transport, shows that the last domestic trip by Cherkasov in 2011 was on 23 January 2011 when he flew from his hometown of Kaliningrad to Moscow. The database extract then has a gap until 29 June 2015, when Cherkasov reappears in Russia and travels from Moscow to Kaliningrad.


This gap is consistent with the travel and work data on Cherkasov's alter ego, Victor Muller Ferreira. As previously reported by Bellingcat, Victor's resume was posted online and it showed that he began work at a travel agency in Brazil in March 2011, shortly after his latest sighting in Russia pursuant to Magistral travel data.

Bellingcat attempted to contact the former owner of this Rio de Janeiro-based travel agency, which closed its doors in 2013, to ask about Cherkasov's employment, but had not received a response by the time of publication.

The alleged timeline of Cherkasov's criminal activity is contradicted by the conspicuous absence of any travel data for him during the incriminating period 2011-2013 and by his presence in Brazil at that time.

Wanted or not?
The Russian allegations of Cherkasov being a wanted person in Russia are also contradicted by his multiple trips to Russia — and extensive travel within the country — in the period long after his alleged criminal activity took place and as recently as December 2021.
According to Magistral data, Cherkasov came back to Russia multiple times in 2015, 2017, 2018, 2020 and 2021, each time crisscrossing the country between Kaliningrad, Moscow, Belgorod, Samara and several remote places under his own name and apparently without concern that he may be wanted by authorities.
The fact that Cherkasov became a "wanted man" in Russia only after his conviction in Brazil can also be confirmed by reviewing Russian criminal record data. An analysis of leaked offline databases of prior criminal records aggregated in Russian research tools such as Himera-Search show that Cherkasov was not on any search lists prior to 2022.
However, a current extract from his criminal record, obtained from Russia's data market, confirms that Cherkasov became a person of interest in the drug case for the first time on 22 June 2022 — just one day before Russia's deputy general prosecutor wrote a 25-page indictment document and sent it to Brazil to request Cherkasov's extradition. In addition, the criminal record states that the crime Cherkasov was charged with was perpetrated on 17 July 2013 — a date on which travel and other records show he could not have been in Russia.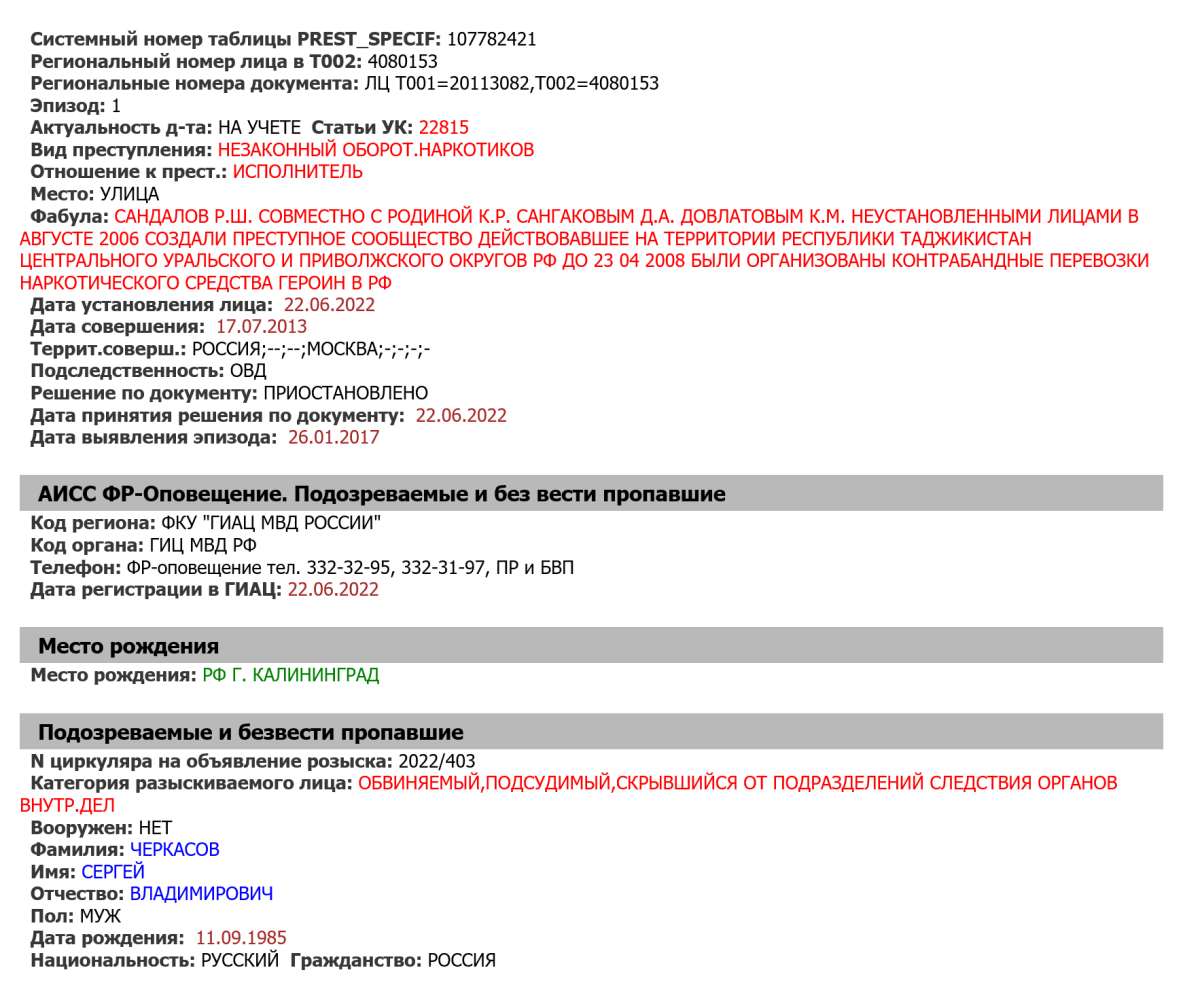 Moreover, on page 72 of the same indictment, a Moscow police major Tutkhanian instructs Russia's Interior Ministry to instruct Interpol to issue an international search warrant for Cherkasov on the aforementioned charges. This instruction is dated 23 June 2022 — just two days after Cherkasov's criminal record shows that he became a person of interest in the drug case.
At the time of writing Cherkasov cannot be found on Interpol's public database of wanted persons. Interpol has not responded to Bellingcat's questions as to the circumstances of Russia's request concerning him.
A History of Bogus Charges
Sergey Cherkasov's photograph and description can now be found on the "wanted" page of Russia's Interior Ministry website.


He is not the only person currently on that site who was arrested in another country and whom Russia is trying to recover based on old criminal charges.

Another person is Artem Uss, the son of a Siberian governor. Uss is in detention in Italy, and was arrested in October 2022 pursuant to a US indictment against him over procurement of US military technology and Venezuelan oil in circumvention of sanctions. In response to the US extradition requests for Artem Uss, Russian authorities launched their own criminal proceedings against him, claiming he was guilty of money-laundering in Russia. As in the case with Cherkasov, the first entry into Uss's Russian criminal record appeared after his arrest in Italy.


In the past, Russia has also tried to use competitive extradition requests to recover its captured spies. In 2017, Turkey detained a person whom authorities there suspected of being complicit in the murder of a Chechen asylum seeker there. French authorities requested that person's extradition to France due to suspicion of his involvement in the poison-plant murder of Russian emigre and whistle-blower Alexander Pereplichny in 2012.

However, Russia immediately requested the extradition of the detainee, claiming he was an organised crime figure wanted by Russia via Interpol, Valid Lurarkhmaev. Turkey indeed handed over that person to Russia as part of a prisoner swap. However, as Bellingcat wrote in a previous investigation, the person Turkey had arrested — and handed over to Russia — was not Valid Lurakhmaev, but in fact an assassin in the employ of the security service FSB, by the name of Alexander Fedin.

Bellingcat's Brazilian reporting partner RecordTV reached out to the Russian Embassy, Brazil's Federal Police, Federal Prosecutor's Office and Cherkasov's defence lawyers for comment about the nature of the criminal charges against him but received no response by the time of publication.

---
Youri van der Weide contributed to this investigation