Why Did a Major European Security Firm Train White Supremacists (Again)?
He cuts a striking figure, pacing around the shooting range with a firearm at his hip. Dressed in fatigues, the man with distinctive facial tattoos, is a known figure on the Polish far-right.
One of the two men accompanying him wears a polo shirt emblazoned with the logo of the European Security Academy (ESA), to whose facilities these photos can be geolocated.
It's a world-leading security training organisation headquartered in Wrocław, Poland, that instructs police officers, members of armed forces and even private bodyguards from around the globe.
These images were posted to a public Instagram account in May 2020. As other social media imagery can show, beneath this man's camouflage are multiple far-right tattoos, including a Black Sun and the words "White Devil". His companion, wearing the baseball cap, has similar tattoos and wears a T-shirt bearing an image of a Second World War German soldier.
Extensive open source evidence suggests that the man with facial tattoos goes by the name 'Jastrząb' and is the lead singer of a band described by British and Polish anti-extremism watchdogs as being affiliated with white nationalism.
Furthermore, 'Marek B.', one of the men accompanying 'Jastrząb', posted a now-deleted photo showing an ESA certificate of completion from a pistol training course.
Bellingcat found numerous examples of far-right rhetoric on both men's social media accounts.
This isn't the first time ESA has come under scrutiny over the calibre of its clients.
In August 2018, a Bellingcat investigation revealed that ESA had been training a number of individuals from Ukraine's far right. In the course of reporting that investigation, representatives of ESA told Bellingcat and Polish media outlets that they carefully checked all applicants' backgrounds and would not train individuals with links to the far-right.
Although experts told Bellingcat that the men featured in this investigation did nothing illegal by attending the ESA training sessions, these photos of Jastrząb and Marek B. call ESA's earlier statement into question. They show that, after making these promises, ESA did it again — and not with a foreign white supremacist, but with at least two from their own country, on at least four occasions.
This case also raises questions as to whether far-right figures, including neo-Nazis with alleged criminal connections and histories of violence, have been able to access similar training at ESA and other security academies worldwide.
Neither Jastrząb nor Marek B. responded to attempts to contact them for comment. ESA did not respond to multiple emails from Bellingcat's reporter.
"The world's top security academy"

The European Security Academy (ESA) is a military and security training provider headquartered in Wrocław, Poland. According to its own website, ESA has its roots in an organisation founded in 1992 by Dr Andrzej Bryl, the Special Training Centre. The Centre, which officially became known as the ESA in 2008, has developed a reputation over the years as a respected place for various countries' police forces, military units, private bodyguards and others to receive high-quality security and protection training. It was described by the Discovery Channel in 2017 as "the world's top security academy."

Bellingcat's aforementioned 2018 investigation also revealed that ESA had been training a number of people with links to Ukraine's far right, including individuals from organisations linked to attacks on the country's Roma people and LGBT+ communities. ESA's managing director — and son of Andrzej — Bartosz Bryl told us at the time that ESA carefully checks all applicants and would not agree to train people from far-right and neo-Nazi backgrounds. Bartosz Bryl also stated that the reasons for refusing to train a particular candidate may differ "depending on the course content and type."

"We'll shore up our recruitment processes because there's no place for neo-Nazis here," ESA's late founder Andrzej Bryl told Polish media at the time. (Bryl passed away from cancer in February 2020 at the age of 62).

It wasn't the first time ESA had earned headlines. In 2012, media in Poland reported that Bryl senior had been part of a Polish team that had provided elite security training to the bodyguards of Libyan dictator Muammar Gaddafi, a project that Bryl stated had ended in 2010. Gaddafi was overthrown and killed in 2011.
Who is 'Jastrząb'?
'Jastrząb' is a veteran of Poland's neo-Nazi scene with well-documented associations. He is also a vocalist for Legion Twierdzy Wrocław (LTW) and Omerta, bands which Poland's Association against Antisemitism and Xenophobia describe as affiliated with international neo-Nazi network Blood & Honour (B&H). Furthermore, several LTW albums have been released in cooperation with Strong Survive Records, a Polish-American label which has worked with several white nationalist bands.
In an article for the Polish investigative website, Oko.Press, the journalist and expert on extremist movements Przemysław Witkowski named 'Jastrząb' as a member of B&H. In 2016, the UK's Campaign Against Antisemitism was so alarmed by the band's lyrics that it appealed to the Home Office to prevent LTW performing in London.
As Witkowski told Vice News in 2018, although the band's lyrics are directly inspired by Nazism, "they explain it all away as just artistic licence". The analyst added that LTW's vocalist bears tattoos with the words 'White Devil' and a depiction of the Belgian Nazi collaborator Léon Degrelle.
Jastrząb's tattoo of Degrelle's face inside a Black Sun, a prominent Nazi symbol, is visible on one of his music videos from 2016, available on YouTube.
'Jastrząb' also appears to have taken part in several bodybuilding contests in Poland throughout 2017 and 2018. He uploaded photos from these, as well as other workout sessions, to his VK account. These images provide a closer view of his far-right tattoos, which grow more extensive every year.
His facial tattoos, in particular, were useful clues to identifying 'Jastrząb' in other social media images.

These indicate that at some point between May 2020 and February 2021, 'Jastrząb' added an arrow-like tattoo over his right eye that appears to be a Tyr rune, a pagan symbol popular with the global far right. This can be seen in an Omerta music video, in which he was lead singer, which premiered on the band's YouTube channel in December 2021.
This video could be geolocated to a nightclub near the Polish city of Wrocław which is reportedly owned by Marek B., the man who uploaded several images of 'Jastrząb' at the ESA shooting range to his public Instagram account.
Bellingcat identified several references in the Instagram account in which Marek B. referred to the club as his own (such as "come visit us!"), as previously alleged in Polish reporting on the city's far-right scene.
Marek B. also uploaded multiple images of the interior of the club, which matched perfectly with the background of 'Jastrząb's music video.
Who is Marek B.?
Marek B. doesn't appear to only be a nightclub owner. He's reportedly linked to a now-defunct internet shop that distributed far-right fashion brands.
In a 2020 article for Gazeta Wyborcza on "Polish fans of Hitler", the investigative journalist Jacek Harłukowicz named Marek B. alongside 'Jastrząb' as members of the city's far-right scene, members of the Polish cell of B&H "which operates under the name Club 28".
Marek B., he continued, is "a fan of militaria with certificates in revolver and rifle use".
Open source research shows that Marek B. appears to be connected with groups on the Polish far-right which maintain connections with those who share their views across Europe.
In recent years, local media has shed more light on Marek B.'s connections with such groups. In 2020, Gazeta Wyborcza published a series of photos of him — one of which allegedly showed him in the company of two individuals linked to B&H.
Social media also suggests that Marek B. has remained active on the far right scene. In 2020, the local association 'Zarzewie na rzecz tożsamości' organised an event whose Polish name translates as "Be like a bear". His own chest tattoos can be seen in this video, one of which prominently reads 'White Power'.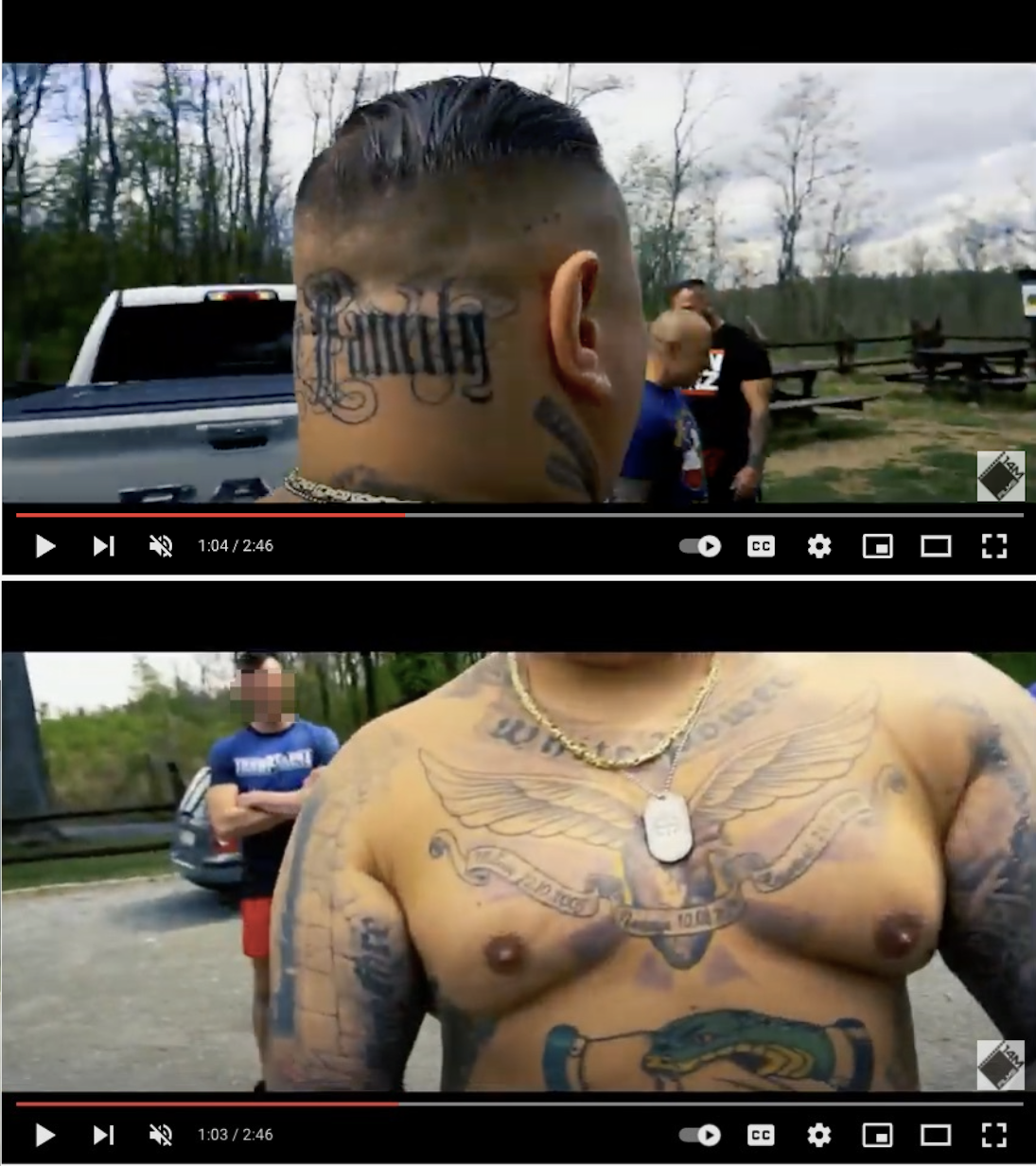 Further images from Marek B.'s Instagram account, several taken at an ESA training course, strongly indicate far-right sympathies and connections.
Brothers in Arms
'Jastrząb's' presence at ESA facilities was discovered while reviewing Marek B.'s Instagram account, in which he has shared several images of himself with firearms.
It revealed that the two men have trained together at ESA shooting ranges on several occasions other than in May 2020.
In February 2021, Marek B. posted a photo to Instagram with the words "morning coffee and into the field". It showed himself and 'Jastrząb', wearing fatigues, in a canteen.
This room can be identified as the dining hall at the ESA's main campus in the village of Włościejewki, centred on a restored 19th-century palace.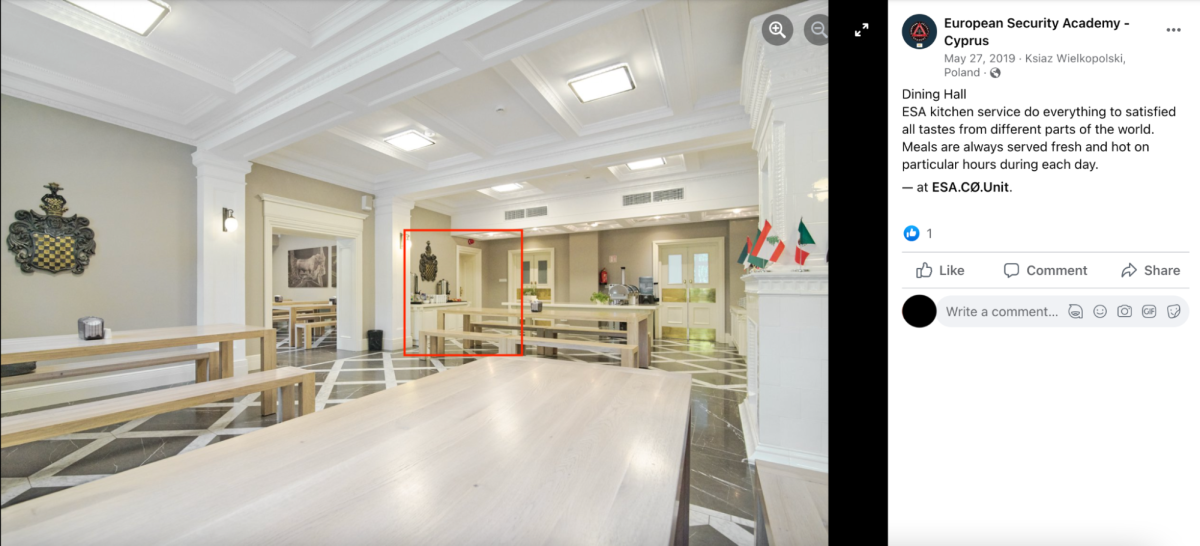 The following day, Marek B. uploaded a group of photos showing weapons training from the "field". Marek B.'s face was visible in one of these photographs; in the image below, Bellingcat noticed the bottom of a facial tattoo resembling 'Jastrząb's Tyr rune on the face of the man in the yellow balaclava.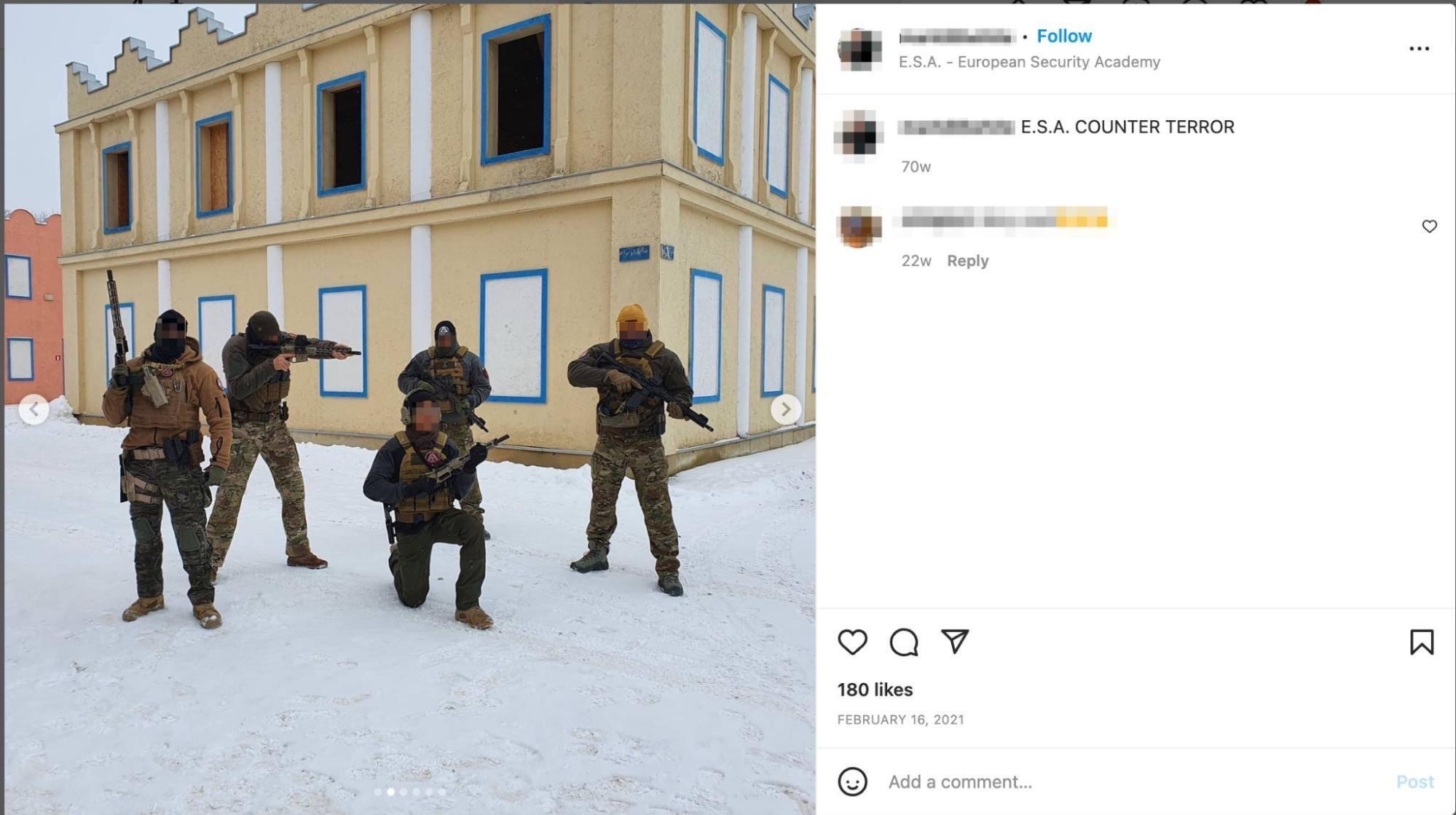 The photo above allowed us to geolocate the group of images to the urban training area at the ESA campus — this can be seen by the relative position of the cream and salmon pink coloured buildings and their crenellations.
The identity of three of the other four men remains unknown.
In Plain Sight
Let's return to the shooting range in May 2020. In the image below, part of the same set of photos uploaded by 'Jastrząb's acquaintance to his Instagram account, the Omerta singer and bodybuilder takes a break from target practice with Marek B.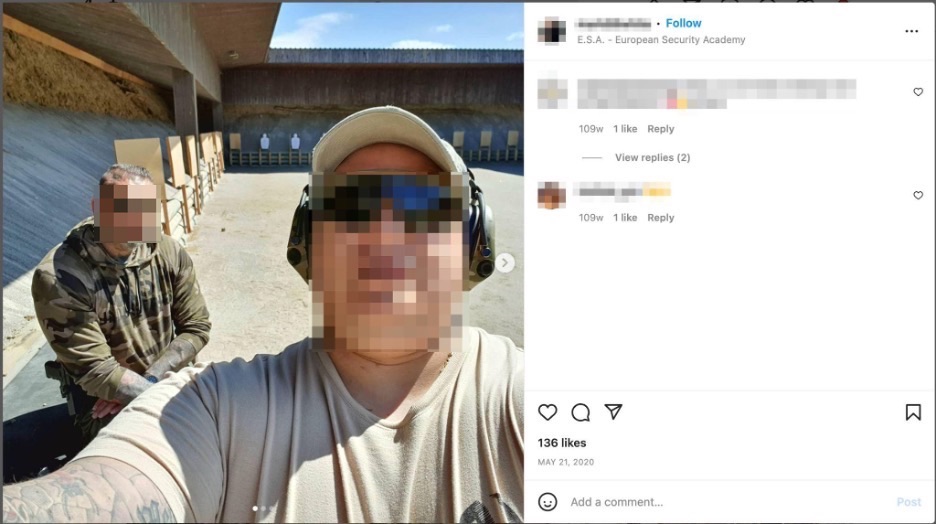 In further images, Marek B. showed off his far-right sympathies at the facility itself.
'Jastrząb's' companion also wears an ESA-branded baseball cap with his far-right attire.
The three images above, taken at the shooting ranges at ESA's campus in Włościejewki, were uploaded alongside others in May 2020, some of which were captioned 'Counter Terror'. This plausibly refers to a counter terror course offered by ESA, though no reference to a course held that month could be found on the academy's website.
This man appears to have attended ESA training courses on several occasions, seemingly unaccompanied by 'Jastrząb'. For example, in February 2020, he uploaded an image of himself at a shooting range, holding a rifle and wearing a jacket and woolen cap bearing ESA's logo.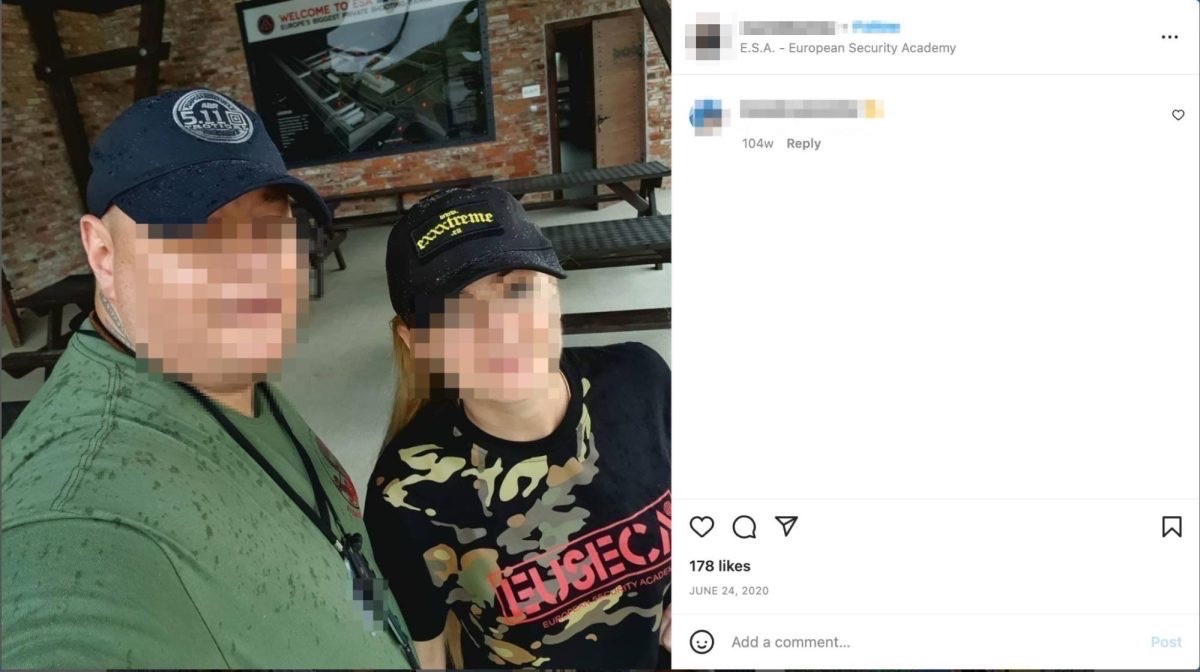 Marek B. also appeared in albums of photos from training events uploaded to ESA's official Facebook page. One photo uploaded in October 2019 showed him in what appears to be the same location — appearing to hold the same model of firearm and wearing the same uniform — as in the aforementioned Instagram image uploaded in February 2020.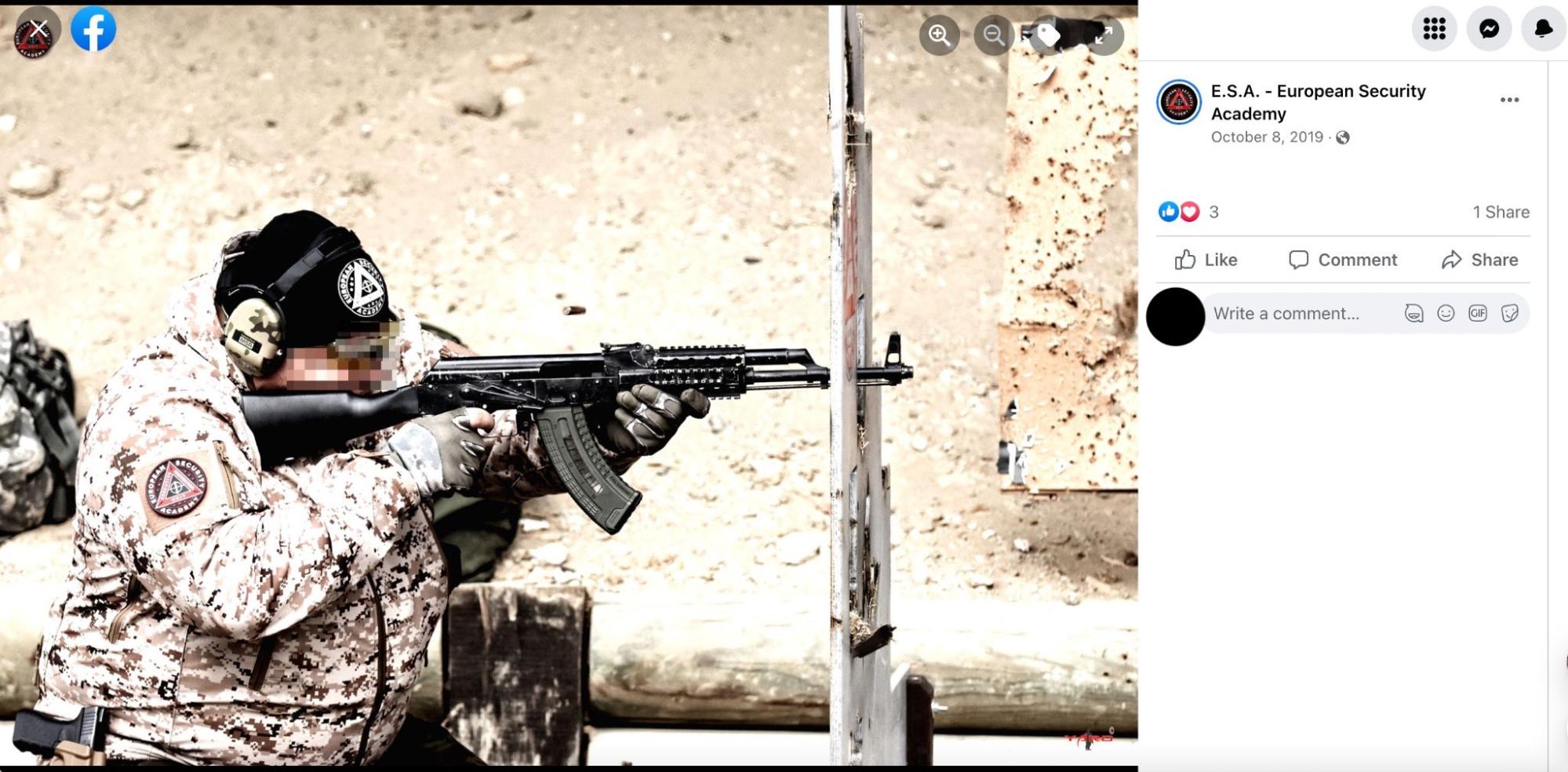 He could also be seen several times in ESA's Facebook photo album entitled 'Dynamic Pistol 2019', uploaded in October that year. The images appear to have been taken at the 40 m tactical shooting lane at the ESA campus in Włościejewki.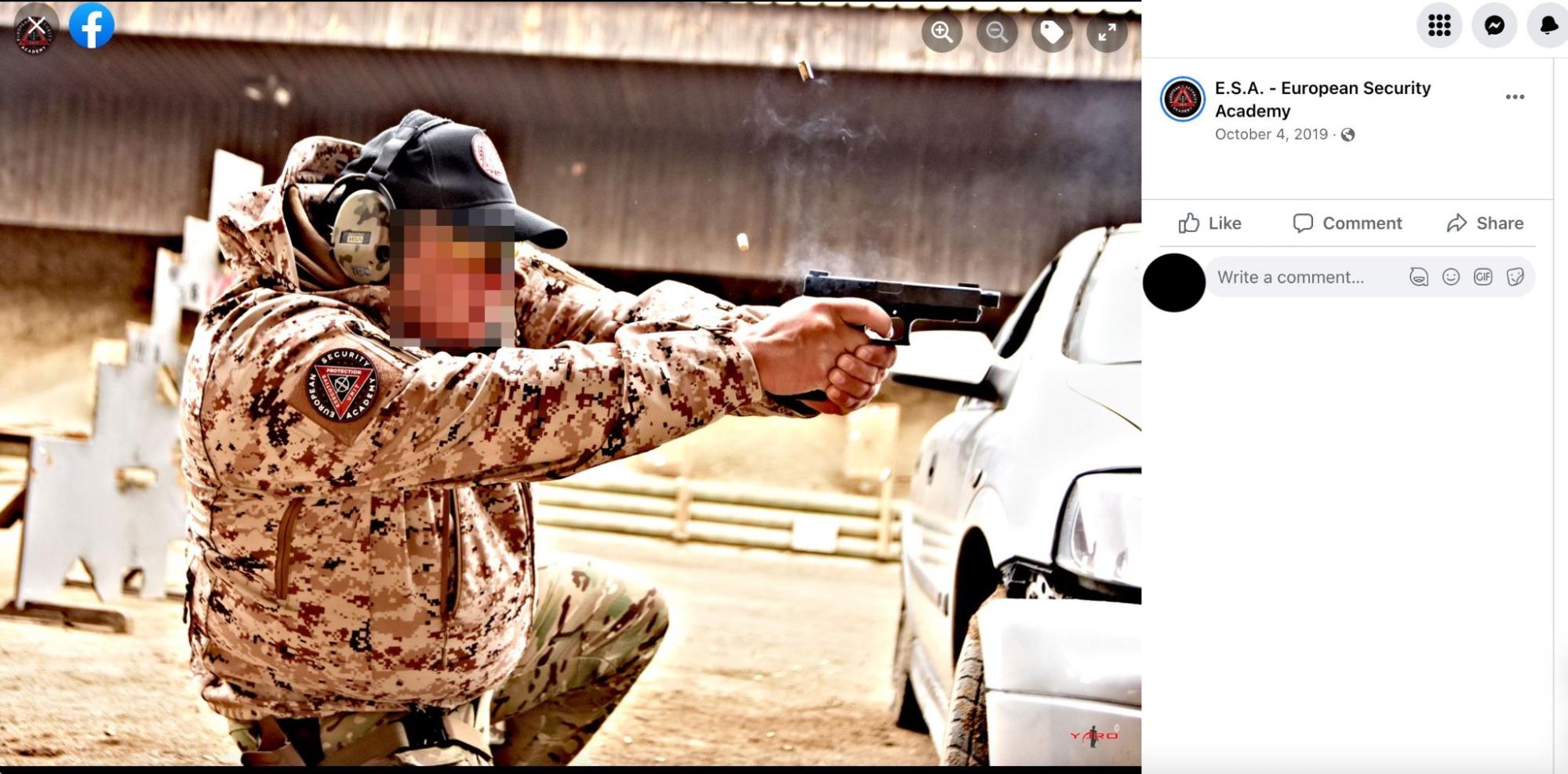 No images corresponding to the Dynamic Pistol course could be found in Marek B.'s Instagram account. However, Marek B. ultimately provided conclusive confirmation of his attendance at this course — a photo of his certificate of completion posted to his (now-deleted) personal Facebook account.
The document was signed by the late Dr. Andrzej Bryl, the ESA founder who had told Polish media just a year earlier that his organisation would not train far-right extremists.
It is not known whether this is the "certificate in revolver use" to which Harłukowicz, the Gazeta Wyborcza journalist, referred in his 2020 article.
To Vet or Not to Vet?
It must be stressed that, according to interviews with Polish experts interviewed by Bellingcat, a person who holds far-right views would have done nothing illegal by attending ESA training courses.
Nevertheless, their attendance appears to undermine a principle set out by the organisation's founder. What became of the late Andrzej Bryl's 2018 promise that ESA would not train far-right extremists? Experts interviewed by Bellingcat stated that Poland's training facilities are neither obliged to vet applicants' backgrounds nor bar them from their courses.
"There are no procedures for verifying a customer with reference to criminal or extremist [behaviour]," remarked the Gdańsk-based shooting instructor Jerzy Obrycki. "It is also difficult to refuse anybody use of a service which is legal according to Polish law. The only customer who can be asked to leave a training course is one whose behaviour is dangerous to himself or to others", Obrycki explained.
Similarly, the lawyer Tomasz Plaszczyk told Bellingcat that there is no regulation nor government body which allows for preventative vetting of applicants for weapons training courses. "If such companies are owned or employ former police officials, then they should rely on their own experience", concluded Plaszczyk, who is a former major in the ABW, Poland's domestic security agency.
Our reporter reached out to Marek B. via his Instagram account and attempted to contact 'Jastrząb' through the social media pages of Omerta and LTW, though neither responded to our request for comment.

The ABW did not substantively reply to Bellingcat's questions, instead offering a short summary of its remit. The ESA did not respond to multiple emails from Bellingcat.
---
Want to stay up to date with Bellingcat Anti-Equality Monitoring investigations on the far right? Subscribe to our seasonal newsletter, where you'll receive a selection of our stories, further reading suggestions, insights, information on Bellingcat training sessions and much more!