How Janez Janša's Media Empire Pushed Slovenia's Extremes into the Mainstream


As parliamentary elections neared in April 2022, Slovenian weekly magazine Demokracija ('Democracy') published an article denouncing the "deep state" and promoting an interview with a "world famous expert on so-called NGOs".
Demokracija is widely seen in Slovenia as the magazine of the Slovenian Democratic Party (SDS) — as has been widely reported, the publishing company behind the magazine is part-owned by the party itself. Some reporting has found it to be a bullhorn for the brash right-wing populist rhetoric for which SDS leader and now former PM Janez Janša has become known.
Ever since Janša's defeat on April 24, Demokracija has railed against his successor Robert Golob, a political newcomer and head of the Freedom Movement. He'll "introduce LGBT ideology" in schools, warned Demokracija in May. In the words of one SDS politician prominently cited by Nova24, another popular Slovenian media website and channel founded and partly owned by SDS members, leftists "want to flood Slovenia with radical Muslim migrants".
That Janša's supporters in the media are no fans of Golob, a staunch green and liberal, is perhaps no surprise. But Demokracija and other outlets linked to the SDS have done far more than criticise — they've built relationships with and laundered the talking points of the extreme right.
Demokracija and affiliated publications have praised and promoted the work of far-right extremists. The magazine has published not only interviews with notorious antisemitic conspiracy theorists and far-right figureheads (one such interview was republished on the SDS party website) — but articles promoting the 'Great Replacement' conspiracy theory which continues to inspire acts of far-right extremist terror and violence.
For example, the "world famous expert" described in the aforementioned April 2022 article was an American extremist who goes by the name of Scott Howard. The previous month, Demokracija had published a translated chapter of Howard's book — an antisemitic treatise published by a fringe white supremacist publisher that openly promotes the work of long-dead Nazi figures. In February Nova24 published a similar, smaller, translated excerpt from Howard's book.
Slovenia's journalists have long raised the alarm about alleged connections between far-right extremists, including open neo-Nazis, and Janša's SDS party. 

Open source imagery reviewed by Bellingcat appears to provide evidence for their claims that one prolific journalist writing for Demokracija could be affiliated with a far-right group himself.
Across the web of SDS-linked media outlets, the extreme appears to be being pushed into the mainstream. And despite Janša's defeat in elections, experts told Bellingcat that the SDS media machine isn't going anywhere.
Janša's Slovenia and the SDS

Janez Janša may not be a household name outside Slovenia, but he and the SDS have played a role in the country's politics since it declared independence from Yugoslavia in 1991. A former editor-in-chief of Demokracija, Janša entered parliament representing a series of opposition parties before becoming president of the SDS' forerunner in 1993.

Under Janša's leadership, the SDS has only served one full term in government — from 2004 to 2008. His second stint as prime minister ended after only a year in February 2013 when he was ousted on corruption allegations. He was subsequently jailed on corruption charges, which were overturned after appeal.

After Slovenia's government collapsed in early 2020, Janša and the SDS took power in a coalition government. It was subsequently hit with accusations that it was undermining the rule of law, trying to push Slovenia towards the 'illiberal democracy' of neighbouring Hungary. Janša also became infamous for his attacks on opponents through SDS-linked media outlets, not to mention his own Twitter account.
Inside the SDS Media Machine
In an effort to push back against what they perceived as a dominant left-wing bias in Slovenia's media, SDS has built its own media machine. Demokracija already existed, but they needed more. In 2015, Janša announced that the party was supporting the foundation of an explicitly partisan media outlet. The following year, Nova24 went live.
But Janša's strategy didn't grow out of a vacuum; experts say it was modelled largely on what Hungarian leader Viktor Orbán had done next door. As Orbán himself told a meeting of the US Conservative Political Action Conference (CPAC) in Budapest this May, after his re-election victory, the key to power is to "have your own media".
"Janša copied Orbán's media strategy because he saw that it worked, period", Zselyke Csaky, a Budapest-based Research Director at democracy watchdog Freedom House told Bellingcat. Janša saw Orbán's years of success at the ballot box as something to emulate, she said: "Orbán's successes are in large part thanks to the loyal pro-government media and the parallel reality, if you will, that Orbán has been able to build up over the past decade".
That strategy has seen some success. According to website analysis tool Similarweb, Nova24 receives approximately 3.2 million visits a month and Demokracija 800,000. Both websites feature English-language versions.
The publisher behind Demokracija is a company called Nova obzorja ('New Horizons'). It also publishes books — including two by the Slovenian branch of far-right group Generation Identity.
According to reporting by Slovenian investigative outlet Oštro and the South Eastern Europe MediaObservatory project, Hungarian capital from investors with close political ties to Viktor Orbán's government was instrumental in supporting these ventures.'
As of June 2022, public company registry data shows that a minority share in Nova obzorja, just over 30 per cent, is owned by SDS itself; the majority, until May 2022, was owned by a Hungarian firm in which entrepreneur Peter Schatz was a significant shareholder. Schatz is reportedly the former owner of strongly pro-Orbán Hungarian tabloid Ripost and, according to reporting by investigative outlet OCCRP, "a key player in the foreign expansion of Hungary's pro-government media".


However, Slovenian media reported in June 2022 that Schatz's firm had sold its majority share to Nova24; according to publicly available company registry data, the company that runs Nova24's television channel (NTV24.si) took over majority control of Nova obzorja on May 25, 2022.
Another SDS-linked media outlet that emerged in 2021 is the National Press Agency (Nacionalna Tiskovna Agencija, or NTA), which was founded by individuals close to the SDS.
But the NTA soon made headlines for all the wrong reasons. Its chief founder, reported former SDS member and first editor-in-chief Ales Ernecl reportedly bragged to an international far-right YouTuber in March 2021 that NTA was a "fascist" media outlet. After public outcry Ernecl left the position. Soon after, however, his successor Urban Purgar earned his own headlines for publicly calling Hitler a "hero" on Twitter.
After this negative media attention, Jansa's SDS reportedly distanced itself from NTA. The website now has minimal profile and only publishes occasional articles from far-right groups like Tradition Against Tyranny ('Tradicija Proti Tiraniji') and occasional articles from SDS parliamentarian Branko Grims and frequent Demokracija and Nova24 contributor Andrej Sekulović.
Antisemites, White Nationalists and the 'Great Replacement'
This media machine, with influential connections in Slovenia's politics, has given fawning coverage to several avowed far-right extremists.
Among them is Kevin MacDonald, named "the neo-Nazi movement's favourite academic" by the Southern Poverty Law Centre (SPLC). MacDonald's work has argued that antisemitism is a justifiable response to the perceived actions of Jews.
In a June 2020 interview conducted by Sekulović and promoted by Demokracija as one of its most-read stories of 2020, MacDonald got ample space to promote these views. He complained about "Jewish subversion" and claimed that Jews act in ways "detrimental to the interests of Europeans". The interview was also published on Nova24.
Another extremist to have been given a platform on SDS-linked media outlets is Tomislav Sunić, a Croatian-American far-right author who the SPLC reports has associated with Holocaust deniers and neo-Nazis.
Sunić, who complained in 2009 about the supposed consequences of "intellectual servility… toward Jewry" was interviewed by Sekulović for Nova24's website in December 2021. The Slovenian version of his latest book is published by Nova obzorja; Sunić spoke at a book tour in the capital Ljubljana in 2022.
These aren't the only far-right figures to get a platform — or at the very least praise.
Others include Canadian white nationalist Ricardo Duchesne, who was interviewed by February in 2020 and also the subject of an article promoting his views that November. Daniel Friberg, a Swedish publisher with a far-right background, published articles with Demokracija and Nova24 in October 2019. A Demokracija article praising American white nationalist Jared Taylor appeared in October 2021.
The Slovenian chapter of aforementioned far-right group Generation Identity even managed to get promoted during a commercial break, alongside ads for SDS-linked media outlets and websites, during a Nova24TV broadcast of an interview with then-prime minister Janez Janša in September 2020.
That same month Demokracija published an interview with Laura Towler of Patriotic Alternative, a group described by UK watchdog Hope Not Hate as the country's "largest fascist organisation".
In the interview, Towler repeats conspiracy theories about the so-called 'Great Replacement'. She claims that "Jews are overrepresented when it comes to prominent positions in the government and media who push for open borders". The interview was subsequently republished on the SDS official party website.
When Bellingcat asked SDS why this article was republished on their party website, a representative told us by email that we should "seek answers" from the media outlet which originally published the article (Demokracija) and did not substantively answer our question.
The 'Great Replacement Theory', largely popularised by French author Renaud Camus, claims that white European populations are deliberately being replaced by non-white populations. Proponents of the baseless conspiracy allege that this 'replacement' is a deliberate plan by elites, often identified as those of Jewish origin, implemented not just through immigration but higher birth rates among non-European populations.
The theory continues to motivate far-right extremist violence. It was cited in some form in the manifestos of the Christchurch and Buffalo shooters.
Camus himself was interviewed by Sekulović for Demokracija's website in 2020, in another article the website claimed was among its most-read English-language stories that year. He spoke explicitly about the 'Great Replacement' and urged readers to "do everything to avoid it". The interview was also published in Slovenian on Nova24's website.
It appears that prominent figures associated with these websites are particularly preoccupied with the 'Great Replacement' – or to use its common Slovenian translation, 'Velika Zamenjava'.
A February 2022 article on Nova24 written by then-director of Nova obzorja and editor-in-chief of Demokracija Jože Biščak urges the reader to "pinch yourself" if they thought the 'Great Replacement' was a conspiracy theory. Biščak resigned from these roles in May 2022, citing health reasons.
"After globalists saw that the influx from Africa and Asia wasn't enough and the mixer was spinning too slowly, they created a philosophy of (white) anti-natalism in the name of fighting climate change", claimed Biščak in his February article.
Discussions of the Great Replacement conspiracy theory have even made it onto SDS's official party website. A "great replacement is moving forward!" longtime SDS parliamentarian Branko Grims wrote in a Demokracija article republished on SDS's website in March 2022 ahead of parliamentary elections, in a post attacking Slovenia's leftists. Grims has also published with NTA, a site on which Andrej Sekulović — also a frequent Demokracija and Nova24 contributor — is listed as one of the main contributors.
Neither Nova24 nor Demokracija replied to Bellingcat's requests for comment as to their motivation for publicising these views.
Tradition, Tyranny and Tattoos
Sekulović, who interviewed several of the far-right figures mentioned above, is no minor contributor to these websites. He is publicly named as the author of dozens of articles on both Nova24 and Demokracija, almost all of which were published after Janša's coalition government took office in March 2020. He's also listed as the author of 629 posts on Demokracija's English-language website since December 2020.
His articles have used unsubtle antisemitic rhetoric.
For example, in October 2021 Sekulović discussed the Rothschild banking dynasty in an article on Nova24 which was republished from Rodoljub, another website owned by Nova obzorja. According to Slovenia's official media registry, Sekulović is the editor-in-chief of Rodoljub, whose name means 'patriot' in Slovenian.
"As international financiers and financiers of various subversive movements and parties to war, the Rothschilds have left their mark on world history, shaping it according to their interests and those of their 'tribe'", wrote Sekulović.
Open source evidence strongly suggests that Sekulović – all while working openly for SDS-linked media outlets – could himself be involved with a far-right extremist group.
Tradition Against Tyranny (Tradicija Proti Tiraniji) describes itself as a "metapolitical organisation" that publishes articles about far-right ideas. It is a fringe group, with under 250 Telegram subscribers and 320 Instagram followers. Tradition Against Tyranny's website has posted interviews with New Zealand-based neo-Nazi group Action Zealandia and the American extremist Robert Rundo, whom Bellingcat revealed to be in Belgrade, Serbia, in December 2021.
In May 2021, the group published photographs of its members, their faces blurred, commemorating the deaths of the Nazi-allied Slovene Home Guard at the hands of the Yugoslav Partisans in 1945. Slovenian journalist Erik Valenčič claimed that Sekulović was one of the men in these photos and a key figure in this far-right movement.
A comparison between the visible leg tattoo on one individual in this photo (second from left) with photos of Sekulović suggests that he could indeed be the man in the Tradicija Proti Tiraniji photo, though this evidence is not conclusive.
Note the leg tattoo in the image below, taken from Sekulović's public Facebook account:
Detail of arm tattoos: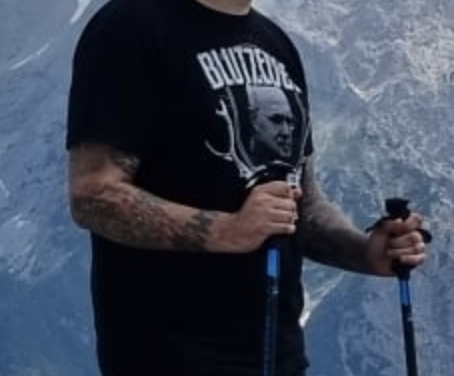 Detail of leg tattoo: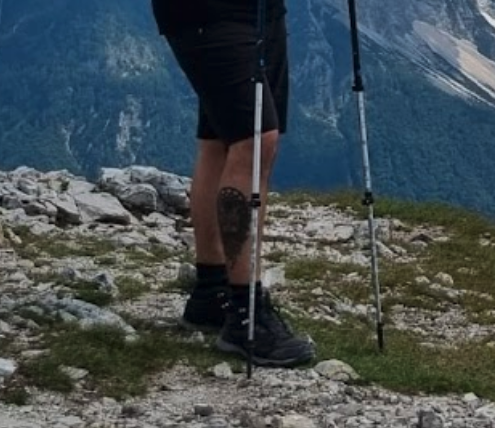 Only a handful of Sekulović's Facebook photos are visible to the public, though they contain clues in the form of other images showing his tattoos. Once again, they show his exposed arms with tattoos common among far-right extremists. These include a Wolfsangel on his wrist and a Black Sun on his left arm, as well as Runic lettering.
The below image from May 2020 does not include the Black Sun leg tattoo, which appeared in images from early 2021. However, other highly distinctive arm tattoos do appear to match.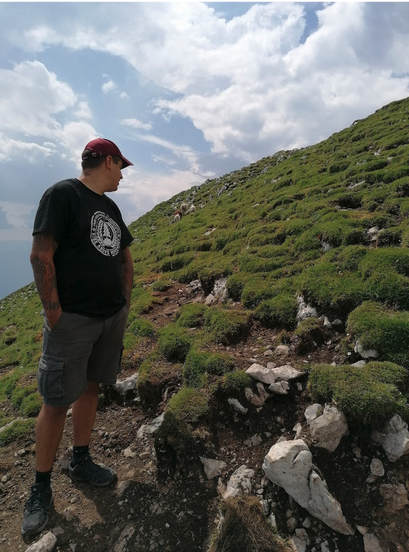 Another Tradition Against Tyranny post from October 2021 allows for further comparison. Although the face is cropped out of the photo, the individual's tattoos resemble those on Sekulović's Facebook photo – bearing the same symbols in the same positions.
Taken together, this available open source evidence suggests that there could be some merit to the journalist Valenčič's claim – that Sekulović has a connection to Tradition Against Tyranny.
Sekulović did not reply to multiple requests for comment from Bellingcat.
Why work with the far right?
Why would an individual like Sekulović write so frequently for outlets associated with an ostensibly mainstream right-wing party? And why are the views he promotes acceptable for the SDS in the first place?
That some far-right extremists have made themselves at home with the SDS has long been discussed in Slovenian media. In 2011, Slovenian journalist Anuška Delić reported that some members of Blood and Honour, a neo-Nazi network, had stood in elections under the SDS banner. Weeks after Janša was re-elected in 2012, the authorities opened a case against her for allegedly publishing classified information. Delić and media watchdogs denounced the case as politically motivated, and the charges were dropped in 2015.
"SDS as a party has never really been open about the far-right actors and ideas which began to opaquely concentrate in their midst a good dozen years ago", Delić, who founded the investigative website Oštro, told Bellingcat.
Delić points to the figure of Žan Mahnič, an SDS member of parliament who became a national security adviser in Janša's 2020-2022 government and has been accused of ties to far-right groups in Slovenia. During SDS' first mandate from 2004-2008, the appointment of somebody with this background "would have been unthinkable", but by 2020 that was no longer the case, she explains.
When Bellingcat asked SDS how they respond to these allegations of longstanding connections between them and far-right extremist actors, the party was not forthcoming. "Someone from Slovenia is providing you with false accusations against the Slovenian Democratic Party," a spokesperson for SDS said by email. The European Peoples' Party (EPP), the pan-European political grouping of which SDS is a member party, did not reply to Bellingcat's request for comment.
The activist Domen Savič told Bellingcat that there could be several reasons why SDS and related media outlets are happy to associate with the far right.
Savič, who leads Citizen D, an NGO which focuses on digital rights and citizenship, told Bellingcat that "the apparent personal beliefs of specific party members" likely play a significant role. For SDS, he suggested, working with and platforming provocative far-right ideas is "an attempt… to reinvigorate their voter base".
"We can also assume that they are doing it just to upset the left", Savič added.
But changes are afoot in the wake of Janša's and the SDS' defeat in April. This June, the firm linked to Hungarian media entrepreneur Peter Schatz sold its majority share in SDS-linked publisher Nova obzorja to Nova24. This has led to speculation by the International Press Institute (IPI), among others, about the future of SDS-affiliated media outlets.
Still, observers don't think that the curtains are about to be closed on the SDS and its media empire just yet. "If Janša's allies from Hungary are willing to continue funding this complex media project… his defeat does not necessarily mean the end of his media outlets", wrote Slovenian journalist Novica Mihajlović, author of the IPI report.
"I don't think the media outlets are shutting down", Domen Savič told Bellingcat. "I think they're just laying low for now".
---
Correction: An earlier version of this story stated that Ales Ernecl was a member of the SDS party. He previously intimated he was. However, Ernecl has since said he left the party. SDS is also reported to have said that he is no longer a member. This story has been updated to reflect this.
Want to stay up to date with Bellingcat Anti-Equality Monitoring investigations on the far right? Subscribe to our seasonal newsletter, where you'll receive a selection of our stories, further reading suggestions, insights, information on Bellingcat training sessions and much more!