Transnational White Terror: Exposing Atomwaffen And The Iron March Networks
In collaboration with the Autonomous Disinformation Research Network – @DisinfoResearch
On Wednesday, November 6, 2019, leaked data from the defunct neo-Nazi forum, Iron March, emerged online, exposing the personal information of more than 1,200 members, including the locations of their IP addresses and, in some cases, their real names. Already, activists sifting through the database have uncovered several fascists around the country, including some in uniform. A thoroughly transnational network, Iron March stemmed from a site called International Third Position Forum, was launched by a Russian, produced a terror group in the U.S., and facilitated coordination among terror groupings in the U.K. and elsewhere, all through the power of the internet.
Perhaps most intriguingly, Iron March involved members whose goals of recruiting through the U.S. military underlied their fantasies of ultimately destroying liberal democracy through a fascist paramilitary insurgency. It went on to develop a small but lethal "accelerationist" terrorist group called Atomwaffen Division (Nuclear Weapons Division), responsible for murders, an assassination attempt, and failed bomb plots. It also recently became famous for adding journalists from a Quillette article to a hit-list called "Sunset the Media." Though what they mostly seem to do is put up stickers in what they laughably call "the stickening." 
In this essay, we use content analysis of archival documents available online, spatial analysis of leaked data, and an hour-long interview of a former Atomwaffen member to expose the origins of Iron March, its founder, and its strategic cultivation of young recruits into a ruthless transnational movement infiltrating the military to generate a fascist revolution by carrying out a brutal  campaign against civic infrastructure.
From Third Position To Iron March
Much remains mysterious about Iron March's founder, "Alexander Slavros." Supposedly born June 28, 1989, some forums state emphatically that Slavros' parents belong to the well-educated professional class, though no citations are given. In fact, it appears that his personal website, Slavros.org, was launched by an Uzbek named Alisher Mukhitdinov in the posh Tverskaya district close to the Kremlin, leading to speculation that Slavros is Mukhitdinov's ​​​​​​​nom de guerre. Slavros' influence is far-reaching, including recent posts of his work in the Atomwaffen kill-list video's channel called "Sunset the Media."
Slavros' social media record reveals a long trail of fascist propagandizing. His Moi Mir account shows the same birthdate offered by another account (with a different year). Further, the picture on that account shows a picture of him in a mask which shows a similar face and eye shape as the other pictures of him. It also shows that, despite claims he is inactive or hiding, he is still using Slavros-related accounts as recently as July. He had multiple Youtube accounts, and a VK (Russian social media) that is now down. A minimally active Lost Youth group page remains live on VK that he linked to on his personal webpage. There is additionally some fan art, revealing some early efforts at developing a fascist street presence. Perhaps most notoriously, Slavros' Deviant Art page radicalized his semi-girlfriend Lindsay Souvannarath, who went on to plan a racist mass-shooting. Slavros has also written or co-written several books, including with infamous neo-Nazi "Zeiger" (whose Twitter is still live), a.k.a. Gabriel Sohier-Chaput. 
According to Slavros, Iron March began as the International Third Positionist Federation, a now-offline forum once on Bizhat. The earliest moderators appear to have registered in Summer 2010, while most forum topics were initiated in Spring 2011. The group was named for the "Third Position," an ideological artifact of fascism's place during the Cold War between the oppositions of the capitalist West and the Soviet East, which fascists sought to overcome through the Traditionalist fusion of nationalism and socialism (i.e., a "third position") ostensibly delinked from the direct legacy of Hitler. 
A revolutionary dedicated to ultranationalist violence, Slavros lists his heroes as Benito Mussolini, Julius Evola, a "super-fascist" occultist admired by Stephen Bannon, Ivan Ilyin, a reactionary Russian white emigrée celebrated by Putin, and obscure "National Bolshevik" Nikolai Ustryalov. 
Along with other "conservative revolutionaries," such as fascist ideologue Aleksandr Dugin, Slavros believes that Russia can become a geopolitical "Third Rome" through a kind of crusade for white civilization. While Slavros appears to identify with the same National Bolshevik doctrine as Dugin, and has blogged supportively about attending a demonstration by Dugin's Eurasian Youth Union, he appears to see himself as a purer and stronger representative of fascist ideology through what he calls "meta nationalism."
A number of members of the International Third Positionist Federation ("Slavros," "Figlio di Moros," "Woman in Black," "Mr. Elegy," and "Benjamin Noyles") formed the core of what would become Iron March later in 2011. Another early member, "Will to Power," appears to have been "TashkentFox." However, he had been driven out of the forum by the end of the following year. Soon, the forum spread further, linking a hotspot in Bolsonaro's support-base in southern Brazil to notorious white nationalists in South Africa to Southeast Asia. Other "Third Positionists" in the U.S. can be seen on the forum attempting to generate transnational ties; for instance, Matt Heimbach of the Traditionalist Workers Party posts about organizing speaking tours for fascist groups like Nordic Resistance Movement (NMR), National Democratic Party of Germany (NPD), and Greek party, Golden Dawn.
Slavros's influence can still be seen in several networked VK groups that advocate National Bolshevism. Memes bearing his quotations were disseminated by the fascist group Community Movement (Gromada) and its associated account, Russian Socialism. Aside from the usual mix of Nazi and socialist memes, Russian Socialism attracts commentary from a range of different characters — one fighting for pro-Russian forces in Donetsk, for instance — and maintains a youth group called Young Russian Socialist Avantgarde (MARS). Started in October, MARS posts Atomwaffen-style memes, quotes by fascists like Richard Spencer, videos of Dugin, and photos of members at meetups and protests. MARS also crowdfunds for activists like "Andrei Bely," arrested for allegedly murdering a Kyrgyz man, according to the page. Russian Socialism currently advertises for groups hosting meet-ups for actions at a place called the Rosanov Club. 
Atomwaffen: Organizational Structure and Strategy
Operating under the pseudonym "TheWeissewolfe," Atomwaffen cofounder Devon Arthurs can be seen in the leaked forum coordinating potential new recruits to the group's Florida branch. Posts and photos by the other co-founder, aspiring nuclear physicist, Brandon Russell ("Odin"), place him with the 16-year-old Arthurs hanging out in abandoned buildings in April 2015 during the early stages of Atomwaffen. A month later, Russell would be rubbing elbows with the founder of violent fascist terror group National Action outside of Buckingham Palace. 
How did this all come to be? To understand the rise of Iron March's role in Atomwaffen's rise from Central Florida teens to transnational terror networks, we tracked down an early member of Atomwaffen who has since left the group and spoke to us under condition of anonymity.
"It started off with these gaming groups. We would just play video games, talk shit… we would talk politics and history and they seemed obviously nationalist leaning, but I was like, 'ok,'" he said.
The former member continued, "I guess they added me to the Atomwaffen group… it started off all on Skype." Soon, the group branched out through Iron March, recruiting members from Orange County to Colorado to a North Carolina military base.
Our source mentioned that, as well as video games, Trump's 2015 presidential campaign became "part of the way for us to connect, like, nationalism, patriotism, and fascism." Despite the original Attomwaffen members' disdain for some aspects of Trump, they found anti-liberalism a common denominator. 
Atomwaffen also often bonded over misogyny and relationships, mixing extreme hatred and potential violence towards women with inability to maintain relationships: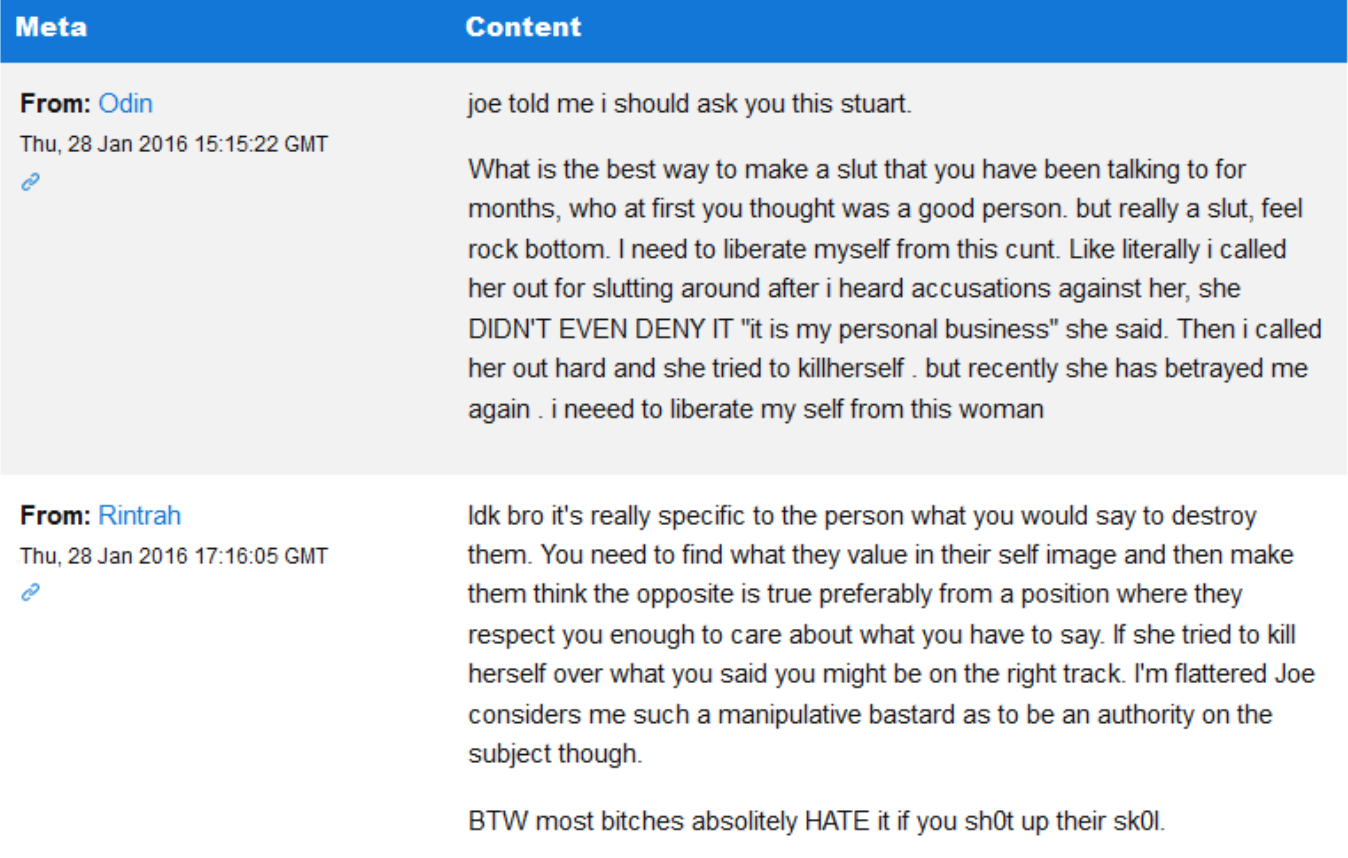 As well as Atomwaffen, Iron March became a hub for coordination between other organizations, such as American Vanguard and the Traditionalist Workers Party. Over Iron March, users across the U.S. communicated about starting a new group called "American Reaction," soon renamed American Vanguard. As American Vanguard grew connections to the Alt Right podcast network, The Right Stuff, its members quickly fell out with Atomwaffen; however, American Vanguard disintegrated amid details of its leadership allegedly grooming young male recruits for sex. 
"I wanted to believe it. I wanted to be part of the group and be greater and have a common purpose," the former Atomwaffen member told us. "That was the appeal of fascism to me, it promoted national unity, right? It just made the people feel strong, but at the same time it promoted hate and violence and a lot of crazy shit that shouldn't have been acceptable."  
Although the co-founders, Arthurs and Russell, lived in Florida, a number of Iron March messages from 2016 indicate that Slavros had become a decision maker in Atomwaffen, and another young recruit calling himself "The Yank" handled recruitment while their leader, Russell, enlisted in the National Guard. After a short amount of time, Atomwaffen had branched out to a loose assemblage of groups with membership ranging between 3 and as many as 20, depending on the place. These groups came to rely on a semi-centralized recruitment flow through the site overseen by a trusted authority who focused on drawing in young people with militant ambitions.
Another name emerges on Iron March in connection with Atomwaffen's leadership—"Arathis" of Hazard, Kentucky. Arathis claimed to be only 17 and working at Papa John's when he joined Iron March, eventually taking a leadership position in his Kentucky chapter of Atomwaffen and handling recruitment for several years. 
"A lot of these guys who were in the group, from the backgrounds that I heard, grew up in poor households, single white guys, either students or in university working low-income jobs," the former member told us. Other members, however, have the appearance of being well-adjusted, middle-class kids. 
The user "Stealth_24" got into the movement at just 16 years old. By the time of his high school graduation and eventual study at Mizzou (a.k.a. University of Missouri), he had become even more involved than ever, admitting that the FBI visited his parents as a result of the May 2016 white-power stickering of Boston University. 
The Boston University stickering event was coordinated by Atomwaffen co-founder Devon Arthurs and the stickers were designed by a student at MIT who identifies as head propagandist for Atomwaffen. Further stickering campaigns would occur at the State College of Florida, University of West Florida, University of Chicago, University of Washington, and University of Colorado. Members would be given a script to copy and paste into Iron March posts and other fora proclaiming their movement's growth and action: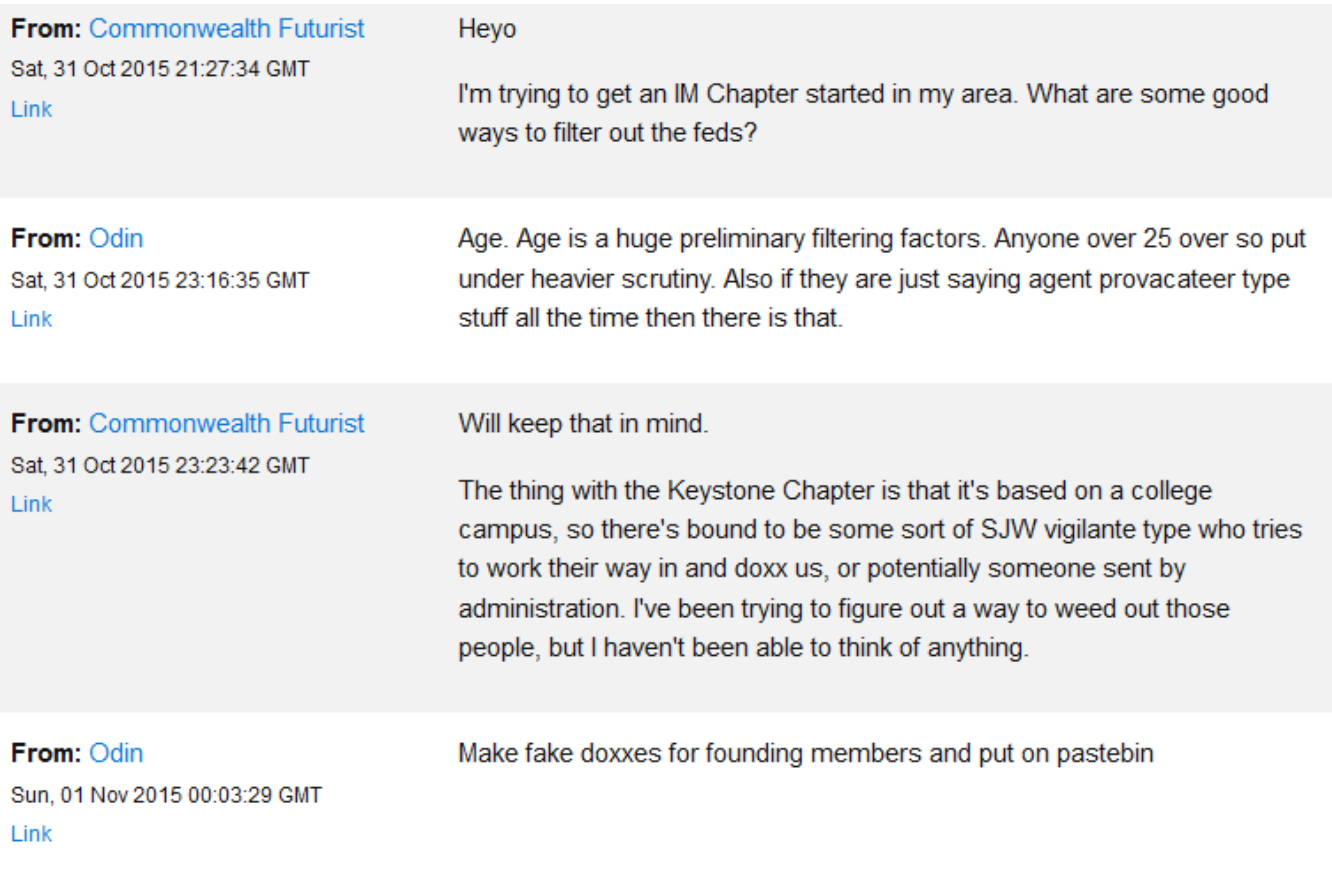 Stealth_24 and the MIT student went on to attempt to revive the interwar fascist group, the Silver Legion, with a Boston fascist named Andrew Oneschuck. Almost a year to the day after the Boston University stickering, co-founders Russell and Arthurs drew Oneschuck and his friend, Jeremy Himmelman, from Boston to their two-bedroom Tampa Bay townhouse with promises of igniting the fascist revolution. Two weeks later, on May 19, 2017, Arthurs murdered them both with an AK-47 for ridiculing his conversion to a fascist version of Islam. Police also found a potential dirty bomb in the townhouse's garage. 
As Atomwaffen's core turned increasingly into a Satanist cult worshiping the fascist writings of Charles Manson admirer, James Mason, a creeping feeling of alienation spread throughout some of its membership. Amid the assorted controversies, and with hackers attacking the site, Iron March went dark in November 2017.
Since the May 2017 murders of Oneschuck and Himmelman, however, crimes associated with Atomwaffen and the far right in general have only escalated, including the following: 17 year-old Nicholas Giampas' murder of his girlfriend's parents in Virginia; Samuel Woodward's homophobic murder of Blaze Bernstein in Orange County; the suicide of 23 year-old Edward Clark and his older brother Jeffrey's arrest on weapons charges in Washington, D.C.; 20 year-old Benjamin Bogard's mass-murder plot in Texas; 23 year-old Conor Climo's plot to bomb a gay club in Las Vegas; 21 year-old Andrew Thomasburg's illegal weapons charges in Virginia; and 23 year-old Army infantryman Jarrett William Smith's bomb plot against a news network.
Our findings suggest that many users came into Atomwaffen as teenagers searching for acceptance online, particularly through video game communities. Before long, they were deep into leadership and "active measure" roles in the movement. Atomwaffen co-founder Brandon Russell discussed explicitly the advantages of recruiting people under 25 among other deterrent strategies. While many of these users were minors when they got into the white power movement, they grew increasingly radicalized over time. Furthermore, Nazis as young as 18 continue to use the internet to orchestrate attacks across the U.S. in association with Atomwaffen-linked networks like The Base.
Shell Companies And Military Training 
Aside from its clear Third Position ideology, Iron March accounts distinguished themselves from ordinary white nationalists and Alt Right members through their commitment to extreme violence. Atomwaffen set up funding networks and worked to infiltrate the military to gain skills and recruit new men. 
Russell stated, "We run shit like a fascist mafia. We got a few businesses set up to bring in money." He also described selling books on Ebay and accepting money through Paypal. In another thread, he offered someone the opportunity to donate directly to Atomwaffen through a Google wallet which appears to be linked to the site of the same name. 
Russell described funnelling money through this account to Atomwaffen, stating, "Money went to good use my friend I really appreciate it. We are currently getting a bunch of flags made. I'll send pics when they are done." Russell also alluded to using the money for further Nazi training and connection in the Ukraine stating, "at the start of next year we will be sending guys over to ukraine. We got lots of other things coming up too":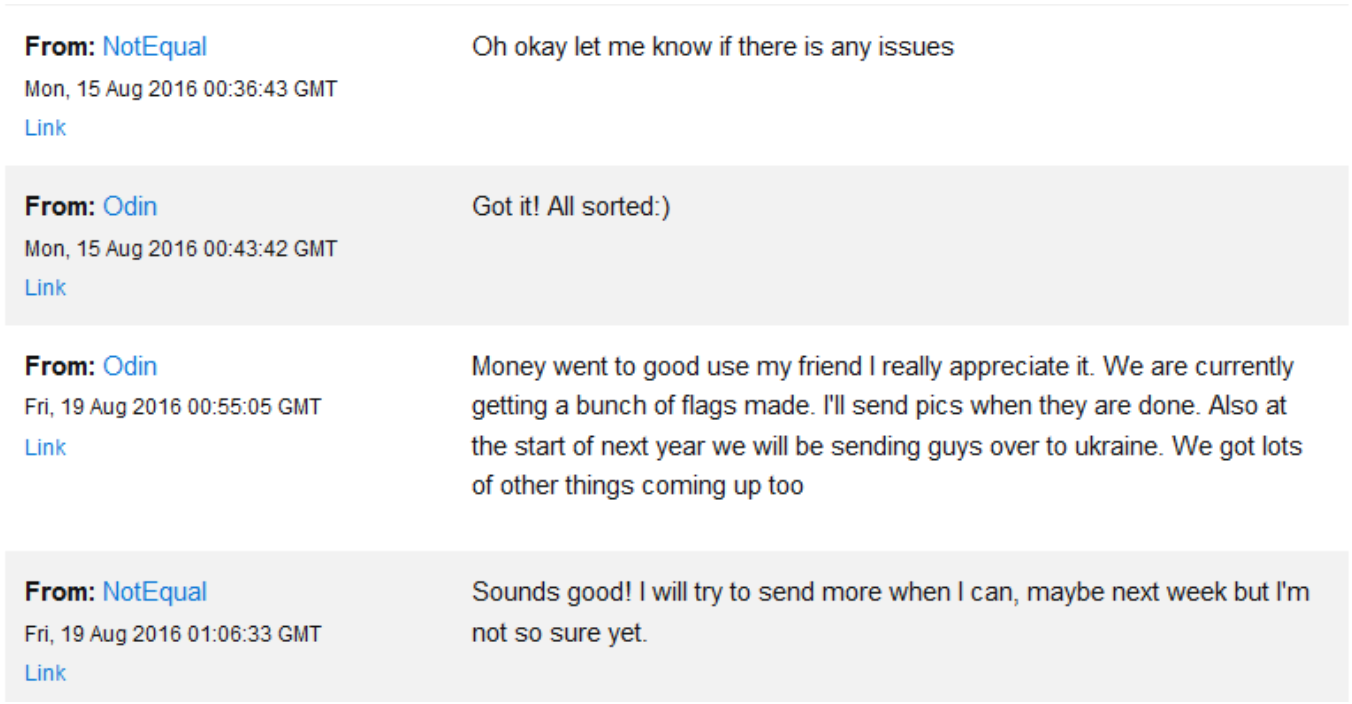 The military training, travels, and weapons all point to serious efforts at developing a paramilitary insurgency. Russell also discussed being stationed on base at Ft. Benning for basic training and Ft. Gordon for AIT, bragging about flaunting his white supremacy: "I was 100% open about everything with the friends I made at training. They know about it all." He was later in the Florida National Guard.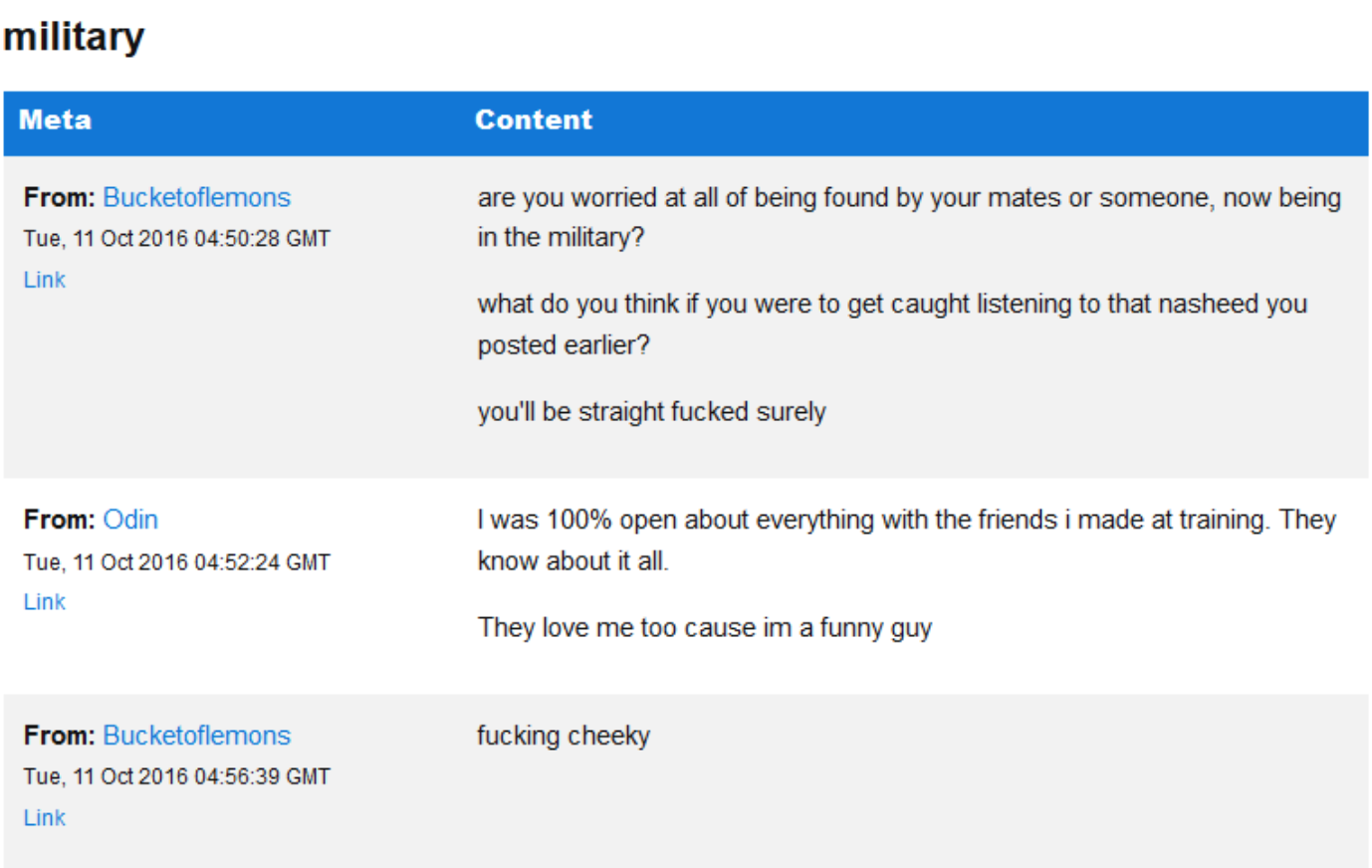 Russell was eventually indicted on Federal explosives charges, after his roommate Arthurs committed the murders of Jeremy Himmelman and Andrew Oneshchuk. The judge claimed to not find "clear and convincing" evidence that Russell posed a risk, but his bond was revoked and he was sentenced to a five year term at a minimum security jail in Florida.
The culture of military training was relatively fast and loose on Atomwaffen's main networking site. Some users were open about being in the Army on Iron March, like Úlfhédnar, who admitted on Iron March to being stationed at Fort Bragg while joining Atomwaffen. However, we assume there are more who were not so open. 
Following inspiration from the Bellingcat spreadsheet of possible users in the U.S. military and the subsequent Vice article, we made a map that highlights all users in the vicinity of U.S. military bases which can be cross-referenced with this list. This is further driven home by the recent Bellingcat-Newsy collaboration that revealed even more active duty military in the leaks. (The code for this map can be found here.) More information about these maps can be found in the mapping section before the global map:

Users near U.S. military bases map. With zoom and user detail capabilities. Please note that for some readers, this map may work better on desktop.
Twitter user Jewish Worker in collaboration with The Self Agency, has also made a beautiful and handy searchable database of the leaks which can be used to follow up on greater research leads. Indeed, most of our screenshots for conversations come from this database but are confirmed in the SQL dumps themselves. You can use that database to explore, among other things, the ubiquitous problem of fascism in the U.S. military beyond just the military members already exposed by Vice and online researchers. This military infiltration is described by a supposed woman going by "Pro Patria Mori," geolocated to Bedford, Texas, who writes:
In my unit (infantry) I've met quite a few rightists – some openly NS, lots of neo-Nazis, others just nationalists, others red-pilled conservatives, others blue-pilled militiamen, even a couple Mormon extremists. You see plenty "of our kind" in the combat arms. But you have to be careful about it, Military Police are always watching and always eager to enforce the ban on extremist activity by military personnel. A good way people in the military find other rightists is to simply wear a shirt with some obscure fascist logo. I met my good buddy at a brigade luncheon when he noticed the Totenkopf on my shirt. On most bases you can see the occasional right-wing symbol. Sun wheel there, 88 here, Mussolini's face over there, a Templar cross tattoo. The symbols of SS units are especially common, even on things as public as cars, flags, and helmets…. When my company commander mentions that "this country needs a beer hall putsch and some brownshirts", I know this is something he would not say in front of his superiors, even if his superiors have said similar things.
This chilling account of fascist networks within the military appears immediately relevant to our examination of Atomwaffen networks in the following sections. It also indicates crucial but esoteric signifiers through which a kind of "fascist underground" grows and networks.
Atomwaffen And National Action: Interesting Liaisons
International solidarity and networking formed a crucial feature of Iron March and Atomwaffen discussions from the beginning. Another insurgent white supremacist group, ​​​​​​National Action was founded in 2013 in the U.K. by a member of the International Third Position Federation who migrated onto Iron March. His name was Benjamin Raymond ("Daddy Terror" or "Benjamin Noyles"), and he was joined by his online friend, Alex Davies. 
Initiated during a lull in British far-right activism, National Action promised an explicitly violent revolutionary strategy arranged in keeping with a kind of decentralized, ultranationalist insurgency. By June 2015, Zack Davies had been convicted of attempting to murder a Sikh man. The next month, Benjamin Raymond personally met Atomwaffen co-founder Brandon Russell, taking a photo op together outside of Buckingham Palace. Another National Action member, Chris Lythgoe, convicted for membership of National Action, took part in discussions on Iron March under the name "The Insurrectionist" with both "Arathis" and "The Yank," who were purportedly overseeing Atomwaffen during Russell's stint in basic training. 
Lythgoe's U.S. counterpart was The Yank, who fielded new Atomwaffen recruits over Iron March while Atomwaffen co-founder Brandon Russell was in basic training. The Yank used his signup email to create a (now deleted) Facebook account. Clearly young in these 2014 Facebook photos, The Yank is seen throwing fascist salutes and stickering a plaque at New Mount Sinai Cemetery in St. Louis. One flier posted on the sign of a St. Louis psychic called for a pogrom, and he posted another outside of what appears to be the St. Louis Christian Academy, home of the Cougars. The Yank also hosted videos of himself handing out fascist fliers to people and laughing that record his and his friend's voices. Despite his activity in St. Louis, his IP address is located in the State of Washington, and his compatriot wears a Seattle Seahawks hat in one of the videos that appears to be set in Seattle:

In one Iron March thread, Lythgoe discussed coordinating graphic design with others in Atomwaffen, noting that Slavros signed off on the project (although another claimed that Slavros had allegedly denounced the group). Other Iron March members tell of going to the London Forum to see National Action members speak.  
A spatial analysis of Iron March accounts in the U.K. shows relatively high membership numbers in two areas of London, Hampshire, the West Midlands, Manchester, Lancashire, and West Yorkshire, as well as Edinburgh. However, high-post accounts are more spatially dispersed, for instance in Wales, Cornwall, and a remote part of Scotland. As in the U.S., many accounts exist in some areas, but that is not always the best indication of power in the context of Iron March. It appears that the most active areas by number of accounts and number of posts are London, the West Midlands, and West Yorkshire.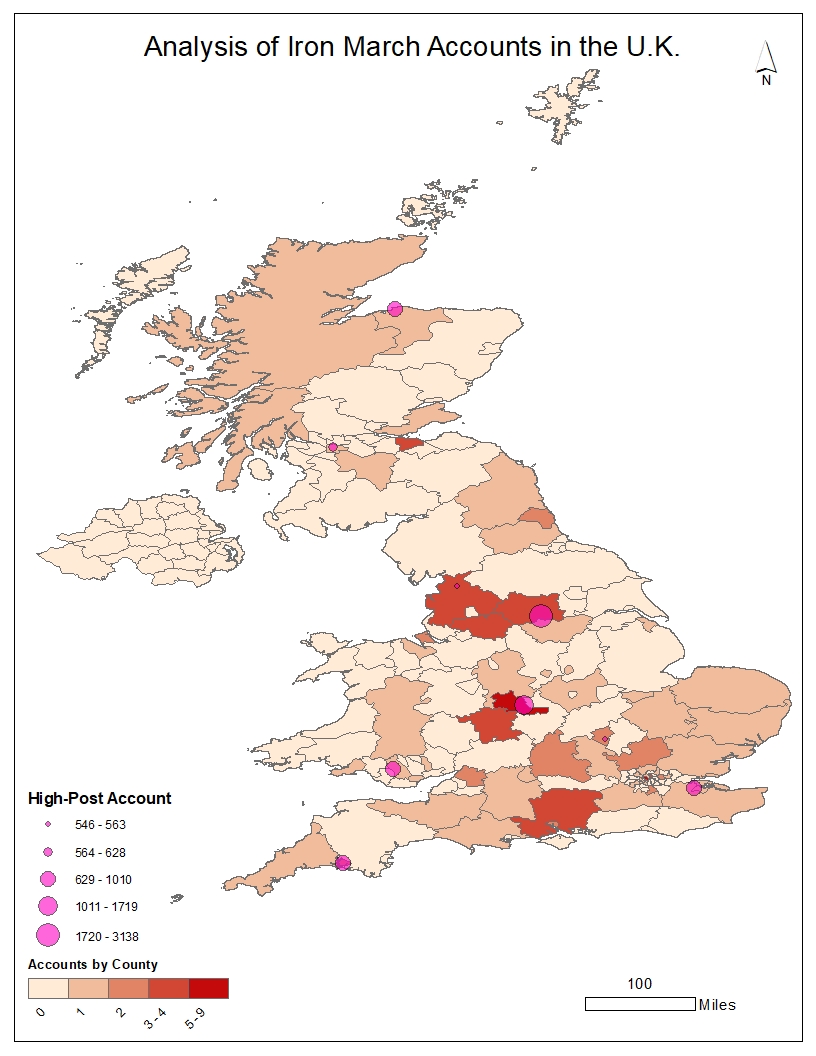 Mapping Transnational Terror
Global Connections
Iron March was known to launch other fascist groups aside from Atomwaffen, such as an Australian group, Antipodean Resistance. The following map shows the locations of all sign-up IP addresses in the Iron March leaks. We used two separate IP lookup services, IPData and Maxmind, to geolocate users including Slavros and the location accuracy was pulled from Maxmind. It is clear the majority of users are in the United States, although the highest-posting accounts come from an array of countries like Russia, Sweden, Serbia, Norway, the U.K., the U.S., and Canada.
If you hover over a flag in your area, you will be able to see their IP address, the accuracy of the location of that IP, and their sign-up email among other details. It is important to note that IP addresses do not usually correspond to home addresses or specific locations but rather ping to ISPs, a local node, or the city center where more accurate measures are not possible. Nonetheless, they do offer tend to offer important geolocation information and our measures provide a general accuracy measure. 
Additionally it is important to mention that these locations are taken from when the users created their accounts, so they may not be current locations and must be cross-referenced with when the accounts were created. Of all of these accounts only two were flagged as being in the lists of most common VPN or Tor exit nodes. Some of these addresses will be spoofed through VPNs or Tor; however, VPNs generally ping to the nearest available server, meaning that the rough location will still be generally accurate. 
All of this information is provided with the understanding that every single user on Iron March presents a clear and credible threat of terrorist violence, especially given the uptick of white-nationalist mass shootings in recent months in addition with recent Atomwaffen related arrests.

Map of all users. You can zoom. Click any flag to get more details about that user. Please note that for some readers, this map may look better on desktop.
Analyzing Iron March's Presence in Europe 
A spatial analysis of Iron March's presence in Europe reveals a significant clustering of accounts. We produced a choropleth map of the number of Iron March members per country using ArcGIS, and then created a map of the most prominent accounts in the region using the Gettis-Ord Gi* Hotspot Analysis tool in ArcGIS. Despite the largest numbers of accounts occurring in England, the Netherlands, Germany, Sweden, and Serbia, statistical analysis shows that the most significant hotspots of high-post accounts occur in Russia, Scandinavia, England, and, perhaps surprisingly, Serbia.  
Russia does not come as a surprise. A geolocation of Slavros' IP address, as found within the leaked Iron March database, pings within the most central location in Moscow, close to Tverskaya, where Slavros makes some of his videos. Slavros is the account with the highest number of posts on Iron March, and virtually all Russian accounts ping in or around Moscow, creating a hotspot of high-post accounts. Interestingly, Russia Today (RT) featured as one of the top two news websites linked by Iron March members, the other being the British right-wing tabloid, The Daily Mail, reflecting the significant spatial clustering in those countries.
The hotspot in the U.K. can be explained in part by the English-language focus of the forum, along with the relatively high number of violent fascists associated with National Action on the forum. Similarly, Scandanavian hotspots occur in the southern areas near larger cities like Helsinki and Malmö, where there are a large number of high-posting accounts, a high prominence of fascist groups linked to Iron March (such as MNR), and a high rate of English language proficiency. 
Also, the Malmö hotspot may be influenced by relatively high-posting accounts across the Baltic Sea in Denmark and Northwest Poland. Interestingly, Iron March accounts also boasted of ties with the Lithuanian fascist group Skydas (possibly linked to the present-day Atomwaffen-Feuerkrieg Division), increasing our focus on the Baltic. 
Meanwhile, the hotspot in the Balkans, centering on Serbia, may spark greater interest and provide cause for more qualitative analysis beyond the scope of this piece. Interestingly, Germany and the Netherlands have numerous accounts but relatively few high-post accounts, and an Atomwaffen cell called "AWD-Deutschland" has appeared in the area.  
Lastly, using a General G statistical analysis, we can say with more-than 95% confidence that high-post accounts are often clustered together, which indicates that important accounts may also be encouraged by having bigger accounts nearby with whom they can interact and possibly organize.
If a big account is taken out, it may negatively impact neighboring accounts as well. However, there may also be deeper, structural issues (e.g., a history of nationalist movement building, the existence of established political and propaganda infrastructure, comparative development dynamics, and the localized hegemony of specific political tendencies with affinity for Iron March, along with other cultural, demographic, economic, and societal variables) that make certain areas "basins of attraction" for fascist activity.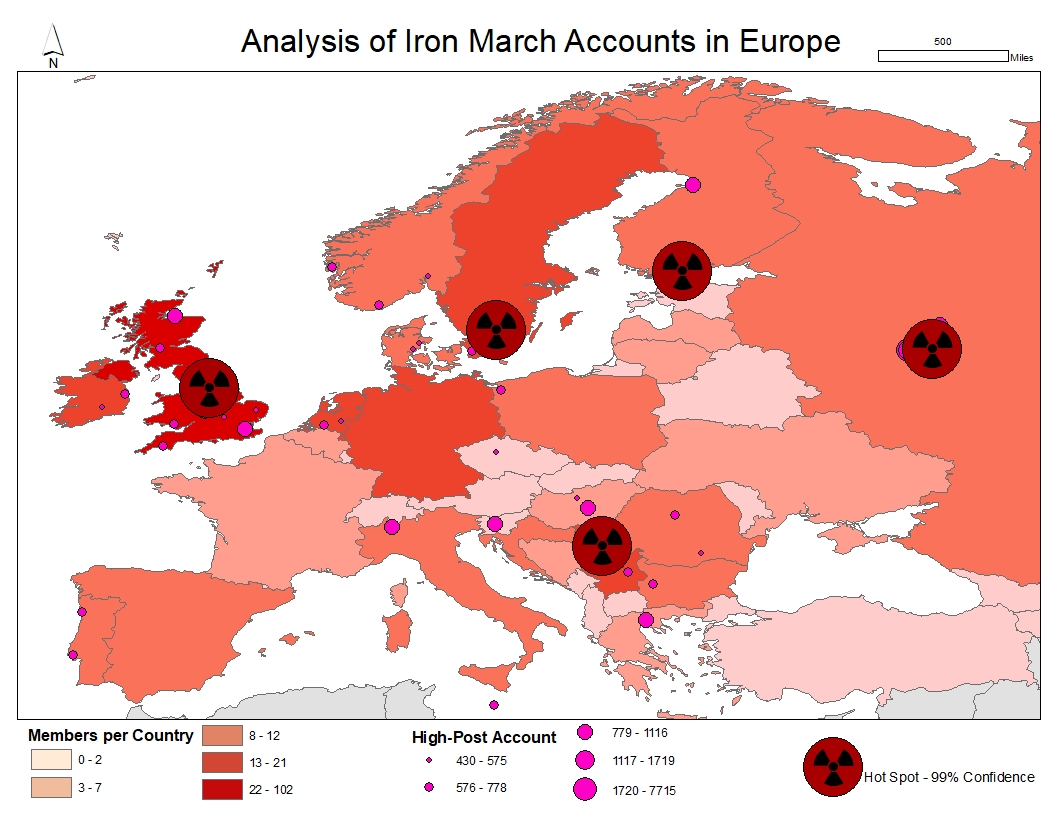 Fascist Activity In The U.S.
The most active state for Iron March users was California, while the most active cities in the U.S., by IP, are Seattle and Chicago. To get an impression of highest concentrations of accounts, we created a map that shows user count by county. Some IP addresses may have been spoofed. For instance, some 75 accounts pinged to Reno County, Kansas, which we assumed were all placed through VPNs, Tor, or other means, so we removed them all. Other IPs can have a range of accuracy from 1 km to as far as 100 km. However, this map gives a good general estimate of where concentrations of Iron March members lived. 
We decided to show county-scale polygons, because it helps give a closer understanding of population dispersal inclusive of suburban areas; for instance, Orange County would not show up on a map showing metropolitan concentrations, but using this scale, it appears among the top counties despite not having a major metropolitan area compared to L.A., Chicago (Cook County), or Seattle (King County). Similarly, the counties that comprise Long Island (Nassau and Suffolk), as well as Spokane (rumored to be a hub of The Base, an Atomwaffen paramilitary training facility), Houston (Harris County), and Phoenix (Maricopa County) factor heavily in our analysis. 
In terms of population dispersal, Florida appears to have the most "coverage" relative to its size, while Vermont and New Hampshire and the Dakotas and Nebraska appear to have the least "coverage." However, when we added accounts with many posts into our analysis, we found significant member-post densities in the area around New York City, Alamance and Raleigh Counties in North Carolina, the San Francisco Bay Area, and the Eastern Puget Sound. 
Thus, based on our spatial analysis, we found that population density and total population by county did not necessarily correlate to higher numbers of Iron March members or posts per member, and the number of users in a county does not necessarily lead to to high-post accounts. For instance, although L.A. had many members, it did not have high-post accounts. Again, more qualitative and quantitative analysis is perhaps necessary to determine why certain specific areas attracted more Iron March members, while other areas with higher populations attracted fewer.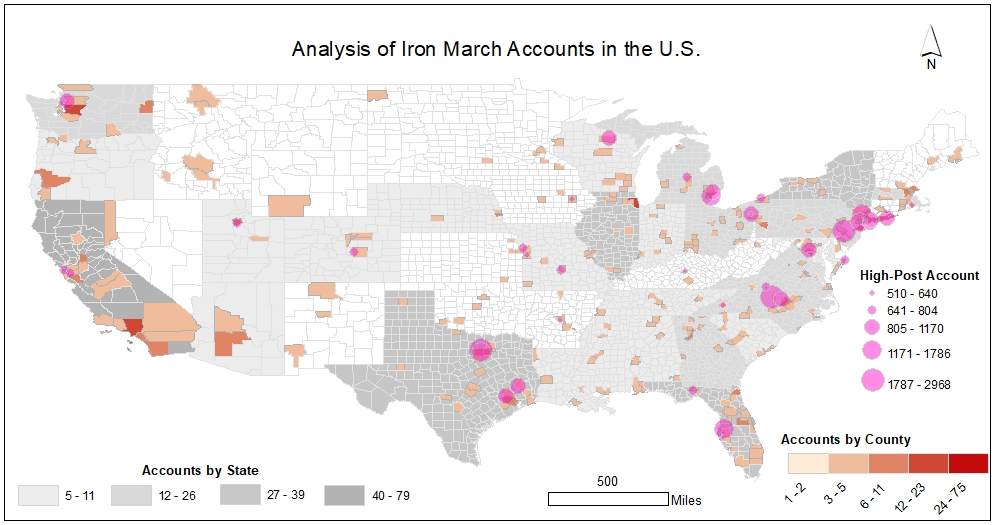 The Legacy of Iron March
Iron March users can be tracked to other internet forums today, giving us an idea of political cyber cultures across web domains. For instance, there is some crossover between Iron March and the queerphobic troll website Kiwi Farms, as shown by a recent hack and subsequent leak that revealed sign-up emails and IPs for Kiwi Farms. These users appear to grace the halls of both forums despite claims (onion link directly to Kiwi Farms) from KF to be opposed to Iron March.
The descendant of Iron March, a lesser used forum called Fascist Forge, has been called a home for domestic terrorism in the U.S. Though there is no user by the name of Slavros himself (since it was set up after his disappearance), the founder "Mathias" produced a special, curated collection of Slavros' writings. Some migration of users can be found simply by comparing shared usernames across the two platforms. This list of users can be cross-referenced with the maps above to see what users are still active.
Fascist Forge itself is an active platform. Many of the users found the new forum through fascist Discord servers, though they also discuss advertising through Gab. Mathias writes:
"Propaganda addressing the system and its agents needs to instill fear, uncertainty, and a sense of insecurity — it should lead to headlines that remind the public of the danger and seriousness of our message…
Propaganda addressed to the masses should be strictly employed to increase societal tensions, division, and hostility between various opposing blocs, with special attention given to anything that agitates the masses against the system."
This is reinforced by the user "Relith" who states, "To cause chaos we would need to use an ISIS style approach, use shock and fear to gain notoriety on the world stage." It is clear there efforts to incite racist terror are continuing, with ongoing videos and military training camps conducted by "The Base." 
All of this justifies efforts to expose and undermine their organizing as a means of preventing mass-violence. While Slavros himself may be in hiding, his legacy lives on and it is our collective job to stop it.