Hashtaggers For Hezbollah? How Social Media Fundraising Can Skirt The Rules
An ostensibly independent activist group has been boosting Hezbollah messaging and fundraising on social media — this is occurring amid increased scrutiny of Hezbollah's use of Facebook and other platforms. 
An April 19, 2019 New York Times article highlighted how Hezbollah is among U.S.-designated terror groups that "learned how to stay a step ahead of the social media giants" by getting "supporters to publish images and videos" propagating the groups' stances "that do not set off the alarm bells of the social media platforms."
In addition to this strategy, the report said that Hezbollah, Hamas, and Al-Shabaab post non-violent content such as images of "festive parades and religious celebrations," which allows the groups to "proliferate largely unchecked on social media."
The Attansakiyeh group in Lebanon, which operates a news website and maintains accounts on Facebook, Twitter, Instagram, Telegram and YouTube, often posts media supportive of Hezbollah. This includes post glorifying deceased Hezbollah figures, such as this one dedicated to the group's former military commander Imad Mughniyeh: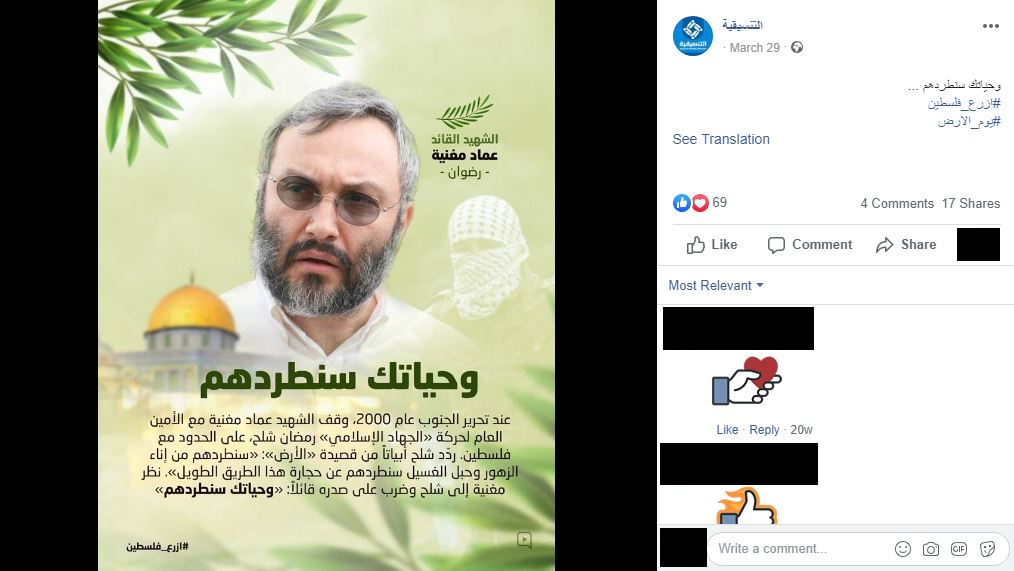 The group's mission statement says that it aims to counter distortions on social media that target the "Resistance" — a term in Lebanon's political lexicon that often includes Hezbollah and its allies opposed to Israel. In addition to pro-Hezbollah material, Attansakiyeh has posted media in support of the Lebanese army and Hezbollah's political allies, including Amal Movement leader and Lebanese Parliament Speaker Nabih Berri, Lebanese President Michel Aoun, and the Syrian Social Nationalist Party. 
Attansakiyeh has sought to amplify its messaging with the participation of Hezbollah sympathizers on social media. In February 2016, Attansakiyeh launched the #ResistThroughAPicture (#قاوم_بصورة) hashtag campaign in protest to Facebook temporarily suspending accounts posting pictures of Hezbollah Secretary General Sayyed Hassan Nasrallah:
The campaign was lauded by Hezbollah's Al-Manar Television, which dubbed it a "Dignity Intifada by Lebanon's youth."
While Attansakiyeh says that it "does not receive support, guidance or supervision from any quarter of Hezbollah or any other party," this collective of social media activists has also stated that it is "[proud] to belong to the Axis of Resistance," referring to the Iran-led alliance of anti-Israel countries and organizations.
Beyond circulating pro-Hezbollah material online, Attansakiyeh's real-world activities indicate ties to Hezbollah. 
Hezbollah's Cyber Media Unit chief Hussein Rahhal and MP Ali Fayyad attended Attansakiyeh's inaugural general assembly in September 2015, which was headlined under the theme "From the Virtual World to Reality." 
Attansakiyeh partnered with Hezbollah's media apparatus in October 2016 to organize a gathering for Hezbollah MP Hassan Fadlallah. Two months earlier, Attansakiyeh hosted a session with an officer in Hezbollah's military apparatus known only by the nom de-guerre Al-Dahnoun, a further indication of its coordination with Hezbollah.
Bringing Together Pro-Hezbollah Media Professionals
An analysis of Attansakiyeh's media, news articles about the group, and publicly accessible social media accounts reveals the group consists of young Lebanese professionals, including journalists sympathetic to Hezbollah.
Attansakiyeh's website reports on the group's activities, publishing a number of pictures offering clues to its membership. However, Attansakiyeh's site has identified only one of the group's activists by name, its manager Ali Basha, who says on Facebook that he works in advertising.
Attansakiyeh's pictures often feature Hamza al-Khansa among the group's delegations, including one that met in May 2018 with Hezbollah's representative in the Mount Lebanon region of the country, Sheikh Hussein Zeaiter: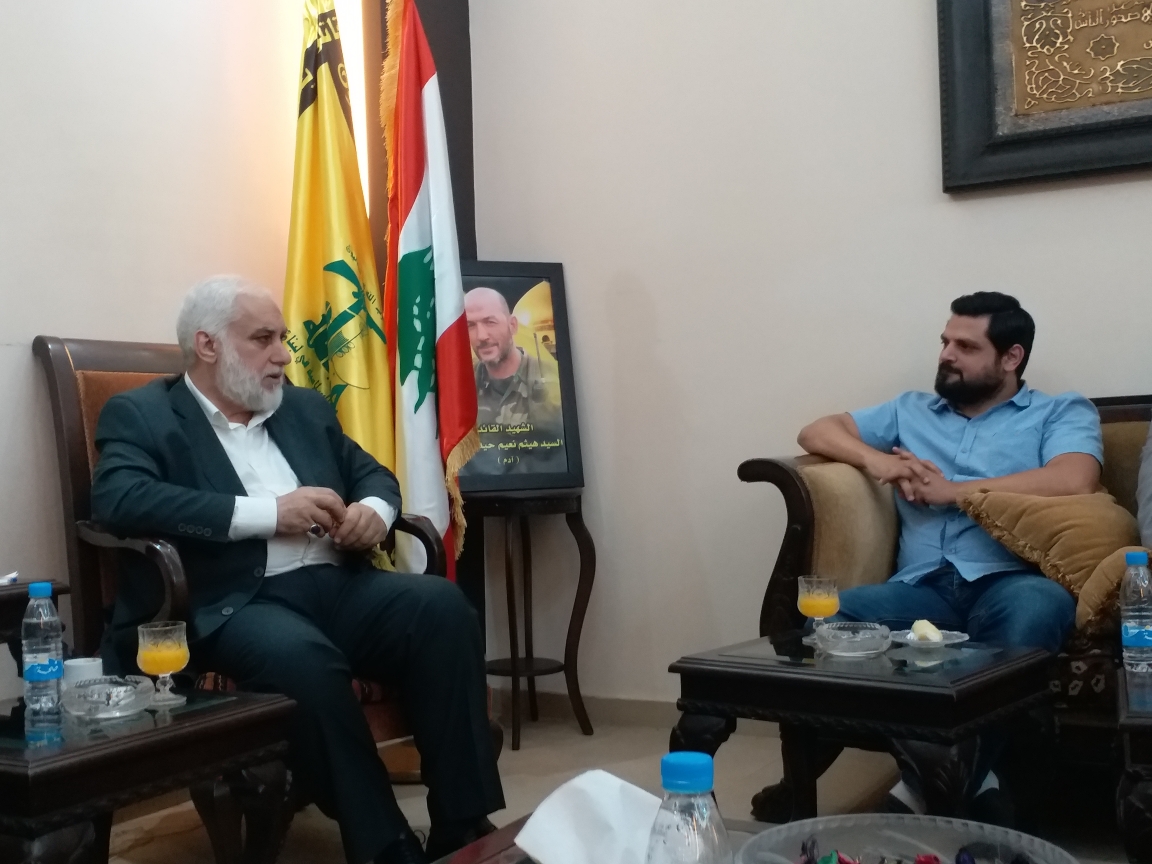 Al-Khansa is a journalist who has written for Alahed, a Lebanese daily that firmly supports Hezbollah, and Al-Akhbar, a pro-Resistance Axis newspaper based in Beirut. Vice Arabic interviewed al-Khansa in March 2019 about the Campaign to Boycott U.S. Goods, for which he serves as a spokesperson. 
The initiative, which media reports say was formed by a group of Lebanese activists, aims to combine social media activism with on-the-ground efforts to create a "smart boycott" of U.S.-manufactured goods in Lebanon. Attansakiyeh's social media routinely re-posts material by the Campaign to Boycott US Goods. The Vice Arabic report on the Campaign to Boycott U.S. Goods provided a photo of one of the group's meetings, which was at the Attansakiyeh offices.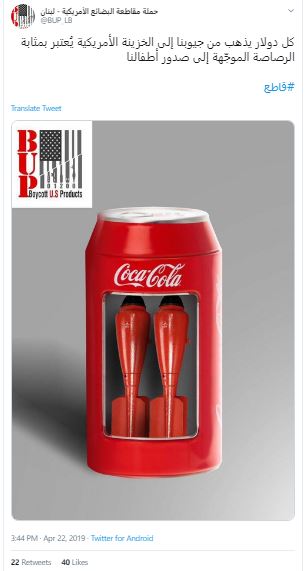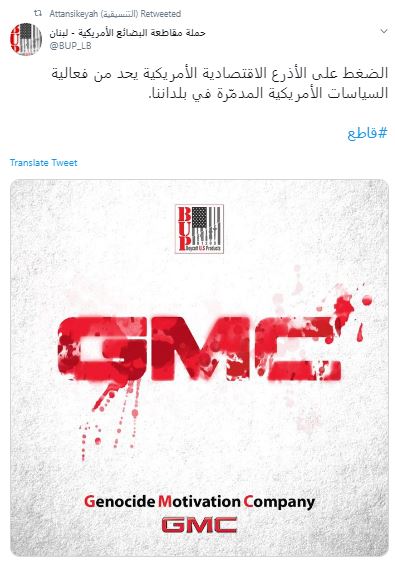 Another pro-Hezbollah journalist affiliated with Attansakiyeh, Vida Wardeh, writes about Attansakiyeh on her Facebook account. This includes an August 5, 2018, post encouraging members to attend an upcoming Attansakiyeh meeting. Wardeh has expressed her pride on Facebook for receiving awards from Hezbollah's fundraising body, the Islamic Resistance Support Association, and Iraq's Popular Mobilization Forces in September 2016.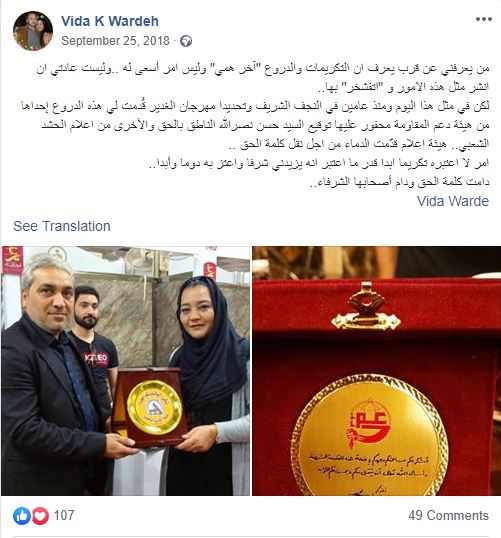 Wardeh is the editor-in-chief of The Saudi Reality, a news website for the Dignity Movement, a little-known Saudi opposition group based out of Beirut that says it supports "the resistance movements in Lebanon, especially Hezbollah." An Attansakiyeh delegation visited the leader of the Dignity Movement in January 2018.
Boosting Hezbollah's Fundraising With Social Media
In recent months, Attansakiyeh has conducted and promoted fundraising campaigns that at first glance might seem innocuous, but upon closer inspection raised money on behalf of Hezbollah apparatuses.
On April 1, 2019, Attansakiyeh held the Return The Favor: Your Support for Resistance charity event in south Beirut, which it advertised on its Facebook, Twitter and Instagram accounts. The event, which featured poetry readings, was co-hosted by the Islamic Resistance Support Association, Hezbollah's fundraising body: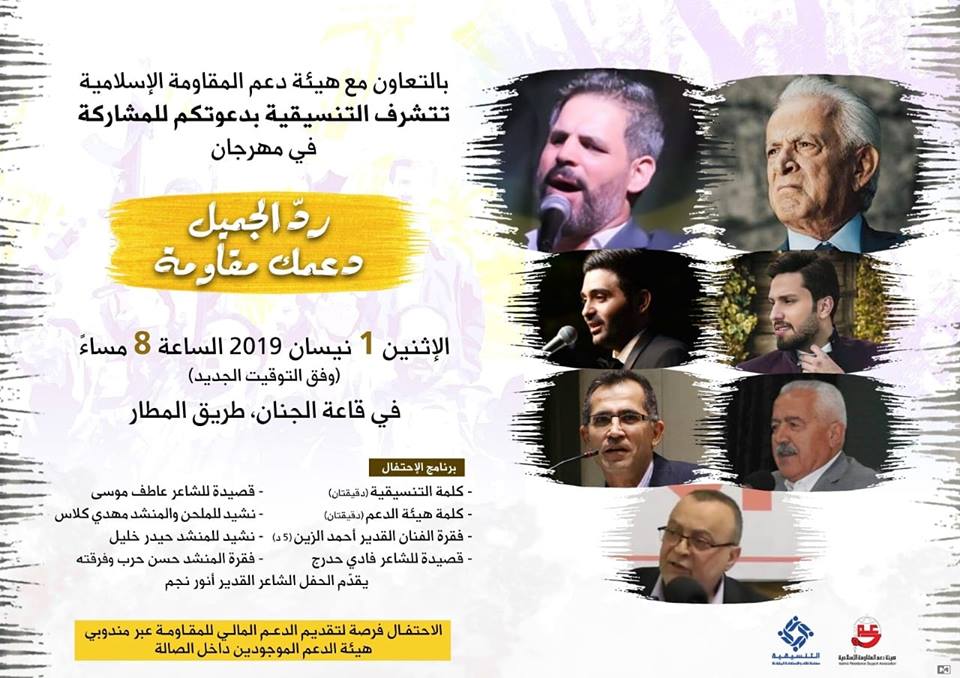 Attansakiyeh's fundraiser came on the heels of Hezbollah Secretary General Sayyed Hassan Nasrallah's March 8 call for the party's supporters to contribute to the Islamic Resistance Support Association to offset the effects of U.S. sanctions. Nasrallah's speech motivated Attansakiyeh to hold the April 1 event, the activist group's manager, Ali Basha, told Alahed newspaper. 
An April 2 Tweet by Attansakiyeh solicited funds for the similarly-themed "Popular Campaign to Support Resistance and Confront the U.S. Siege." The tweet instructs donors to donate funds to account number 8142401 at the Al-Qard al-Hassan microfinance institution, which was sanctioned by the U.S. in 2007 for its financial support of Hezbollah:
The same account (8142401) is used by Hezbollah's Islamic Resistance Support Association according to a commercial for Hezbollah's annual "Equip a Mujahid" fundraising drive to raise money for the organization's military apparatus: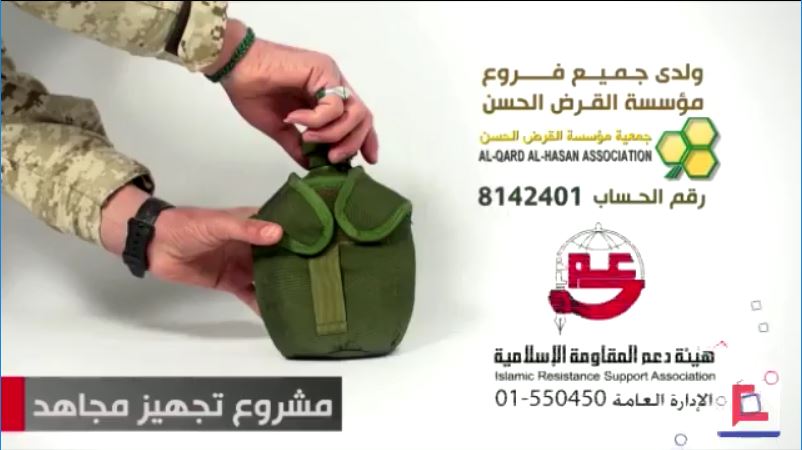 On April 8, Attansakiyeh's Twitter, Instagram and Facebook accounts solicited donations under the slogan "From Lebanon of Resistance to Iran of Revolution, With Love," in response to the devastating floods that hit Iran in the preceding weeks. These fundraising appeals called for donations to be made to account number 8142601 at Al-Qard al-Hassan. 
The fundraising drive was launched by the Lebanese branch of the Imdad Committee for Islamic Charity, according to a segment by Hezbollah's Al-Manar television, which said the charity was soliciting donations to its account number 8142601: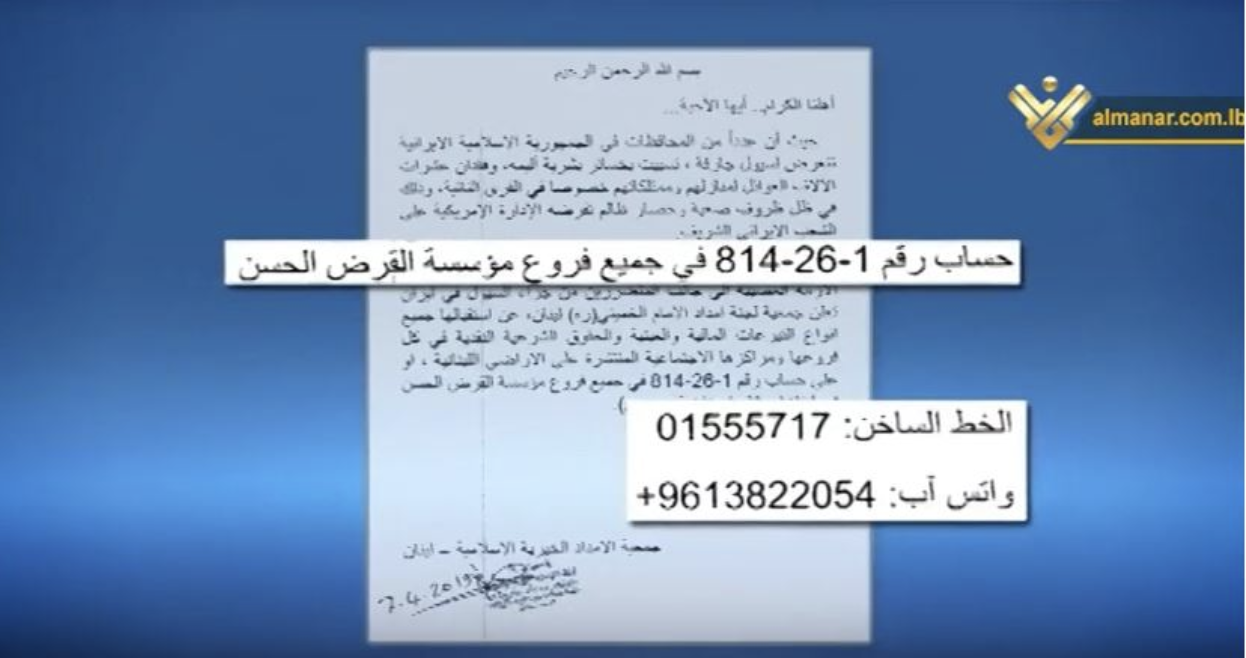 Imdad Committee for Islamic Charity's Lebanon branch was sanctioned by the U.S. in 2010 for being owned/controlled by Hezbollah. Imdad serves as a Hezbollah social service organization and is run by Hezbollah cadre, the U.S. said at the time.
Other Social Media Campaigns Of Note
On November 23, 2018, Attansikyeh boosted the "For Yemen's Children" fundraising drive, posting a banner by Al-Qard al-Hassan calling for donations to account number 8142301: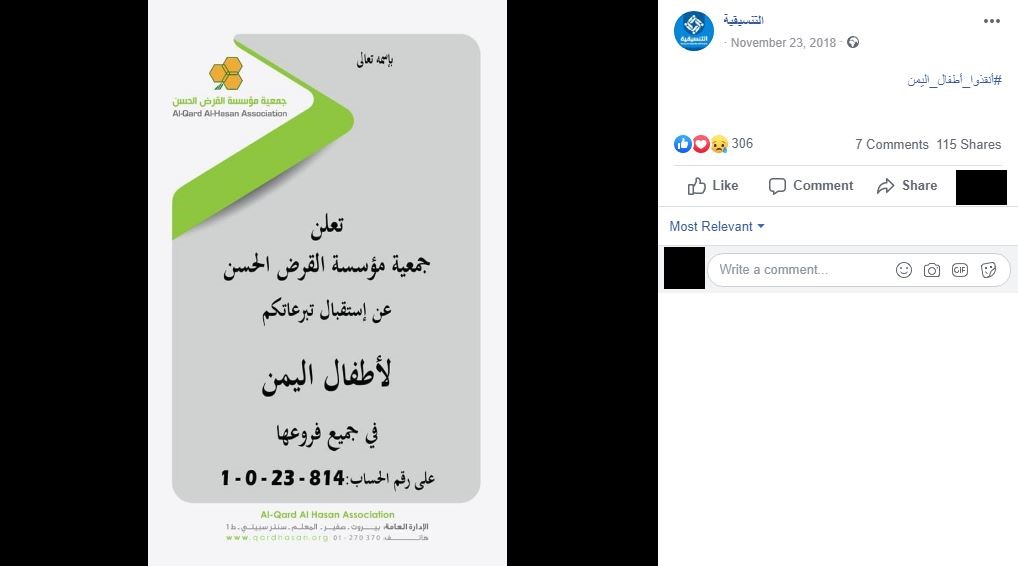 Hezbollah's Al-Nour Radio launched the campaign on November 20, specifying donors to donate money to account 8142301 at Al-Qard al-Hassan. Al-Nour Radio was sanctioned by the U.S. in 2006 as a Hezbollah media arm that has supported fundraising efforts on behalf of the Lebanese organization.
Al-Qard al-Hassan appears to rely on physical donations, with its website and Facebook page listing branch locations, but not providing any information for any sort of bank or other electronic transfer. A March 9, 2019, Al-Manar report shows a donation of teachers' salaries in an envelope being made to Hezbollah's Islamic Resistance Support Association at an Al-Qard al-Hassan branch in the southern Lebanese village of Al-Adeisseh: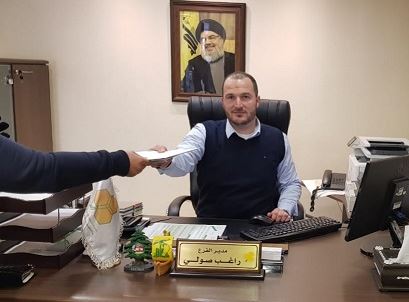 Not all of Attansakiyeh's fundraising efforts are on behalf of Hezbollah. Following the devastating floods in Iran in the spring of 2019, Attansakiyeh sponsored the Ahl Alwafaa Relief Campaign to gather donations for the people of Iran. Iranian diplomat Ahmad Hosseini hailed the initiative and blasted the U.S., saying Washington's sanctions were preventing the Iranian Red Crescent from receiving aid. 
Earlier, in August 2018, Attansakiyeh organized a campaign to raise funds for surgery for a young child in Lebanon. In another example of its nonpolitical efforts, Attansakiyeh also boosted a blood-drive in September 2018.
Meanwhile, a hashtag campaign launched by a Twitter user loosely affiliated with Attansakiyeh demonstrates how social media can generally be leveraged to boost physical donations to Hezbollah. On April 23, 2019, Mohammad Samaha (@MhmdSmeha2) started the #ResistanceChallenge (#دعم_المقاومة_تشالينج) hashtag campaign with a tweet showing him placing money into an Islamic Resistance Support Association collection box and tagging five friends to do the same: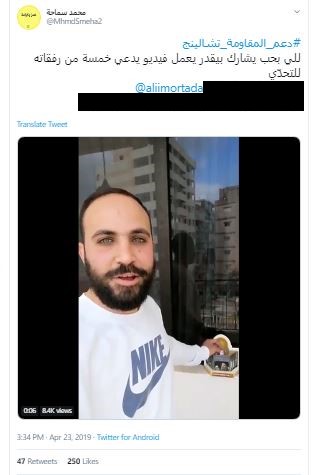 Samaha posted Attansakiyeh promotional material on Facebook several times in 2016 and attended an Iftar banquet held by the group in June 2018. 
Al-Mayadeen television journalist Ali Mortada responded to Samaha's tweet with his own video showing him placing money in a donation box for Imdad Committee for Islamic Charity's Lebanon branch. The video, in which Mortada stated he was financing Hezbollah, was viewed over 18,000 times.
The hashtag quickly took off, with over 200 mentions in the following two days, including a number of tweets showing videos and pictures of donations to Islamic Resistance Support Association and Imdad Committee collection boxes.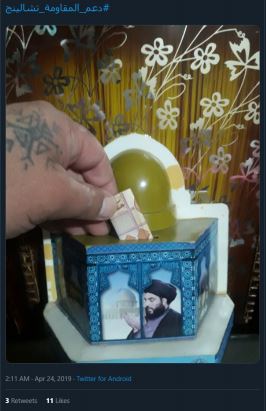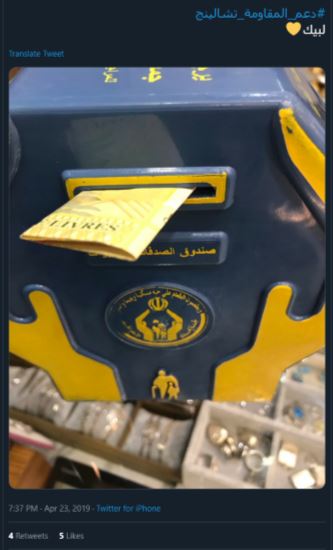 Conclusion
Attansakiyeh's activities highlight the challenges faced by social media companies aiming to comply with U.S. sanctions on Hezbollah and curtail the group's activities on their platforms. Facebook, Twitter and others in past years have already faced difficulties countering Hezbollah's official media, playing a game of whack-a-mole as they shut down the group's accounts only for new ones to be created. 
In the case of Attansakiyeh, the group is not an official media organ of Hezbollah — it proclaims its independence while at the same time subtly spreading propaganda and supporting fundraising efforts beneficial for Hezbollah. Attansakiyeh's activities extend beyond support for Hezbollah to include meetings with the Lebanese party's officials. 
Yet as a self-proclaimed organization, one outside Hezbollah's sprawling network of official media and social support entities, Attansakiyeh easily falls through the cracks of social media companies' sanctions compliance efforts. Attansakiyeh is not blacklisted by the U.S. government, nor do its social media accounts often explicitly mention Hezbollah by text. For example, a search of Attansakiyeh's Tweets for the term Hezbollah yields only seven results.
Hezbollah's official apparatuses, as well sympathetic collectives such as Attansakiyeh, don't exist in a social media vacuum. They act as messaging amplifiers aimed at Hezbollah's large base of supporters, reflecting the organization's role as a major political party and part of Lebanon's social fabric. Hezbollah has long championed its philosophy of Resistance Society, the organization's goal of building a social environment backing its comprehensive military, political and social goals. As such, it's no surprise that this Resistance Society has also gone virtual.