Funding and How to Support Bellingcat
Our Funding
Bellingcat is composed of a charitable foundation registered in the Netherlands as well as a newly registered charitable organisation (a 501c3) in the US.
In 2021, we received generous support totalling €2.2m via the following sources: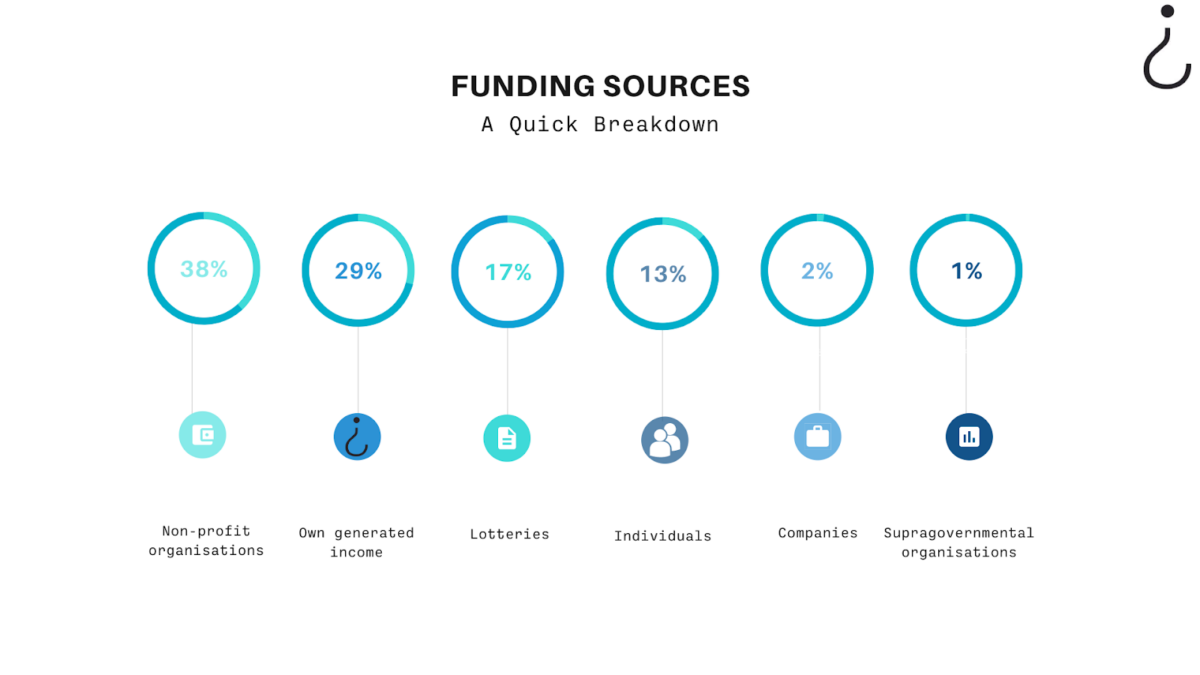 Approximately a third of Bellingcat's budget is currently raised from workshops held throughout the year, and from paid keynotes and presentations.
Bellingcat also currently receives about 40% of its funding from private and public foundations in the form of grants, both as core funding and funding for defined projects.
We would like to express our gratitude to the following organisations for their support:
Civitates
The European Commission
The Dutch Postcode Lottery
Sigrid Rausing Trust
Swedish Postcode Foundation
Wellspring Philanthropic Fund
There are several organisations who graciously support our work, but prefer to remain anonymous. We honour their wishes and express our sincere gratitude. The names of all our donors that wish to remain anonymous are known to our auditors.
Bellingcat also receives financial contributions from various companies as well as special discounts and in-kind donations such as software access and platform resources.
We would like to express our gratitude to the following organisations for their support:
Datayo
Hunchly
Maltego
Mapbox
Planet
RiskIQ
Vizlegal
Bitwarden
Yubico
Plausible.io
Mapcreator
Total Design
OSSO
Financial Times
Our Expenses
Our total expenses in 2021 were €1.9m and are mainly composed of salary costs (for our researchers, trainers, management and administrative staff), technical infrastructure and a small overhead for office rent, supplies, travel and fundraising efforts: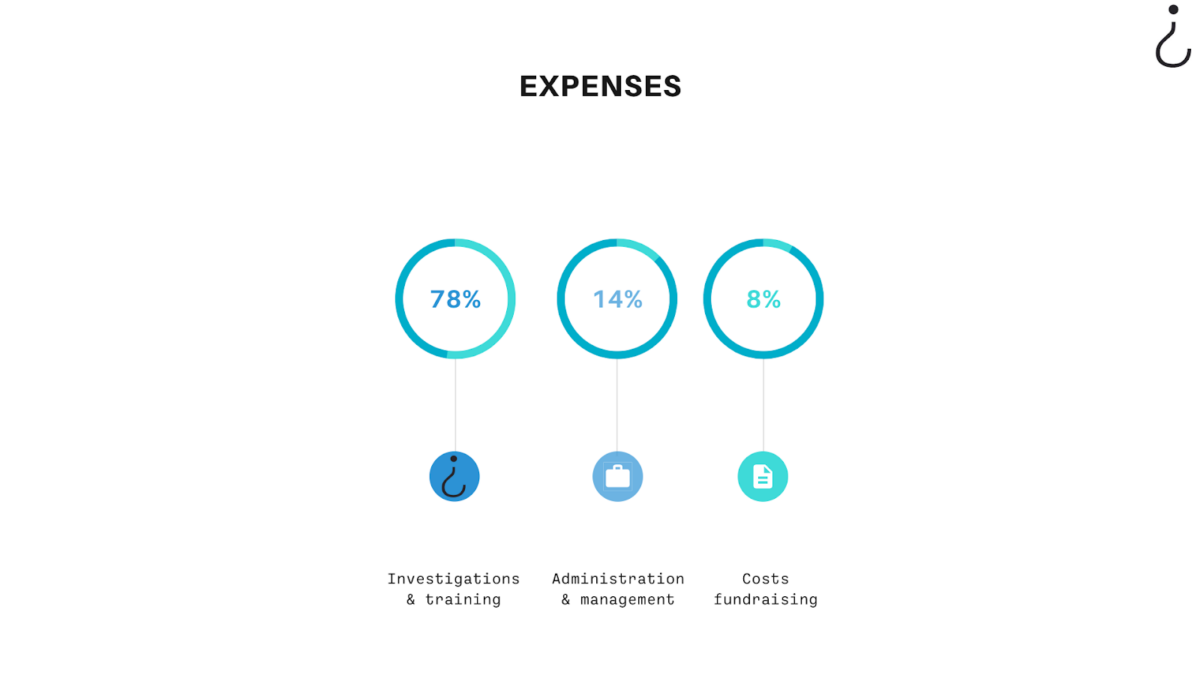 The remaining balance of €0.3m will go to a reserve to secure the sustainability of the organisation.
Funding principles
Bellingcat does not solicit or accept funding or contributions directly from governments. Bellingcat can solicit or accept contributions from intergovernmental institutions such as the European Commission or the United Nations. Bellingcat can accept or solicit funding that is distributed by a private foundation that accepts government funds, so long as it is independent from any national government. We will not allow any funding relationship to constrain us from criticising any bodies that provide funds, exposing any wrongdoing in which said bodies may be involved or impact our editorial independence.
Bellingcat reserves the right to research any donor of an amount of €5,000 or more based on available open sources according to our principles.
You can review our full fundraising policy here.
You can also find more information on our activities of the last years and detailed accounts here:
Annual report 2022 + Annual accounts 2022
Annual report 2021 + Annual accounts 2021
Annual report 2020 + Annual accounts 2020
Annual report 2019 + Annual accounts 2019
Support our Work
Bellingcat offers a variety of ways to support our work. We are appreciative and grateful for every single cent donated. Please find general information on how to support us below.
If you're considering another way to donate or encounter any issues when donating please don't hesitate to reach out to us via donations@bellingcat.com and we'll be happy to support you.If you are a foundation, non-profit or a company that would like to explore various funding possibilities with us, please contact us via donations@bellingcat.com.
Donations – One Time, Yearly or Monthly
You may support our work by making a donation – as a one-off or recurring payment – via our online donation form which offers a variety of currencies and payment options via credit card, PayPal, direct debit and iDEAL. If you'd like to make a donation that is tax-deductible in the US, please choose "United States" as country of residence in the donation form and your donation will go to the Bellingcat Fund in the US.
If you would like to donate via wire transfer or to set up a direct debit from your bank account please use the following bank details:
Bellingcat Foundation in the Netherlands (download):
Account name: Stichting Bellingcat
Account number: 83.12.45.492
IBAN: NL68 ABNA 0831 2454 92
Swift / BIC code: ABNANL2A
Bellingcat Fund in the United States (download):
Account name: Bellingcat Fund Inc.
Account number: 3802272463
Routing number: 301081508
Long Term Support and Major Donations
Bellingcat has received major donations as well as commitments to support our work over several years. We are very thankful for this kind of support that enables us to plan for long-term stability. If you would like to explore possibilities in that area, please contact us via donations@bellingcat.com .
Among others we offer the following possibilities:
Periodieke schenking (for Dutch citizens): This a possibility of further tax deduction to your income offered by the Dutch government. The requirements are to establish an agreement with us to support our work for a chosen amount per year for a minimum of five years. Please contact us to get further information on the process.
Major donations or multi-year gifts: You may also support our work with a major donation or a multi-year gift to support our activities in general or for a defined project. Please contact us to explore options in this regard.
Payroll giving: We also offer the possibility of payroll giving and cooperate with the following partners:
Give For Good: This is a platform which allows you to donate to us in a form of stocks that are managed by Give For Good and whose interests will be transferred to us every year
Legacies: We were already given the honourable trust of people who've included Bellingcat in their will. If you'd like to explore these options we'd be grateful to get to know you
Tax Deductibility

Donations to the Bellingcat Foundation are tax-deductible in the Netherlands.
You may also contribute to our 501c3 – The Bellingcat Fund – for tax-deductible donations in the US.
For donations that are tax deductible in the UK we collaborate with CAF UK.
For tax deductibility in other European countries we are collaborating with Transnational Giving Europe.